Pod reflects on state of game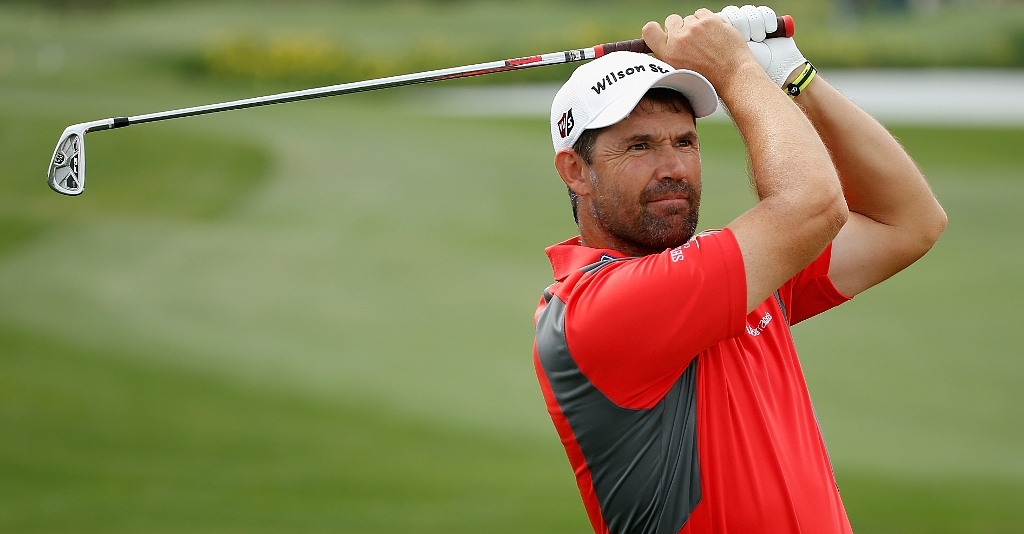 Padraig Harrington's Ryder Cup future is clearly in danger as he tumbles on the World Rankings list.
Padraig Harrington's Ryder Cup future is clearly in danger as he tumbles from excellence to mediocrity on the World Rankings list.
The 39-year-old three-time major winner and five-time Ryder Cup star, remained in the World's top 50 when the latest rankings were published on Monday, but he is about to fall out of this all-important grouping that opens so many doors to the World's biggest tournaments.
The former world No 3 has crashed 25 places to 48th in the world this year and with his injuries expected to keep him grounded for the next fortnight, he can only slide further on the slippery slope of a Rankings list that stands still for no man.
If he fails to start winning again before the end of October he could then miss out on playing in the $7 million HSBC Champions and with a multitude of rankings points going begging there, that would give his Ryder Cup rivals a big early lead in the race to qualify for 2012 European team.
This week Harrington told the Irishgolfdesk.com: "You know I haven't looked at qualification for a tournament in a good few years and I'm hoping to produce a bit of form so that I don't have to start looking now.
"To miss out on the HSBC would not be good in so far as the European Order of Merit and qualification for next year's Ryder Cup are concerned.
"I don't even know what ranking I am at the moment. All I know is that points will follow good golf rather than the other way around."
Harrington said no to an invitation to play in last week's Volvo World Match Play in Spain and confessed that it was very difficult to turn his back on "easy' world ranking points.
"Next year could be a different story. I could then find myself chasing world ranking points, going where there are easy points on offer.
"I want to be in all the important events from the start of the next Ryder Cup qualifying race on September 1. I've got to be in them to get the bonus points so crucial for the Ryder Cup.
"And qualifying for Medinah is a big target of mine."
Harrington's 2011 season has been a roller coaster of bad luck and injury, great moments and sizzling scores interspersed with rank bad golf and an inexplicable disqualification like the one dished out to him after he had opened with 65 in his 2011 debut in Abu Dhabi.
He was 58th in Bahrain and turned good starts into disappointing 63rd and 55th place finishes at Pebble Beach and in Los Angeles.
He was blown out of the WGC-Accenture Match Play in the opening round and then made an early triple bogey on the final day of the WGC Cadillac Championship at Doral that helped turn a second place into 10th.
He missed the cut on his next outing in the Transitions Championship in Tampa but tied for eighth in the Shell Houston Open and seemed to be find the form needed to win the Masters. But a neck injury in practice put a stop to that. He didn't make the cut.
He missed tee cut again in the Volvo China Open and out of frustration, took himself off to his old swing coach Bob Torrance.
He tied for 9th when he got back into the swing of things at the Wells Fargo Championship in Quail Hollow, but he was now playing with injuries, having hurt his hamstring chasing his children with unhappy knock on effects for his already flimsy knee.
And he now admits he should have rested the following week instead of playing in the Players Championship at Sawgrass where his confidence and his patience both took another knock when he missed another cut.
"Maybe I'm working too hard and anytime you overdo things, your body has a very good way of making you stop, as it is doing at the moment," he confesses.
"It is my nature to over-do it. I've certainly over-practiced.
"You know, it's tough. There's a lot of good events and it's hard not to play. So ye, I'd say maybe I played a little too much and practiced a little too much. The season's long and I only had the six weeks off during the winter.
"Maybe I'm paying for not taking more time off during the winter but, again, there's so many good events. The season's even longer this year and it is tough but, hopefully, I come back out fresh for the three Majors and the remainder of the summer.
"If I can win one of those, I won't have to worry about the stop-start nature of my season.