Pod inspired Donald's rise to fame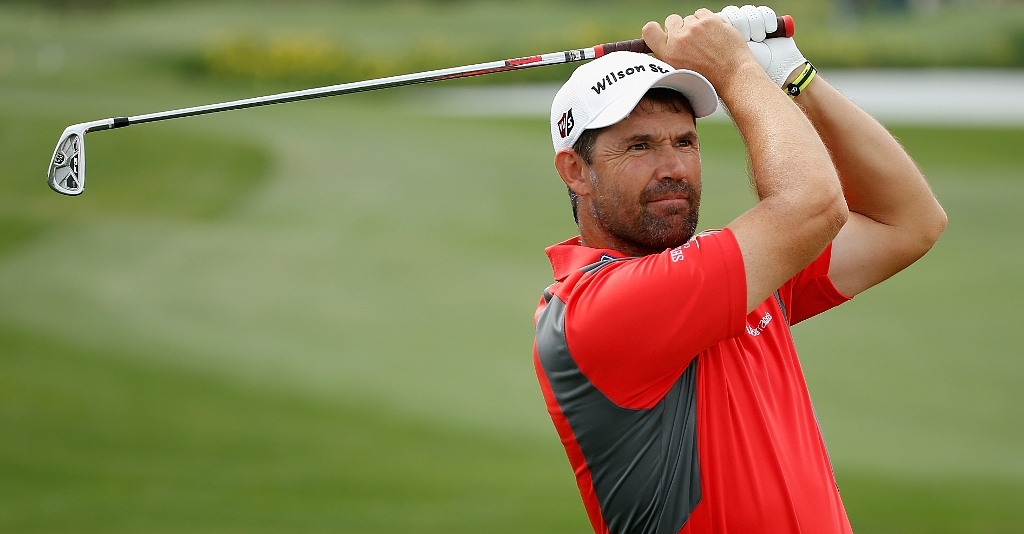 Luke Donald credits Padraig Harrington as the inspiration behind his capture of the World No 1 crown.
Luke Donald credits Padraig Harrington as the inspirational figure behind his capture of the World No 1 crown. – and Jack Nicklaus isn't surprised that Donald has made it.
These are two of the most interesting observations to have come out of pre-tournament interviews ahead of this week's Memorial Tournament at the Golden Bear's pride and joy, Muirfield Village.
Nicklaus more than backed up Donald's passing reference to a lot of hard work by telling Associated Press: "There isn't anybody I've seen who spends more time working on his golf game than Luke Donald. And he spends his time chipping and putting, chipping and putting. I mean, he wears out the practice greens.
"And I think that the effort he has put into it has been rewarded."
And the owner of a record 18 Majors should know.
Nicklaus makes a point of offering membership of his Bear's Club in Florida to most tour players who move to Palm Beach County and has personally seen the laid-back Englishman at work and credits a lot of factors for the rise to the top of a man once called "Mr Plod" – hard work, a better mental attitude, even a personal diary.
The rewards are perhaps more than even Donald once would have dreamed of, but by winning the BMW PGA Championship at Wentworth in a playoff against fellow Englishman Lee Westwood, he became only the 15th player to reach the summit on the World Rankings list in the 25 years since it was established.
And if anything has inspired him to aim for the top and to actually get there, it was Irish icon Padraig Harrington, currently battling with injury in the midst of a 2-year winless drought.
Whilst reading himself to make his debut as the World No 1 at this Week's Memorials where he'll be up against Masters champions Phil Mickelson and Charl Schwartzel as well as some of the seasons hot shots like Americans Dustin Johnson, Nick Watney and Steve Stricker and international stars of the calibre of Rory McIlroy and KJ Choi, Donald said that three-time Major winner Harrington had been the single figure that most inspired him.
"I think you need one guy to kind of inspire a generation to follow in their footsteps," Donald said. "For me I guess that was probably Padraig Harrington winning his three majors back in 2007 and 2008, while I was probably on the couch in a sling."
Back in 2008, Donald was recovering from a wrist injury he suffered at the 2008 US Open and needed surgery to repair a tendon. He was given another scare at the 2009 Accenture Match Play Championship, when he had to withdraw after feeling pain in his wrist.
Luckily for Donald, the pain was only caused by scar tissue and not anything more serious, but while he was sidelined, Harrington was having a spectacular run of success in the Majors, winning the 2007 and 2008 Open Championships as well as the 2008 PGA Championship.
"When you're around people that you're pretty familiar with and see that they are accomplishing great things, it sets a little bit of a fire in your belly that if they can do it, so can you," Donald said.
"I think we've got to thank his successes for this great run in European golf."
Donald is the third European to be ranked No. 1 in less than a year, but it is Lee Westwood and Germany's Martin Kaymer, not Harrington, who preceded him
Maybe Harrington, another of golf's most industrious workers, can in turn now take some inspiration from the way Donald was able to shrug away injury and come back in the spectacular way that he has.
Donald's victory in the European Tour's flagship BMW PGA championship last week was his second win in three months against a world-class field – the first was at The WGC Accenture Match Play – and together with a playoff loss at Hilton Head and another runner-up finish in the World Match Play Championship in Spain. Donald hasn't finished out of the top 10 – a streak of nine tournaments – since he missed the cut at Riviera in his return from a three-month winter break.
"Yes I do," Donald said when asked if he felt like a World No 1.
"I think the way that the world rankings are, consistency is highly weighted. If you can keep playing well week in and week out, keep earning those points, then you're going to climb in the world rankings. And I don't think there's anybody who has been more consistent in the last nine months than me."
Donald admits that the unexpected fall of Tiger Woods had made a difference in the upper echelons of golf, if only because it made a lot more adversaries feel that the now had a fighting chance to go all the way to the top.
"As a kid you dream about winning majors and winning tournaments," he said. "But for me, I always kept an eye out on the world rankings and had an interest in it. But I supposed for the bulk of my career, Tiger was so far ahead that it never really crept into my mind.
"But in the last year or so, there's been an upheaval in the rankings, and there's been a lot more movement. So I knew the opportunity was there."
Woods, now 13th in the World Rankings, is not playing in the Memorial this week but hopes to have recovered from an old-tie ankle injury in time to play in the US Open later this month.