Players wants Seve on new Tour logo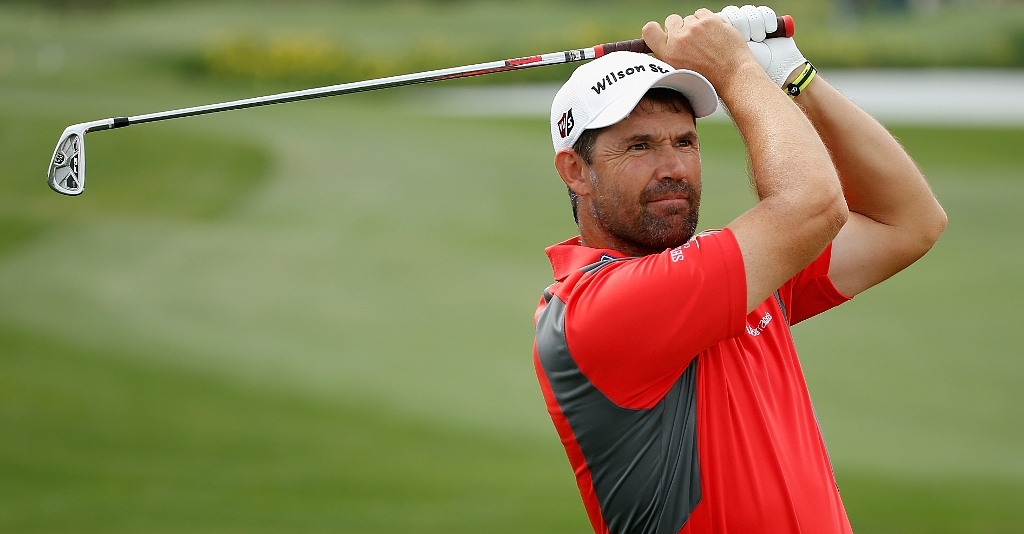 Paul Lawrie was one of the first of many to suggest that the new European Tour logo feature Seve Ballesteros.
Paul Lawrie, the last Scott to win the Open, wants the new European Tour logo changed to incorporate the famed pictured of Seve Ballesteros winning the 1984 Open.
A so too do a good number of other European Tour members, Lawrie claimed on Tuesday when talking to the press ahead of this week's Iberdrola Open at Pula GC in Mallorca, Spain.
The Tour recently paid to have a new logo developed that features Harry Vardon, an old-time icon who won The Open six times in the early 1900's.
This was to coincide with the launch of the Race To Dubai in 2009.
But Lawrie believes Bellesteros, not Vardin, should have been the central focus of the logo anyway and now that the Spanish legend has lost his brave battle with brain cancer and passed away aged 54, it gives the tour authorities the perfect opportunity to right an original wrong.
"I absolutely support the idea (of changing the logo) as it would be a great move," Lawrie said.
"Seve is the reason why we are playing on the European Tour, and everyone would have that opinion, so I fully agree with it."
After his death in the early hours of Saturday morning unprecedented numbers of Tributes poured in from all over the world for Ballesteros, virtually all of them praising him to the skies as the charismatic wizard who put the European Tour on the map and was hugely influential in bringing mainland Europe into the Ryder Cup.
Ballesteros included three Opens and two Masters titles among his record 50 European Tour victories before retiring because of back in 2007, but his on-course heroics are only part of the reason Lawrie feels he and not Vardin, should have got the nod for the new European Tour logo.
The handsome Spaniard's sparkling charisma and humble charm were other factors that drew thousands of new supporters to golf.
"There are quite a few players, I can assure you, who believe that the (European Tour) logo should have featured Seve in the first place," added Lawrie.
"Of course, it's not for me to tell the Tour what to do. The current logo is a nice logo and it's been very well done.
"But everyone knows and agrees that Seve was the player that really started it all for the European Tour. He was the difference."
Some of these players Lawrie mentioned have recently come out and concurred with him, including Colin Montgomerie and Sir Nick Faldo.
"I think you will find it does change and let's hope it is sooner rather than later," said Montgomerie. "I would vote for that immediately.
"When you talk about the European Tour you talk about Seve and I think it's only right he should appear on our logo."
"From day one I said to George (Tour executive director George O'Grady) 'Come on – we are not 110-year-old golfers'," said Sir Nick Faldo.
"There will never be another Seve. He had everything – the good looks, the charisma, the smile, the walk and the swash-buckling golf game.
"We shared lots of battles and it's tragic. We would have been mates and we've lost out on that. We always had mutual respect, but we never realised the level of feelings that we had for each other."
Lawrie's compatriot and fellow European Tour professional, Andy Coltart, who has been busy moving house, used Twitter to back Lawrie's idea of changing the logo.
"We've already got a Harry Vardon Trophy, so why not a Seve logo instead," the Scot tweeted.
"No disrespect to Harry Vardon, who is obviously… a legend, but today's strength in the European Tour is down to Seve, and he is 21st century.
"I hear that the Seve Trophy may struggle to continue getting a sponsor, so that's another reason we should be looking at Seve," Coltart said in referring to the annual Britain and Ireland v Continental Europe battle pioneered by Ballesteros
"We need to make sure we have some kind of recognition of Seve's legendary status."
But not everyone agrees with Lawrie, it seems.
Ireland's Peter Lawrie, a former Spanish Open winner, believes the timing of the suggested logo change is not appropriate.
"The Tour spent an awful lot of money designing the Vardon logo. I would look at it as an emotional reaction if they were to change it now," said the Irishman.
"The thing is, if you look at the history of the Tour, it didn't start with Seve, and while it would be nice to honour his memory by changing the logo, I'm not in favour of a change just yet."