Pettersen, Oh edge clear in NY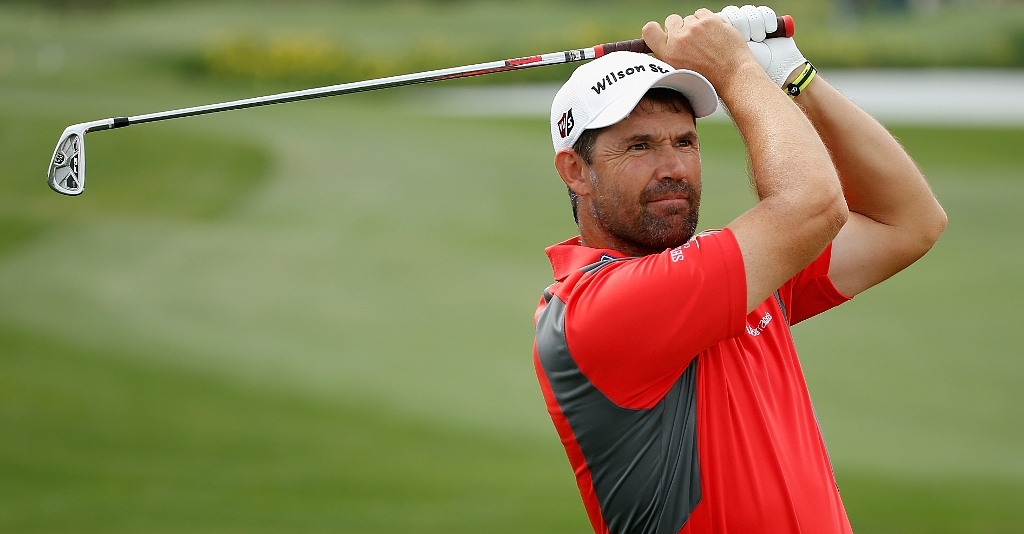 Suzann Pettersen and Ji Young Oh both shot 3-under 69s to edge one shot clear of Brittany Lincicome at the Sybase Classic.
Suzann Pettersen and Ji Young Oh both shot 3-under 69s to edge one shot clear of second round leader Brittany Lincicome in Saturday's third round of the Sybase Classic.
But a Sunday victory for the Norwegian and Korean frontrunners at Upper Montclair Country Club, in Clifton, New Jersey can hardly been seen as a forgone conclusion.
For apart from Linbcicome, already a major winner in her late teens and a golfer you can be sure will be determined to fight back after slipping out of the lead with s third-round 72 on Saturday, Pettersen and Oh at 12-under 204 are only three ahead of two of America's most dangerous young guns, Paul Creamer and Michelle Wie.
Both put themselves in contention with 68s on Saturday and are quite capable of going even lower today
But three-time defending champion Lorena Ochoa's chances of winning the event for a 4th successive time are not looking good. The Mexican star is all of 10 shots off the pace after posting a 70. is 10 shots off the pace after a 72.
Pettersen, who has not won on tour since capturing five titles in 2007, and Oh, a 20-year-old who won last year's State Farm Classic, both jumped ahead of their playing partner, Lincicome.
Pettersen played the front nine in 3 under to surge up into a share of the lead, but cooled down coming home to finish with a 3-under 69.
She briefly grabbed the lead with a 10-foot birdie just two holes from home. but promptly gave the stroke back after missing the green with her drive on the par-3, 17th.
"I'm going to try to go out there and put myself in position off the tee," Pettersen said. "I think that's the most important thing here. The greens are big enough, so keep hitting the fairways and give yourself a chance to be aggressive to certain pins."
Oh, who was consistently 40 yards behind Pettersen and Lincicome off the tee, made up for it with a string of accurate approach shots, making four of her five birdies from 11 feet or less.
Creamer, who played in Japan last week, could have been a lot closer had it not been the tough, dogleg 408-yard 12th hole where she hit 5-iron into the pond next to the green.
"My game plan today was to move up the leaderboard as far up as I possibly could," said Creamer, who was still looking for her first win in year in which she has been bothered by a recurring stomach problem.
"I feel like I did that, even though I made the double on 12, So I feel like I'm in the right position right now."
In the meantime Wie will be berating herself for some awful putting and if she is to have any chance of winning her first title on the LPGA Tour, she is going to have to up her ante with the short stick.
As it was, she missed seven putts of 10 feet or less in the second round and again missed four of 4 feet or less on Saturday.
"I'm a pretty good putter, but I need to send the ball home," Wie told reporters
ALL THE THIRD ROUND SCORES
(USA unless stated, par 72):
204 Suzann Pettersen (Nor) 65 70 69, Ji-Young Oh (Kor) 66 69 69
205 Brittany Lincicome 64 69 72
207 Paula Creamer 70 69 68, Michelle Wie 70 69 68
208 Hee Young Park (Kor) 67 74 67
209 Candie Kung (Tai) 71 69 69
210 Ai Miyazato (Jpn) 73 68 69, Moira Dunn 71 69 70, Helen Alfredsson (Swe) 62 76 72
211 Ji-Yai Shin (Kor) 69 71 71, Karrie Webb (Aus) 70 69 72, In Kyung Kim (Kor) 68 73 70, Russy Gulyanamitta (Tha) 73 69 69, Brittany Lang 68 74 69
212 Wendy Doolan (Aus) 70 68 74, Chella Choi (Kor) 71 70 71, Natalie Gulbis 70 72 70, Amy Hung (Tha) 70 72 70
213 Young Kim (Kor) 71 70 72, Momoko Ueda (Jpn) 71 71 71, Meg Mallon 70 73 70, Alena Sharp (Can) 70 71 72, Song-Hee Kim (Kor) 72 67 74, Louise Stahle (Swe) 73 68 72, Katherine Hull (Aus) 67 73 73
214 Becky Lucidi 72 70 72, Lorena Ochoa (Mex) 71 71 72, Karin Sjodin (Swe) 73 72 69, Sandra Gal (Ger) 70 69 75
215 Juli Inkster 75 68 72, Janice Moodie (Sco) 71 72 72, Hye Jung Choi (Kor) 69 72 74
216 Mika Miyazato (Jpn) 73 68 75, Eun Hee Ji (Kor) 72 72 72, Cristie Kerr 72 72 72, Anna Grzebien 72 72 72, Kim Hall 72 72 72, Jee Young Lee (Kor) 69 71 76, Ya-Ni Tseng (Kor) 71 71 74, Se Ri Pak (Kor) 72 71 73, Lisa Strom (Gbr) 72 69 75
217 Jennifer Rosales (Phi) 72 73 72, Wendy Ward 73 72 72, Vicky Hurst 73 71 73, Mollie Fankhauser 70 72 75, Soo-Yun Kang (Kor) 73 70 74, Becky Morgan (Wal) 71 69 77, Meaghan Francella 73 71 73, M.j Hur (Kor) 74 71 72, Stacy Lewis 70 74 73
218 Marisa Baena 72 72 74, Minea Blomqvist (Fin) 74 70 74, Na Yeon Choi (Kor) 73 71 74, Paige Mackenzie 72 71 75, Mikaela Parmlid (Swe) 75 69 74, Angela Park (Bra) 73 70 75, Laura Davies (Eng) 74 71 73
219 Stephanie Louden 72 72 75, Giulia Sergas (Ita) 73 71 75, Ashleigh Simon (Rsa) 71 72 76, Christina Kim 74 70 75, Katie Futcher 71 72 76
220 Jill McGill 74 70 76, Hee-Won Han (Kor) 73 71 76, Kris Tschetter 73 71 76, Meredith Duncan 76 69 75
221 Irene Cho 73 71 77, Marcy Hart 69 76 76
222 Sophie Giquel (Fra) 70 74 78, Sarah Kemp (Aus) 71 72 79
223 Angela Stanford 73 70 80
225 Karine Icher (Fra) 73 72 80