Pakistan makes golfing history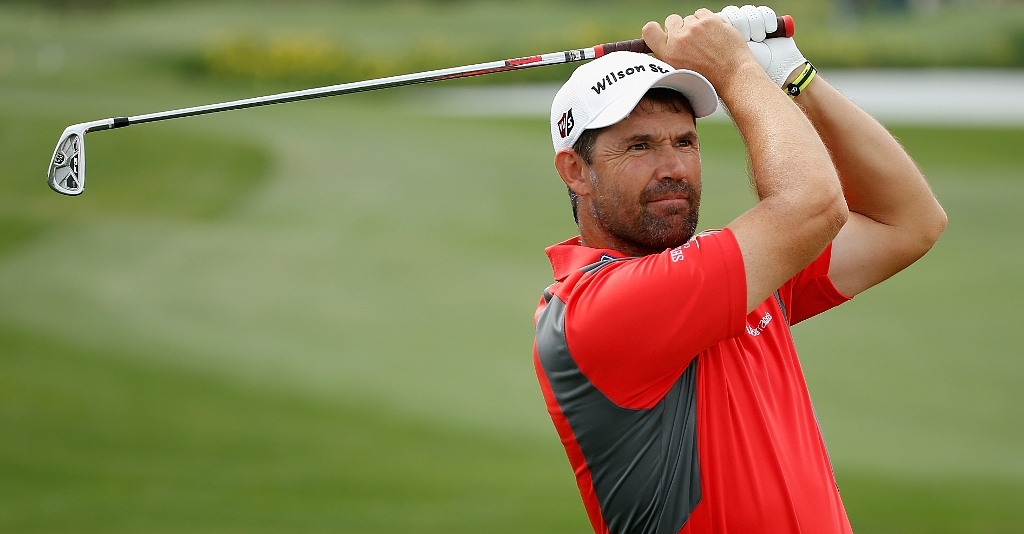 Muhammad Shabbir and Muhammad Munir have put Pakistan's name in the golf history books at World Cup qualifier.
Muhammad Shabbir and Muhammad Munir etched their names in golfing history when they earned for Pakistan a first-ever place in the Omega Mission Hills World Cup.
This after finishing third in the final round of the the Asian Qualifier in Petaling Jaya, Malaysia on Saturday.
The unheralded Pakistani duo shot a superb three-under-par 68 in the final round of foursomes at Seri Selangor Golf Club to finish behind the winners Singapore, represented by Lam Chih Bing and Mardan Mamat, and the second-placed Philippines pair of Mars Pucay and Angelo Que.
Lam and Mardan secured their fourth World Cup appearance together after claiming a one-stroke victory following a closing 72 that gave them a four-day, 15-under-par 269 total while Que and Pucay also signed off with a 72 to finish one back.
A World Cup appearance continues to elude the Malaysian pair of Iain Steel and Danny Chia. This time the luckless duo ended fourth after a battling 71 while Myanmar finished a further three strokes behind following a 74.
"Pakistan have played in the cricket World Cup, hockey World Cup and squash World Cup but never before in our history that we've been in golf's World Cup. We showed that we are in there for the first time and hopefully we will be able to perform well in China," said a delighted Munir, a regular on the Asian Tour.
"I don't know how to describe how we feel right now. I'm sure everyone in Pakistan will be very happy," he added.
Pakistan posted four birdies against two bogeys before a nailing a crucial final birdie on the 18th hole to seal an historic debut against the world's best in China later in November.
Shabbir, who recently recovered from a long-term back injury, relied on Munir's experience and said his partner steered them to third place. "I couldn't read the greens this week and I told Munnir that I was out of form. But he told me that he had confidence in me and he guided me along. That's why we made the cut."
In the meantime, Lam and Mardan, who last qualified for the World Cup in 2006 at Seri Selangor, were clearly delighted with their win.
"Two years now that we have played here and also won. Maybe this course likes us or we like the course. We kept ourselves very relaxed and that was the key. We managed to complete our mission and get ourselves into the top-three," said Mardan, a double Asian Tour winner.
Lam, winner of last year's Volvo Masters of Asia, said: "All we did was to focus on our own game. Starting out with a big gap over third place this morning, we were comfortable out there. The World Cup is such an enjoyable experience and I really missed playing in it the last couple of years."
ALL THE FINAL ROUND SCORES
269 – Singapore (LAM Chih Bing, Mardan MAMAT) 64-71-62-72
270 – Philippines (Mars PUCAY, Angelo QUE) 60-72-66-72
274 – Pakistan (Muhammad SHABBIR, Muhammad MUNIR) 68-73-65-68
(Top three teams qualify for Omega Mission Hills World Cup)
276 – Malaysia (Danny CHIA, Iain STEEL) 66-74-65-71
279 – Myanmar (Zaw MOE, Soe Kyaw NAING) 67-73-65-74
284 – Hong Kong (David FREEMAN, WONG Woon Man) 66-72-67-79
286 – Bangladesh (Milon AHMED, Siddikur RAHMAN) 69-74-69-74
293 – Indonesia (Maan NASIM, SARMILIH) 69-77-72-75
296 – Sri Lanka (Lalith KUMARA, Anura ROHANA) 70-77-68-81
296 – Nigeria Christian UTUBOR, Edet UMOH) 70-80-69-77
308 – Ghana (Theophilus KODJO, Emos KORBLAH) 74-81-75-78
309 – Brunei (Faiz DAMIT, Pengiran HASSANAL) 74-77-77-81
332 – Mauritius (Rajesh MOHUN, Jocelyn SAVRIMOOTOO) 77-89-74-92
DQ – NEPAL (Ramesh NAGARKOTI, Pashupati SHARMA) 82-84-75
Note: The first and third rounds used the fourball format while the second and final rounds used the foursomes format.