Old boy McIlroy at Faldo Grand Final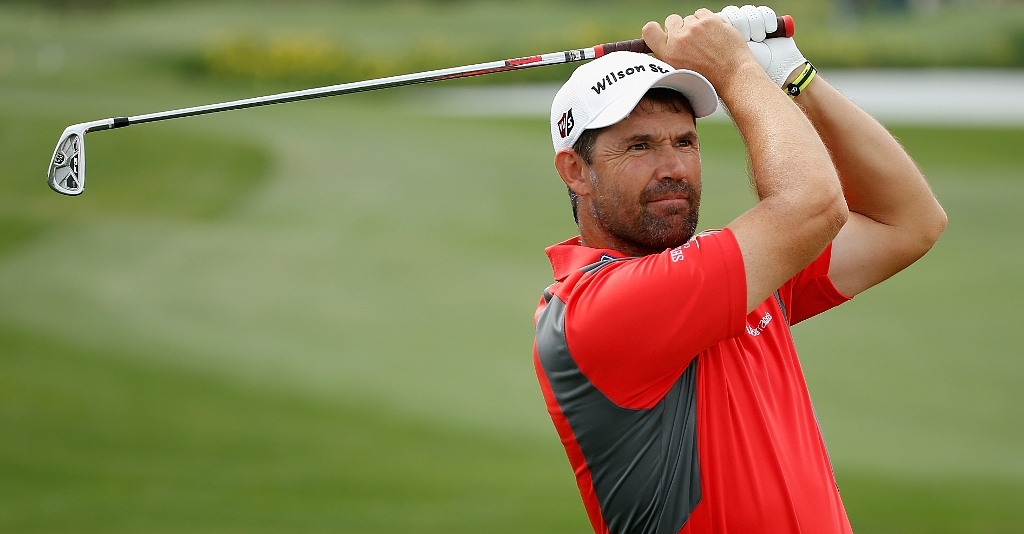 Rory McIlroy has joined Sir Nick Faldo for the 15th Faldo Series Grand Final at Lough Erne Resort in Northern Ireland.
Rory McIlroy and Sir Nick Faldo on Monday featured in a golfing clinic on day one of the 15th Faldo Series Grand Final at the Lough Erne Resort in Northern Ireland.
This after Jordan Smith of England and Ireland's Victoria Bradshaw had both posted two-over-par 74s to share the first round lead.
McIlroy is a three-time winner of Faldo's global golf development programme.
The reigning US Open Champion won the Faldo Series Under-15 and Under-17 titles in 2004 and 2006 respectively. The 22-year-old was also a winner at the 2006 Faldo Series International Trophy in Hong Kong.
"It was tough out there, but fun," said 18-year-old Jordan Smith from Bowood after his sturdy round of 74 in strong winds.
"I played solid and enjoyed having to hit some unique shots," he added.
"I'm chuffed with the way I battled mentally," was Victoria Bradshaw's remark after the 21 year old from Bangor, who shares a coach with McIlroy, had also battled to a 74.
"I thought I managed my way round the course really well and the local knowledge in these conditions certainly helped."
Close to 50 local school children were also in attendance on day one for a grass-roots clinic with Faldo, part of the six-time Major Champion's drive to create access to the game for a younger audience.
A field of 77 players are competing in this year's Faldo Series Grand Final at Lough Erne. Sixteen different countries are being represented by some of the world's top young male and female golfers aged from 13 to 21.
All the winners of the 17 Faldo Series Europe events in 11 different countries across Europe and South America, plus three qualifiers from Asia, are in County Fermanagh in Northern Ireland this week for this World Amateur Golf Ranking event which concludes on Wednesday. September 14.
Competitors will play three rounds on the Faldo Course at Lough Erne Resort for the Faldo Series Grand Final title and the chance to play in a professional Tour event.
Trophies will be awarded to the winners of five age-categories, three for boys and two for girls, all of whom will be exempt for the Asia Grand Final in China in March 2012.
Established in 1996, 35 Faldo Series tournaments now take place in 25 countries worldwide with more than 5,000 golfers participating each year.
The current Women's World No 1 Yani Tseng, and English European Tour professionals Oliver Fisher and Nick Dougherty are other past winners.
Supported by The R&A, The European Tour and Lough Erne Resort, the Faldo Series Europe schedule covers England, Ireland, Scotland, Wales, the Czech Republic, Russia, Greece, The Netherlands, Brazil, Germany and Slovakia.
The Faldo Series Asia visits a further 13 countries, including five tournaments in mainland China, and is backed by The R&A, ISPS, Mission Hills and UFL.
Leading scores after Mondays first round:
Boys' Under-21:
74 Jordan Smith (Eng)
76 Adam Andrews (Eng)
76 Gavin Samuels (Eng)
76 Ondrej Lieser (Cze).
Boys' Under-18:
76 Bradley Thomas (Eng)
79 Nathan Kimsey (Eng)
78 Gavin Moynihan (Irl).
Boys' Under-16:
76 Ben Robinson (Eng)
78 Ben Amor (Eng)
79 Cameron Long (Eng).
Girls' Under-21:
74 Victoria Bradshaw (Irl)
79 Brogan Townend (Eng)
80 Sophie Powell (Eng).
Girls' Under-16:
79 Natalia Heckova (Sk)
80 Amber Ratcliffe (Eng)
80 Marie Lunackova (Cze)
80 Ellie Goodall (Eng).