Ochoa soars as Thompson slumps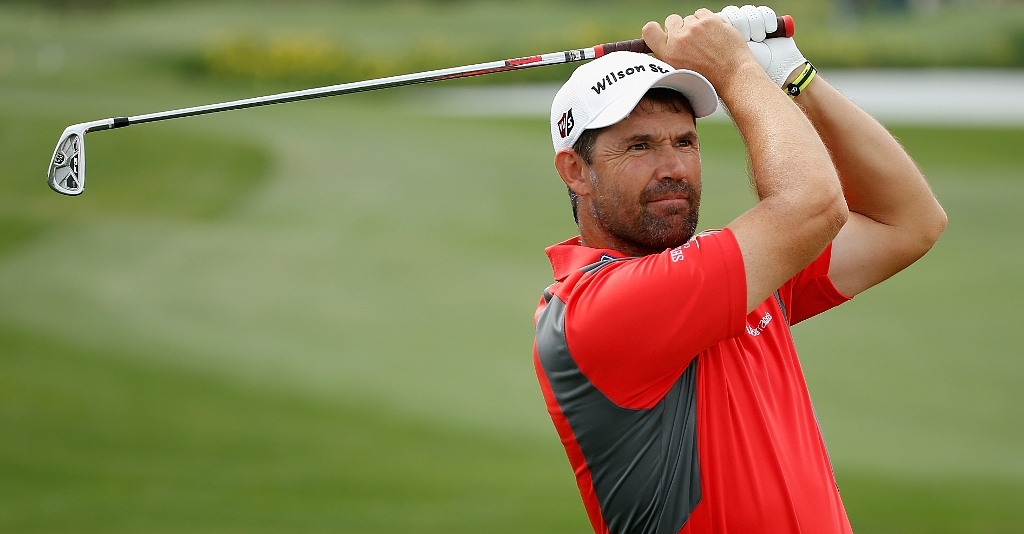 Teenaged surprise package Alexis Thompson slumped at the Navistar LPGA Classic on Saturday as Lorena Ochoa soared.
Teenaged surprise package Alexis Thompson tumbled down the leaderboard at the Navistar LPGA Classic on Saturday as Lorena Ochoa stepped up to take command.
The World No 1 and defending champion, without a win in her last 11 starts, went out and broke up Friday's five-way log-jam at the top of the leaderboard with a sizzling 6-under 66 to take a three-stroke lead over German's Sandra Gal on a disappointing day for the 14-year-old Thompson.
The Florida ninth-grader's bogey-ridden 74 left her trailing Ochoa by eight strokes.
Scot Janice Moody, who led the first round, posted a 68 and is tied for third with American Brittany Lang, four shots off the pace heading into Sunday's final round.
After birdying six of her final 12 holes in a faultless, bogey-free round, Ochoa, second last week behind Sophie Gustafson in California, is at 16-under on 200 playing the Senator course at the Robert Trent Jones Golf Trail's Capitol Hill complex in Palm Springs..
"It was a good day. I didn't make birdies early. I think my first birdie was on hole No. 7. But once I did it gave me more of a better feeling and a good rhythm," Ochoa said afterwards.
"I birdied number eight, the par 5, and number nine, so I think that was a really important part of my round, just to be on the red numbers for the day and to see my name out there on top the board."
"The last time I won was in April, so it's been a little bit slow," Ochoa admitted.
"I played good the last few weeks and missed some chances, but I would love to win here."
Things have indeed been slow, some say because her upcoming wedding has taken away some of her focus.
She has had just two victories in 17 events this season after winning 21 times in the previous three years.
"I'm really pleased," Ochoa said. "I'm happy I'm in a good position, and tomorrow's going to be just a new day. I'm going to try my best to win."
Commenting on her slide, Thompson said: "It was just one of those days that your game is off. That's golf,"
"I mean, you have those days where it just doesn't feel right, and that's what it was like. I probably had like 10 duck hooks out there. I was just like, 'Wow, that's not very good.' But, you know what, it happens."
Of her double bogey on the par-4 sixth. she said: "I really don't know where that drive was. It had to be the biggest duck hook I've ever seen."
Gal, in the meantime had a very good day, shooting an eagle and six birdies against two bogeys.
"My approach is that I can't control what the other players are doing tomorrow," Gal said. "I'm going to play my game and just have a lot of fun out there."
Last year, Ochoa edged Candie Kung with a par on the second hole of a three-way playoff. Cristie Kerr having exited with a bogey on the first extra hole.
"The best thing you can do in golf is to have good memories, to be positive and to remember all those good shots from last year and with that have good feelings of walking on the fairways," Ochoa said.
"I'm going to try to repeat that."
ALL THE THIRD ROUND SCORES
(USA unless stated, par 72):
200 Lorena Ochoa (Mex) 66 68 66
203 Sandra Gal (Ger) 68 69 66
204 Brittany Lang 68 68 68, Janice Moodie (Sco) 64 72 68
205 Yani Tseng (Tai) 71 63 71, Ji-Young Oh (Kor) 71 69 65, Maria Hjorth (Swe) 69 68 68
206 Giulia Sergas (Ita) 69 65 72, Laura Davies (Eng) 69 65 72, Allison Fouch 68 70 68
207 Sophie Gustafson (Swe) 70 65 72, Pat Hurst 67 70 70
208 Michelle Wie 66 70 72, Alexis Thompson 65 69 74, Na Ri Kim (Kor) 72 69 67, Cristie Kerr 71 73 64, Hye Jung Choi (Kor) 68 68 72
209 Mindy Kim 75 68 66, Na Yeon Choi (Kor) 67 72 70, Beth Bader 70 69 70, In-Bee Park (Kor) 67 69 73, Sarah-jane Smith (Aus) 72 71 66
210 Stacy Prammanasudh 70 69 71, Chella Choi (Kor) 69 71 70, Young Kim (Kor) 74 70 66, Hee-Won Han (Kor) 69 70 71, Julieta Granada (Par) 69 70 71, Kris Tamulis 71 72 67, Paige Mackenzie 69 71 70, Lisa Strom 67 72 71, Stacy Lewis 73 69 68
211 Wendy Doolan (Aus) 71 67 73, Sun Young Yoo (Kor) 71 70 70, Morgan Pressel 69 72 70, Charlotte Mayorkas 73 69 69, Candie Kung (Tai) 70 70 71, Christina Kim 68 73 70, Karine Icher (Fra) 66 74 71, Vicky Hurst 72 69 70, Ashleigh Simon (Rsa) 69 70 72, Alena Sharp (Can) 67 71 73, Eva Dahllof (Swe) 73 67 71, Nicole Jeray 72 72 67, Meaghan Francella 67 74 70
212 Taylor Leon 71 71 70, Jennifer Rosales (Phi) 69 72 71, Haeji Kang (Kor) 70 70 72, Reilley Rankin 73 68 71, Anna Rawson (Aus) 70 69 73, Eunjung Yi (Kor) 67 70 75, Hwa seon Lee (Kor) 72 72 68, Nicole Castrale 68 71 73, Katherine Hull (Aus) 67 75 70
213 Shi Hyun Ahn (Kor) 72 72 69, Jin Joo Hong (Kor) 69 72 72, Jamie Hullett 69 72 72, Mikaela Parmlid (Swe) 69 75 69, Amy Yang 69 69 75, Brandi Jackson 70 69 74
214 Heather Bowie young 71 68 75, Diana D'Alessio 71 71 72, Pornanong Phatlum (Tha) 67 75 72, Rachel Hetherington (Aus) 72 70 72, Becky Morgan (Wal) 74 70 70, Karin Sjodin (Swe) 69 72 73, Allison Hanna-Williams 68 73 73, Shanshan Feng (Chn) 68 71 75
215 Natalie Gulbis 71 71 73, Sarah Kemp (Aus) 73 69 73, Danielle Downey 76 68 71
216 Teresa Lu (Tai) 71 73 72, Mhairi McKay (Sco) 73 71 72, Moira Dunn 72 72 72
217 Jill McGill 71 72 74, Irene Cho 71 73 73, Meena Lee (Kor) 70 71 76, Jimin Jeong 74 68 75, Anna Grzebien 71 72 74
218 Sung Ah Yim (Kor) 67 71 80, Laura Diaz 70 74 74, Sarah Lee 71 73 74
222 Kim Hall 71 73 78
223 Meredith Duncan 73 71 79