Nocera squeezes in front of Kim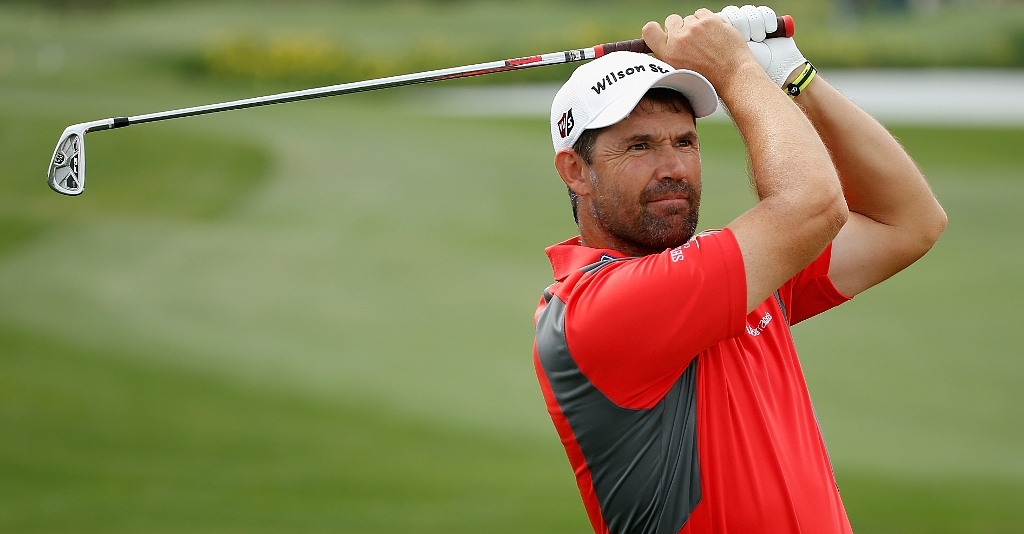 Gwladys Nocera has edged ahead of Christina Kim and will take a one-shot lead into the final round of the Sicilian Italian Open.
Gwladys Nocera will take a one-shot lead into Sunday's final round of the Sicilian Ladies Italian Open after edging ahead of LPGA Tour regular Christina Kim in the closing stages of day two.
The Frenchwoman pulled clear with a six under par 66 at Il Picciolo Golf Club, which sits on the border of the Mount Etna national park in Castiglione di Sicilia.
Kim's round of 69 put her at five under, a stroke ahead of Italian Giulia Sergas and Julie Greciet of France.
Greciet fired five birdies in a round of 68 to vault up the leader board, while Sergas had four birdies for a 69.
Nocera's bogey at 10 was the only blemish on her card as she picked up shots at the second, fourth, sixth, 16th and 18th holes. She also had an eagle three at the 11th after playing a six-iron approach shot to two metres and knocking in the putt.
"It was tough today with the wind blowing pretty hard. Sometimes it was just turning and we were not sure how strong the wind was, so it was pretty hard to find the right club. Today was pretty hard so I'm really happy with my score," said Nocera.
The 36-year-old former LET Money List winner won ten times on the Ladies European Tour from 2006-2008 and claimed her last victory at the 2008 Madrid Ladies Masters, but insists that she loves being in contention.
"I am feeling good. Tomorrow I'm going to go there to win: that's all I can do. There are a lot of good players behind me so it will be tough and it depends on the weather also. If it's blowing hard it's better for me, but we'll see. All I can do is give my best and hopefully go home with some good news."
There was drama on and around the fairways as Mount Etna, the tallest active volcano in Europe, spewed clouds of smoke into the sky surrounding the golf course throughout the afternoon.
Nocera added: "It's weird because it was rumbling all day and I thought it was a storm. When we were on 18 there was a lot of smoke coming out and it's pretty weird. It was so nice because there was smoke and then a rainbow, it was raining and sunny: everything, so it was cool."
Kim, a two-time winner on the LPGA Tour who represented the United States at The Solheim Cup in Ireland a fortnight ago, relished the prospect of lifting her first trophy since The Mitchell Company LPGA Tournament of Champions in 2005.
The 27-year-old has racked up 44 top-10 finishes since her rookie season in 2003 and she is looking for her first win on the Ladies European Tour.
She said: "I love being in a position where I can chase the leaders. I also like being in the position where I'm up near the top. It's been a while since I've had a good finish here on the LET and it's a testament to how great the competition is out here on this tour.
"It's just been a really exciting week. It's gorgeous. It's my first time in Sicily and drinking OJ all day, enjoying the food. I've never seen tomatoes so red. It sounds very stereotypical but really, it has been gorgeous out and the people have been so kind so I'm really happy to be here and really looking forward to tomorrow."
Third season LET professional Greciet, who earned a career best finish of second in Prague a month ago, was pleased with her putting, as she had 28 putts.
"It was very difficult today and the wind was very strong so I'm happy," said the 24 year-old from Saint-Vincent-de-Tyrosse. "There was two clubs difference so I played well."
Sergas, from Trieste in northern Italy, was delighted to be in the hunt but was also pleased for her fellow Italian Stefanie Croce, who finished a stroke back in a tie for fifth on three under with Germany's Anja Monke and Australian Karen Lunn.
Overnight leader Trish Johnson had a 76, which was ten shots worse than her opening round, but she was still only four strokes behind the leader at two under alongside compatriot Holly Aitchison and Belen Mozo of Spain.
Second round play was suspended at approximately 7pm due to darkness with just two players, Isabella Ramsay and Helena Callahan, on the 18th fairway.
The two players will finish their second rounds at 7.30am on Sunday but regardless of their scores, the cut will be made to the leading 50 professionals and ties at +5. The third and final round will commence from a one-tee start at 8.30am in three-balls with the leaders going out last.
Top 10 Leaderboard
-6 Gwladys Nocera (Fra) 72 66
-5 Christina Kim (USA) 70 69
-4 Julie Greciet (Fra) 72 68, Giulia Sergas (Ita) 71 69
-3 Stefania Croce (Ita) 68 73, Anja Monke (Ger) 72 69, Karen Lunn (Aus) 69 72
-2 Holly Aitchison (Eng) 71 71, Belen Mozo (Esp) 69 73, Trish Johnson (Eng) 66 76