Memories help Harwood lead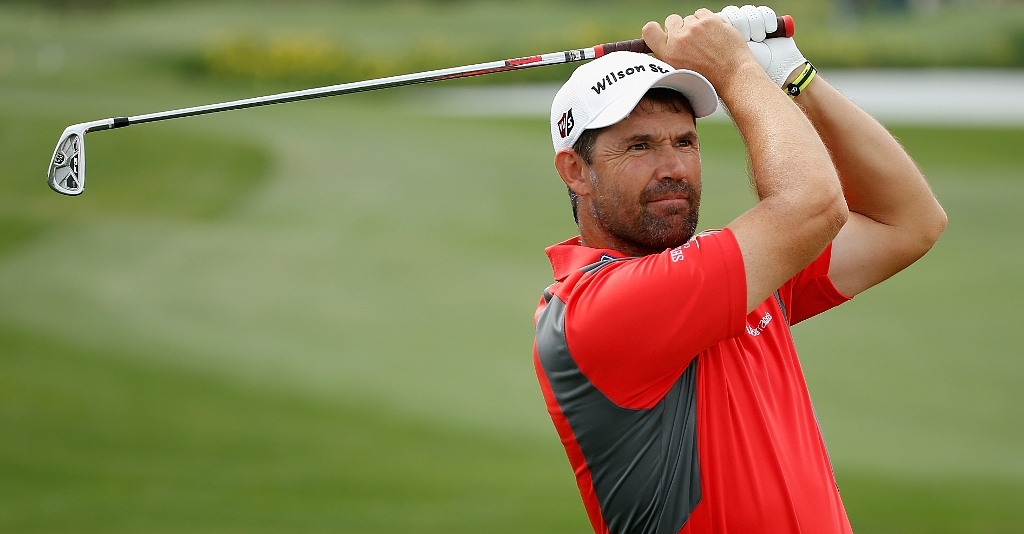 Two decades after winning the European Open at Walton Heath, Mike Harwood shares the lead at the British Senior Open.
Two decades after winning the European Open at Walton Heath, Mike Harwood shares the lead after the first round of this year's British Senior Open.
Harwood, currently seventh on the European Senior Tour Order of Merit list, is tied on 4-under with American Mark Calcavecchia and Ireland's Mark McNulty, who would have held the outright lead had he not carded his only bogey of the day on the last hole.
Harwood also dropped two shots in his last three holes, but the 52 year old was nonetheless delighted with his return to the course which yielded the last of his five European Tour titles, before he swapped life on Tour for a career as a club professional back in his native Australia.
He said: "I've got some great memories of this place. I've been thinking about this event since it was announced it was going to come here. So I got some good positive vibes, and I'm trying to feed off them.
"I shot 65 on the last day to win the European Open, about five weeks after I'd finished second in The Open. I remember I was on the 16th green, watching the other guys playing the 14th. I looked over to my caddie and said: 'These guys are dreaming'. I was at the pinnacle of my career at that particular moment on that green. And I went on to win by a couple of shots. I've always got that in the back of my mind. It's great to be back here."
McNulty is bidding to go one better than two years ago, when he lost out in a Senior Open play-off to American Loren Roberts at Sunningdale.
The 57-year-old, six time winner on the US Champions Tour, notched three successive birdies from the fourth hole, before making further gains on the 11th and 17th holes in his surge to the top of the leaderboard.
But after finding trouble off the 18th tee, McNulty was forced to hack out of Walton Heath's infamous heather, and he ended an otherwise flawless display with a blemish.
He said: "I played pretty well. I believe what you need is a good test of golf for a Senior Open, and when I was asked at the beginning of the week what it would take, I said that if you drove the ball well and you were sensible with your putting, you could have a good score. And that's pretty much what I did today. I hit a lot of good irons as well, and managed to keep it straight.
"Obviously I was disappointed with the last hole, because I made a mental error there. But if you'd offered me a 69 at the start of the day, I definitely would've taken it, there's no doubt about it."
Calcavecchia, who shot an opening 69 in last week's Open Championship, produced a flawless round of 68 despite the adverse afternoon weather conditions to join Harwood and McNulty on four under par.
The 1989 Open Champion is hoping to become only the fourth player after Gary Player, Bob Charles and Tom Watson, to win both the Claret Jug and The Senior Open Championship.
He said: "The weather moved in on the 11th. It wasn't horrible but it made it tougher, for sure. Other than that, it was a great day for scoring. I think not making any bogeys today was nice. It was a good score and a good start."
It is the third time in five years that three players have been tied for the lead after the first round of The Senior Open, including last year when Carl Mason, Jay-Don Blake and Bernhard Langer, the eventual champion, were also tied on four under par.
Langer started his title defence on Thursday with a two under par round of 70, which might have been even lower had he too not struggled on the more testing back nine.
The German raced to the turn courtesy of five birdies, but dropped three shots coming home to slip back to two under par.
He said: "I started off brilliantly. I hit some really nice irons, and drove the ball well. I got to four under par, and played very solid. But then I hit a couple of loose shots coming home. Once you're through 11, the golf course becomes quite hard. I had to hit a lot of three irons and four irons into the greens. I hit a couple of wayward tee shots into the heather, got some bad lies, and then made a few bogeys. But I'm still pretty happy with two under."
His fellow former Ryder Cup Captain Ian Woosnam also broke par with a round of 71 which started with three birdies in his first four holes.
Woosnam said: "That was a great start, just what I wanted. I don't know if I just got a little bit tired or what towards the end, but I hit a couple of fat shots on the back nine and lost a little bit of concentration. But one under's not the end of the world by any means."
TOP 10 LEADERBOARD
68 Mark Calcavecchia (USA), Mark McNulty (Irl), Mike Harwood (Aus)
69 David Frost (RSA), Albert Mackenzie (Sco)
70 Bernhard Langer (Ger), Rod Spittle (Can), Gordon Brand Jnr (Sco), Mike Goodes (USA), Angel Franco (Par), Lee Rinker (USA), Bob Tway (USA)