Majestic Westwood wins going away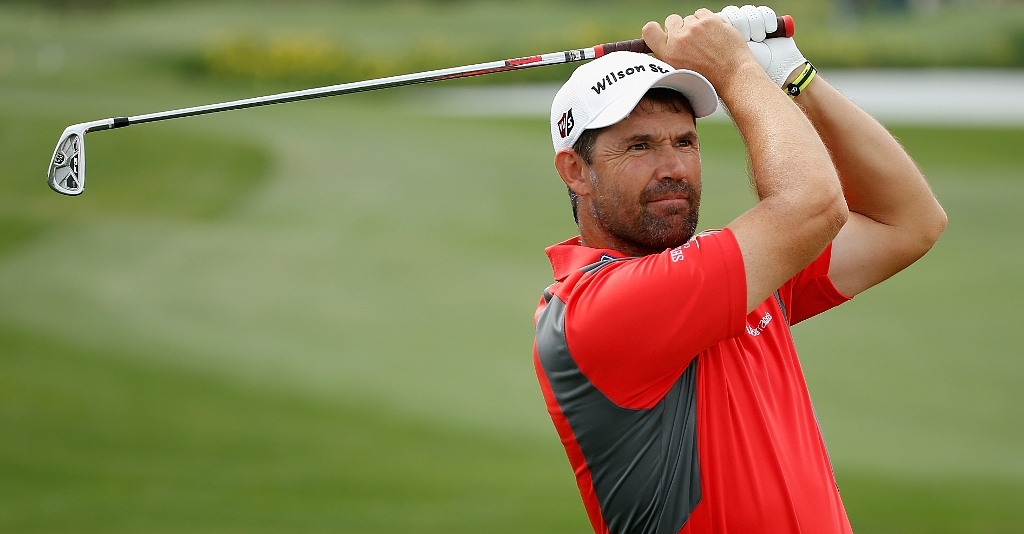 A majestic Lee Westwood shed tears of joy on Sunday after scooping the biggest jackpot in European Tour history.
Lee Westwood shed tears of joy on Sunday after scooping the biggest jackpot in European Tour history with what he rated the best performance of his career.
The 36-year-old returns home to Worksop richer by more than £1.6million after a simply majestic Dubai World Championship and Order of Merit double.
Two strokes in front at the start of the last day, Westwood set a new record for the recently-opened Earth course with a dazzling eight-under-par 64.
And despite everything that the rest of the field were trying to throw at him, he won by a massive six-stroke margin that matched the biggest of the European season.
With a £744,180 tournament first prize and a further £893,016 from a bonus pool for the top 15 money winners, Westwood finished the year with a record total of almost £3.8million.
"I'm a bit speechless really," he said after compiling an incredible 23-under-par total over the second longest lay-out ever on the circuit.
"In all fairness I think that's about as good as I've ever played under this pressure.
"It's definitely the biggest moment of my golfing life to date. I
knew that before I set out and it gives me a lot of confidence that I was able to hold myself together – until now."
With that the world number four's eyes welled up with the emotion of it all.
Nine years after coming from behind Darren Clarke to take the money list crown, Westwood this time left another stablemate – Rory McIlroy – to reflect on what might have been.
The 20-year-old entered the final event more than £114,000 ahead and finished third, but impressive though that was from one so young, Westwood was in a different class when it mattered most.
Westwood's fellow Englishman Ross McGowan, another from the same stable, took second place worth almost £500,000, but not surprisingly it was McIlroy whose disappointment at just missing out was felt most deeply.
It even boiled over on the the seventh hole when, having seen that Westwood had turned it into a one-man show with a flying start, he smashed a club into an advertising hoarding and had to pull it out.
That will almost certainly lead to a fine – Swede Henrik Stenson had to pay £500 for breaking a tee marker at The Open two years ago – but he was able to smile about it afterwards.
And he was soon reflecting on what was a superb attempt to become the youngest Tour number one since Seve Ballesteros at 19 in 1976.
"Lee deserves it," said the Northern Ireland star, who had the consolation of entering the world's top 10 for the first time after a pay-day of nearly £960,000 – £290,230 for third spot and £669,762 from the bonus pool.
"It's an unbelievable amount of money but that's not why I was playing today. I was trying to win," he said.
"I have no complaints. I gave it my best shot and it's been a great season, but Lee is just in a different class.
"Most times coming here leading and then finishing third would be good enough, but even if I'd played well I'm not sure I could have got to 23 under."
He had predicted a winning score in the mid-teens and finished 15 under.
McIlroy added: "Lee's been through the highs and lows of this game and he's back.
"He's played fantastically well for two years and I suppose this is his reward for persevering."
Westwood went from world number four in 2001 to outside the top 250 a year later, but is now back up to fourth.
He celebrated the final putt by stretching his arms out wide and leaning over backwards, just like Andrew Flintoff did after he ran out Ricky Ponting on the final day of The Ashes this summer.
Flintoff is another stablemate and was watching by the green. "I thought he'd like it," said Westwood.
McIlroy had been joint leader after 15 holes of the third round but bogeyed the last three to fall five behind, and while he parred the first eight on the last day Westwood birdied five of the first seven.
When another came at the 10th he was seven clear of McGowan, who to his credit then reeled off five successive birdies and yet still got no closer than four.
McIlroy found his form again with six birdies but bogeyed the par-five 18th for the second day running and McGowan's two closing dropped shots widened the gap to Westwood again.
THE LEE WESTWOOD FACTFILE:
1973: Born April 24, in Worksop
1989: Wins England boy cap.
1993: Wins British Youth Championship, turns professional.
1996: Lands first European Tour title at Scandinavian Masters, also wins in Japan.
1997: Makes Ryder Cup debut, claims Volvo Masters title and also wins in Japan and Australia.
1998: Four European Tour wins, two in Japan and clinches first US PGA Tour victory in New Orleans.
1999: Marries Laurae Coltart, sister of Ryder Cup team-mate Andrew. Secures three wins in Europe and finishes sixth at The Masters.
2000: Earns six wins, including World Match Play at Wentworth and becomes European number one.
2001: Son Samuel born, reaches career-high number four in the world rankings, but no tournament wins.
2002: Slump continues and drops outside world top 250, but helps Europe regain Ryder Cup.
2003: Ends three-year title drought in Germany and adds Dunhill Links title.
2004: Daughter Poppy born. Fails to win a tournament.
2006: No wins for third year in succession, but as Ryder Cup wildcard is part of another winning team.
2007: Ends long run without a title in Spain, adds British Masters.
2008: Misses US Open play-off by one shot at Torrey Pines. Equals Arnold Palmer's record of 12 Ryder Cup games without defeat.
2009: Misses Open play-off by one after last-hole bogey at Turnberry and finishes third in US PGA as well, but regains European number one spot by winning two of his last five events, including Dubai World Championship.