Lyle upstages the Sydney Stars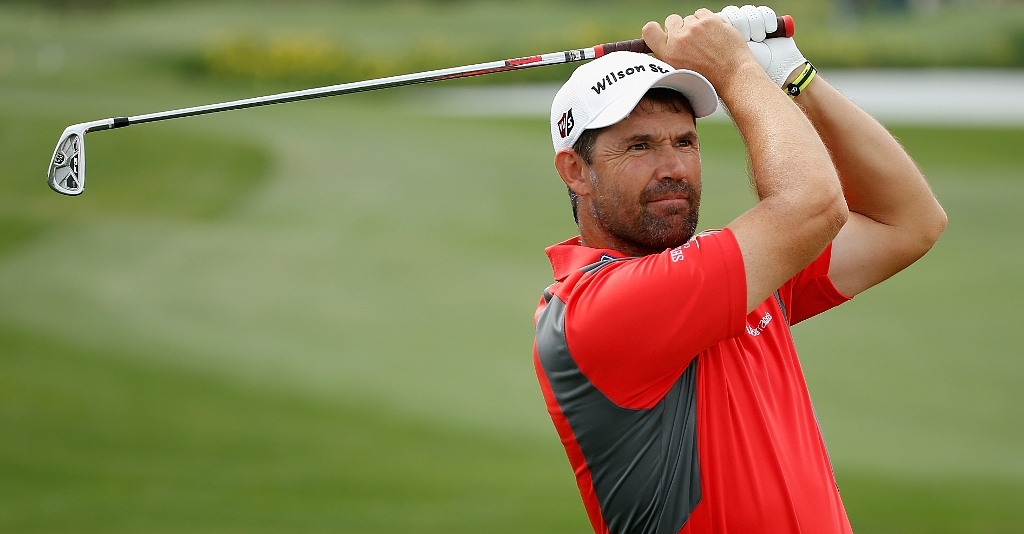 On a day of drama featuring John Daly, Tiger Woods and Adam Scott, Jarrod Lyle stole the show at the Australian Open.
John Daly stormed off in mid-round, Adam Scott shot an albatross and Tiger Woods produced his first bogey free round in nine months, but little-known Aussie Jarrod Lyle stole the spotlight on the opening day at the Emirates Australian Open on Thursday.
And not only because, in the face of the strongest field ever to contest the event, he was able to grab the first round lead with a stunning 7-under 65 at The Lakes Golf Club in Sydney.
What also had a lot to do with him upstaging the big guns was the heart-warming story that the 30-year-old cancer survivor admitted to have been greatly buoyed on Thursday by the news that he is soon to be a father in spite of warnings from his doctors that cancer treatment he underwent more than 10 years ago would most likely affect his fertility.
"Yes, I got engaged this year. That's a good thing. My fiancee is pregnant as well. The pregnancy side of things is something I never knew could happen," Lyle said.
"I was always told by my doctors that fertility could be an issue after all the chemotherapy and stuff.
"To hear that Briony was pregnant made golf seem insignificant. Those bad days don't affect you any more. I've got a little bub on the way. I feel that nothing can really worry me now,"
Lyle, who was diagnosed with acute myeloid leukemia in 1999, didn't play anything like a golfer who had just lost his US Tour card after finishing 167th on the PGA money list this year
He posted five sparkling birdies and spectacularly eagled the 502-metre par-5 14th hole in a flawless round to take a one shot lead ahead of big-hitting American Dustin Johnson, the world No.5 and the top-ranked player in the 156-man Australian Open field and his highly-rated American compatriot Nick Watney, who along with their captain Fred Couples and a good few of their US team-mates, including Woods, are using the Aussie Open as a warm-up for next week's Presidents Cup in Melbourne
Daly, in the meantime, found himself in hot water when he stormed off The Lakes course after dumping at least six balls in the water off the 11th tee.
In explanation of his actions, the volatile Daly said he had pulled out of the round because he had exhausted all the balls in his bag, but seething officials were having none of it and said that not only had his invitation to the upcoming Australian PGA Championship been withdrawn, but also that he would never again invited to play in the Australian Open.
Woods, on the other hand, had one of his best days in a long time.
The previously embattled golfing icon, who teed off just after the wind started picking up, was delighted with his four-birdie 68, which left him tied for eighth on four-under and three off the pace, but perhaps of more significance, earned him his first bogey-free round in nine months.
"I hit it really good today," said the current World No 58 after reigning as the World No 1 for more than a decade.,
"That was exactly how I've been hitting them at home and that's good, I was able to take it on to the golf course today and I was able to hit all the shots in these conditions."
If the lowest scores, including Lyle's 65, were posted in the morning before the wind got up, most of the drama came in the afternoon and started with local hero Scott delighting the packed gallery at the par-five eighth hole with only the second albatross of his career.
The world number eight hit his second shot with a six iron from behind a bunker some 200 metres out and it landed on the green before spinning into the hole for a 3-under two
"It gave me a boost for sure," said Scott, who celebrated by high-fiving with his controversial caddie Steve Williams who has been in the headlines for days following an off-colour comment he made at a Caddies Awards diner in Shanghai last Friday about Woods, his former long-time employer.
"It put me where I should have been considering how I hit the ball. I didn't make a putt today so I'm quite happy with that three-under," said Scott
whose 69 was matched by fellow Australian Top-10 World Ranker Jason Day, who will count himself unlucky not to have done better after a string of near misses with his putter.
Watney, in the meantime, was the only player to threaten early-finisher Lyle at top of the leaderboard when a changeable, gusty wind reduced players and caddies to throwing grass into the air at every tee, but Couples will also have been pleased with his first round.
Looking good enough to play in next week's President's Cup rather than serve as the USA non-playing captain, Couples was in a group of four players sharing fourth with a 67.
The 52-year-old former Masters champion was tied on five-under with Australians Steven Jones, Greg Chalmers and James Nitties.
TOP 10 LEADERBOARD
(Aus unless stated)
65 Jarrod Lyle
66 Nick Watney (USA), Dustin Johnson (USA)
67 Greg Chalmers, Steven Jones, James Nitties, Fred Couples (USA)
68 Tiger Woods (USA), Jake Higginbottom, Matthew Millar, Woo-hyun Kim (Kor), Bubba Watson (USA), Andrew Tschudin