Lunn and Klatten share Swiss lead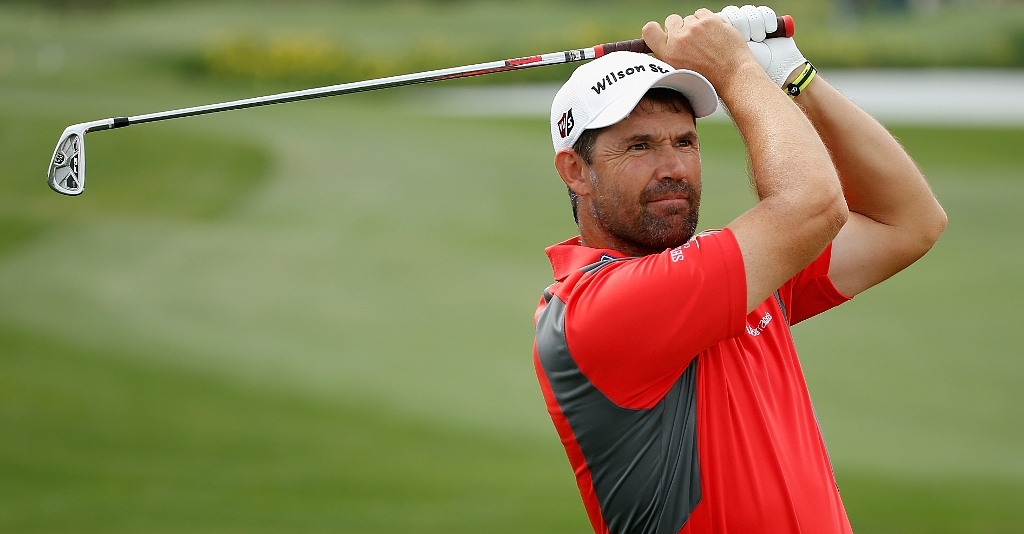 Karen Lunn and Joanna Klatten share a one-shot lead after the opening round of the Deutsche Bank Ladies Swiss Open.
Karen Lunn and Joanna Klatten share a one-shot lead after the opening round of the Deutsche Bank Ladies Swiss Open.
Australia's Lunn carded seven birdies and a bogey to shoot a six under 66 that was matched by French rookie Klatten, just minutes before thunderstorms suspended play with three competitors still on the course.
Klatten, who made her first cut in six starts on the LET a fortnight ago in Holland, was seven under after 12 holes, a run of five birdies and an eagle in six holes briefly giving her the outright advantage.
The 26-year-old Parisienne then dropped shots at the fifth and sixth, but recovered with two more birdies at her closing holes, the eighth and the ninth. She was determined not to be beaten and holed a 10 foot birdie putt on her last hole to join Lunn on an afternoon of low scoring at Golf Gerre Losone.
"It started not so well. I three putted the first and I had been struggling with the putting since Slovakia and so I was a little bit worried. I thought, 'I hope this is not the start of another bad putting round.' From the hole after I figured something out in my putting stroke and I just started holing everything. I was hitting everything pretty close to the pin. I was just feeling good," Klatten said.
Lunn, who finished third at the 2009 Swiss event, added: "I started off well. I wouldn't say it's the best round of golf I've played tee to green but I holed a few putts today which is what I haven't been doing.
"I've been playing some pretty good stuff the last month or so just without the results. I was hoping I'd play well this week and the greens are fantastic. If you hit good putts they are going to go in and I think that's why the scores are so good."
Current European No.1 Christel Boeljon from the Netherlands was a shot further back on five under par with Welshwoman Lydia Hall and English duo Melissa Reid and Rachel Jennings.
Boeljon, Hall and Reid enjoyed bogey-free rounds containing five birdies each to sit alongside Jennings, the only player out in the afternoon.
The first round tee times were delayed by one hour until 9am after a heavy downpour, which softened the fairways and greens, but Hall said: "The greens this year are soft, so you can attack the pins and I just love playing aggressive golf. I was hitting really great iron shots in today. The greens are so good here. Even though we had torrential rain this morning, they held up really well. I just love putting on them."
Reid commented: "The greens are fantastic, I must say. One of the best greens we play on all year. I think a lot of the players are very happy."
Boeljon added: "Overall the fairways are great and greens are good, they are rolling nicely."
A group of 13 players, including last week's Tenerife Ladies Match Play champion Becky Brewerton, were a stroke further back on four under par. The 2010 event winner Lee-Anne Pace shot an opening-round 70 to sit four shots off the lead.
Conditions were warm and humid in the afternoon, before thunderstorms and heavy rain halted play at 7.30pm.
The three players still to complete their first rounds, Lora Fairclough, Charlie Douglass and Adriana Zwanck, will finish the final hole of their first round at 9am on Friday, before starting their second rounds at 9.40am. Second round play is scheduled to commence as originally published at 8am.
Latest scores (incomplete):
-6 – Karen Lunn (AUS), Joanna Klatten (FRA)
-5 – Lydia Hall (WAL), Christel Boeljon (NL), Melissa Reid (ENG), Rachel Jennings (ENG)
-4 – Carly Booth (SCO), Kaisa Ruuttila (FIN), Rebecca Flood (AUS), Becky Brewerton (WAL), Caroline Masson (GER), Emma Cabrera-Bello (ESP), Sophie Giquel-Bettan (FRA), Sophie Sandolo (ITA), Anja Monke (GER), Florence Luscher (SWI), Minea Blomqvist (FIN), Kiran Matharu (ENG), Stefania Croce (ITA)