Lincolnshire: Home of English golf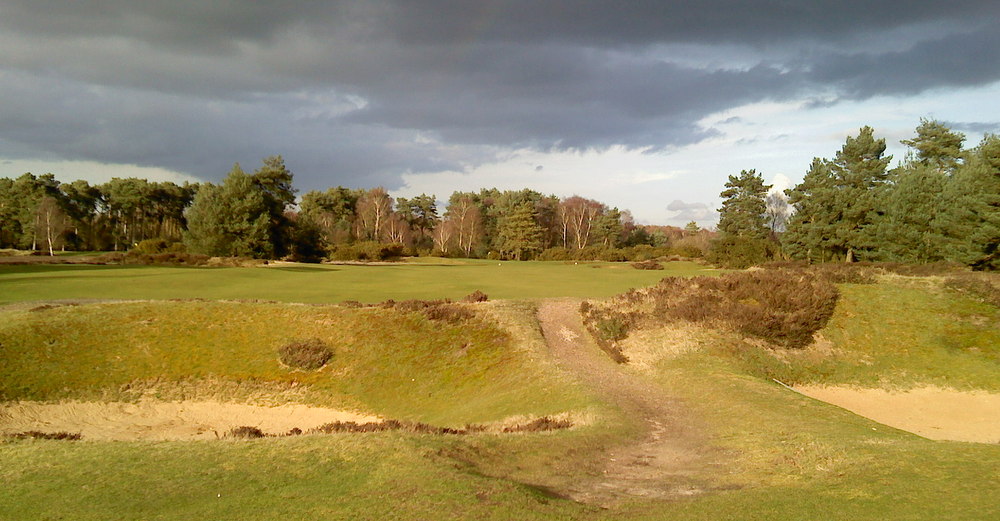 It is an overlooked corner of England when it comes to golf – but Matt Cooper finds Lincolnshire has got a lot to offer.
Not many golfers think of Lincolnshire when they contemplate a golfing break, but Matt Cooper discovered that the county has lots to offer when he visited there at the end of March – good food, great golf course, nice hotel and a friendly welcome!
Arrival
My first thought as I enter the village of Woodhall Spa is how like Sunningdale it is.
As with the Surrey town you get a sense of stepping back in time to the Edwardian era.
The tree-lined roads are have elegant villas, one or two very modern box homes, a few well-to-do hotels and the odd cosy pub. I arrive just as it is getting dark but I am excited to get a glimpse of the golf course so wander up to the 1st tee and 18th green, peering into the darkening skies, little knowing that the light is going to be a lot worse next day! Then I continue to my hotel, one mile outside the village.
I'm a little ahead of schedule but the hotel proprietors Billy and Sonia Gemmell were happy to show me to my room and before I knew it was settling back on my bed, connecting to the free wifi (isn't it about time all hotels offered that simple service?) and catching up on the scores from the Arnold Palmer Invitational.
Then, after a great shower (you shouldn't judge a book by it's cover but there is nothing wrong with judging a hotel by the power of the shower) I met up with my companion for the next two days – Will Spence from National Club Golfer magazine.
The award-winning Village Limits is involved with the Tastes of Lincolnshire scheme which celebrates local produce and dining (one fifth of England's food hails from the area).
Tucking into our delicious dinner we weren't too surprised about the awards nor The Guardian's heralding of Village Limits as the ideal base for a foodie tour of the county.
Benji Layado wrote, "the restaurant sources local whitebait and mussels, duck liver pate and Dennetts ice-cream (not on the same plate)."
I actually started with Ayrshire Haggis on a flat mushroom (I always associate haggis with golf so it made sense), had medallions of Lincolnshire pork with a blackberry juice for the main course and ended with a lemon sorbet.
Over the meal we eagerly discussed the four rounds of golf ahead of us and settled on a Golf365 .v. National Club Golfer Challenge Match – a 72-hole stableford marathon!
After the meal we sat down for a nightcap and chatted to Billy and Sonia, learning that the English Golf Union girls teams often stay at the hotel. And next morning, after a breakfast that fuelled us for the first 36 holes, I leave feeling confident that what is good enough for England's hottest talent is good enough for me.
With those young English stars in mind we spend an hour walking around the facilities of The National Golf Centre before our first tee time. Will smashes some balls on the range (one of the best I've seen with greens and trees to aim at or shape your ball around) whilst I use the magnificent short game academy – a series of tricky greens to test your putting, pitching and bunker play. I also read a few inspirational/instructional quotes on the wall and am particularly taken with this from Bernhard Langer: "Be decisive. A wrong decision is generally less disastrous than indecision."
Woodhall Spa – the Bracken course
Designed by Donald Steel the Bracken course was opened in 1998. A parkland course, it is mostly tree-lined with some holes on the outer edges more open and American in style.
There isn't too much trouble off the tee but approaches, pitches and lag putting are severely tested by the large undulating greens.
I prove as much with a 30 foot birdie putt on the third green that goes 20 feet past the cup.
The edges of the greens are cut tight and sweep errant balls towards bunkers and tricky-to-escape swales. There is a fierce wind blowing which makes the 528-yard par-five sixth hole play about 100-yards longer. Fortunately it also makes the 14th, which runs in the opposite direction alongside the sixth, play a lot less than 518 yards.
An excellent start to the two days and my highlight is a bizarre par on the short par-four eighth. I push my "safe" tee shot into trouble, hack my second into a pond, take a drop and then knock a wedge from 50 yards down the throat of the hole – it never even touched the sides!
Woodhall Spa – the Hotchkin course
We meet up with Alan Darby from Visit Lincolnshire and set off on the original championship course at Woodhall Spa.
Set amongst gorse and broom, built on sandy soil, with oak, fir and silver birch trees framing every hole, the course is beautiful to look at.
But it is also admired as a masterpiece of golf course architecture – it is ranked the 45th best course in the world by top100golfcourse.co.uk and Golf World magazine rate it the number one inland course in the UK.
Beauty and quality are not it's only two characteristics however – there are also some of the toughest bunkers in golf.
Jon Gidney, one time England squad member at the venue and currently playing his first year as a pro, warned me on twitter: "Have fun but stay out of the bunkers – they are deeeeep. Especially the par-3 12th."
On every tee box I stand, peer down the fairway, sigh loudly and then announce, "this is one of the best holes I have ever seen, they just get better." Fortunately both Will and Alan agree, otherwise they'd hit me for being boring and repetitive.
The only mild let-down is that we are playing before the lilac heather blooms. Perhaps it is no bad thing – I am so enraptured I might pass out if it was any more beautiful.
The bunkers are everything we were warned they would be. But on the par-three fifth I actually escape from one with a par.
Some effort given that the wall of turf in front of me was about two feet higher than my head and that the pin was no more than ten feet over the lip. The secret is to thin the bunker shot into the base of the front of the bunker, let the ball run up that face, with just enough gas to make it over the edge and dribble pin high. Easy!
Not every recovery goes quite so, ahem, smoothly. Moreover the gorse and trees are costly if you ever visit them. The course might be over 100 years old but it is no gentle ride. On the other hand, as with every high quality course, if you hit good shots you are well rewarded.
The round ends in darkness – almost total darkness. But we had seen enough – the Hotchkin races into my personal top five courses ever played. A wonderful experience which we end with a drink in the clubhouse.
The North Shore Hotel, Skegness
Will and I drive the short distance to Skegness for our second night and check-in at the North Shore Hotel. Then, after a curry on the seafront