Lickliter edges past Chalmers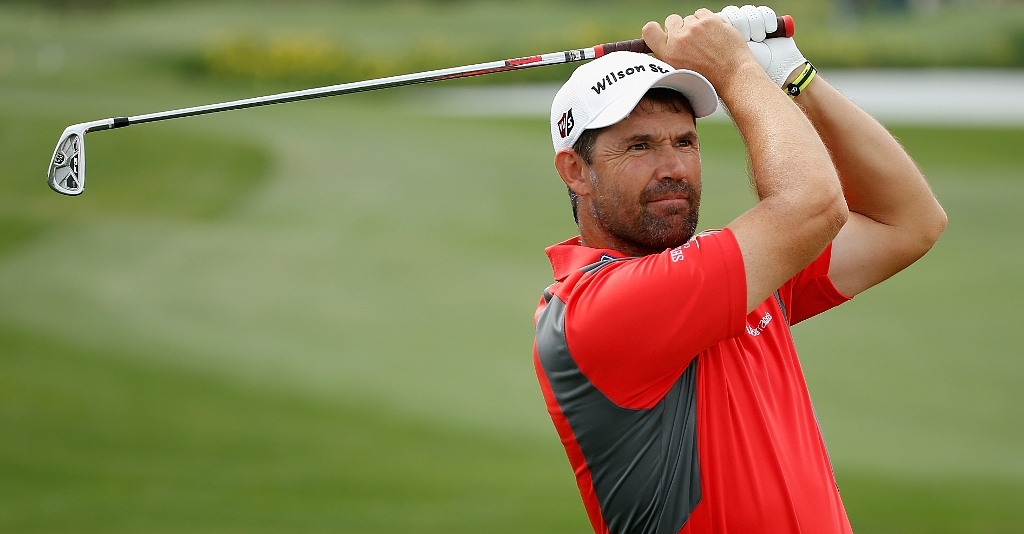 Frank Lickliter came in from the cold on Saturday to replace Greg Chalmers as the US Bank leader.
Frank Lickliter came in from the cold in the third round of the US Bank Championship on Saturday to replace Greg Chalmers as the Milwaukee tournament leader.
Lickliter, who last won on the US PGA Tour in 2003 and who not too many months ago had to regain his Tour Card at the PGA Q-School after struggling through a two-year slump aggravated by an arm injury, shot a sizzling 7-under 63 to surge into the lead with an 11-under 199 54-hole total.
It was the 39-year-old two-time Tour winner's best score in three year's and edged him one shot clear of overnight leader Chalmers, a left-handed Australian, who slipped back with a 1-under 69, and also put the American front-runner two strokes clear Jeff Maggert and Chris Riley, the duo who are tied for third at 9-under 201.
He had two more birdies on the back nine with a chance for another on No. 18, but he missed an eagle putt, that would have set a personal best for him, and settled for a par.
"If people think I'm pretty intense, they're right. "I've been working hard, extremely hard. And I knew I was doing a lot of good things," said Lickliter, who, starting his day at four under, birdied six out of seven holes and could have shot a personal best round of 61 had he not been too ambitious with an eagle putt that left him with too much to do to make birdie and he eventually had to settle for a par.
Joking about his pairing in the final group on Sunday with Lickliter, who enjoys bear hunting, Chalmers, nicknamed "Snake" (Snake Charmer), said: "I don't know a lot about him, but I do know he owns a lot of guns so I think I'll keep away from him."
Getting his nose in front of Lickliter is not likely to be easy.
Apart from the fact Lickliter is enjoying the fact that his family, including his 1-year-old twin boys Steele and Storm, is travelling with him, he also happens to enjoy Brown Deer Park Golf Course where he was fourth in 2006.
ALL THJE THIRD ROUND SCORES
(USA unless stated, par 70):
199 Frank Lickliter II 66 70 63
200 Greg Chalmers (Aus) 64 67 69
201 Chris Riley 67 66 68, Jeff Maggert 68 67 66
202 Jeff Klauk 64 69 69, Brendon De Jonge 70 66 66, Jeff Quinney 67 68 67, John Mallinger 70 66 66
203 Kevin Na 69 65 69, Jerry Kelly 69 68 66, Kris Blanks 70 63 70, Omar Uresti 69 67 67, Jeff Sluman 69 66 68, Steve Flesch 69 65 69, Bo Van Pelt 67 68 68
204 Michael Letzig 68 67 69, Joe Ogilvie 67 71 66, Casey Wittenberg 71 69 64, Dicky
Pride 72 69 63, Johnson Wagner 68 69 67, Jason Gore 66 70 68
205 Kirk Triplett 67 70 68, Harrison Frazar 70 66 69, Tom Pernice Jnr. 70 68 67, Steve Elkington (Aus) 69 69 67, Matthew Jones (Aus) 71 68 66, Joe Durant 67 70 68, Glen Day 71 67 67, Marc Turnesa 69 65 71
206 ChrisStroud 71 67 68, Tag Ridings 66 70 70, Lee Janzen 70 68 68, Stephen Leaney (Aus) 67 69 70, Mathias Gronberg (Swe) 72 68 66, Bob Tway 73 64 69, Loren Roberts 69 69 68, Skip Kendall 66 70 70, Tommy Gainey 67 68 71
207 Spencer Levin 71 68 68, Brian Davis (Eng) 73 68 66, Scott Hoch 70 67 70, Steve Lowery 70 68 69, Mark Hensby (Aus) 67 72 68, Parker McLachlin 70 68 69, Mark Wilson 68 70 69, Brad Faxon 70 70 67, Brett Quigley 68 72 67, Tim Petrovic 68 70 69, Corey Pavin 73 67 67
208 Kyle Stanley 71 66 71, Tim Herron 70 69 69, Scott Sterling 69 71 68, Cameron Beckman 72 69 67, Carlos Franco (Par) 69 71 68, Garrett Willis 72 69 67, Nick O'Hern (Aus) 69 71 68
209 Jay Williamson 68 71 70
210 Jonathan Kaye 70 67 73, George McNeill 69 70 71, David Peoples 70 70 70, Ronnie Black 71 70 69, Jesper Parnevik (Swe) 73 68 69
211 Aron Price (Aus) 70 70 71, Colt Knost 68 71 72, Mark Brooks 71 70 70, Heath Slocum 71 70 70, Kevin Streelman 71 67 73, Kevin Stadler 69 69 73, John Rollins 71 68 72, Bill Haas 73 68 70, Guy Boros 70 69 72, Nicholas Thompson 70 71 70
212 Cliff Kresge 68 73 71
213 Shaun Micheel 70 71 72, Troy Matteson 68 70 75
214 Aaron Watkins 71 70 73, Leif Olson 69 70 75, Troy Kelly 69 72 73, Ryan Helminen 73 68 73, Peter Lonard (Aus) 72 69 73