Lee a staggering 11 shots ahead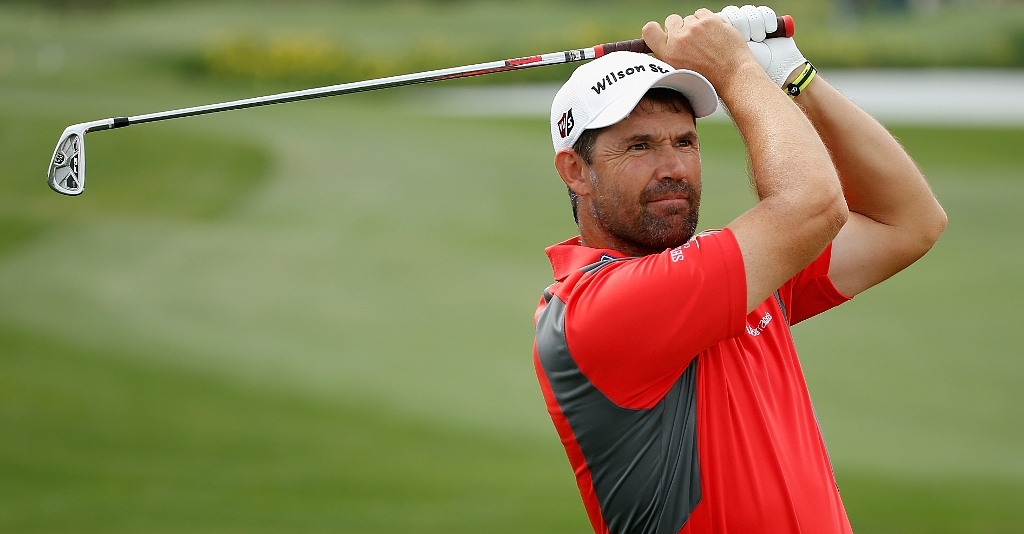 England's Lee Westwood has extended his lead to a staggering 11 shots at the Thailand Golf Championship.
England's Lee Westwood has extended his lead to a staggering 11 shots at the Asian Tour's season-closing Thailand Golf Championship.
The world number three, who flirted with a 59 on Thursday before settling for a 60, produced another masterclass at the Amata Spring Country Club on Friday, shooting a superb eight-under-par 64 that enabled him to match the Asian Tour's 36-hole record of 20-under held by Thailand's Chapchai Nirat.
The 38-year-old produced eight birdies, but found greater satisfaction with an eight-foot par save on his last hole at the ninth which kept him bogey-free over two rounds.
Current Masters champion, Charl Schwartzel of South Africa and American Michael Thompson shot matching 66s to tie for second place on 135 while two-time Major winner John Daly was a further shot back in fourth position following a 73.
Westwood, chasing his fourth title of the season and his second in three weeks, is set to eclipse the largest winning margin on the Asian Tour of 13 shots held by Ernie Els of South Africa.t was set at the 2005 BMW Asian Open in China.
Westwood said he was amazed at how far he had forged ahead of the chasing pack.
"Outrageous isn't it?" he said with a huge smile.
"It's still a long way to go. But at the same time, I'm looking forward to the weekend. I'm playing great and I'm feeling in total control. Every aspect of my game feels good."
With a stiff breeze blowing over the highly rated par 72, 7,453-yard Amata Spring course, Westwood showed his class once more. He said his second round effort felt better than his opening round's 60, which tied the Asian Tour's 18-hole record.
"Strange really. Today almost felt better than yesterday. It was quite tough out there. The scoring is pretty tricky. 64 was a really good score. Not that 60 wasn't a good score yesterday! I hit a lot of good shots again and hit it close. I'm delighted with my first two days' work.
"I'll try to keep the lead irrelevant and keep on playing as I've been playing. The most satisfying shot of the day was making that eight or nine footer I holed at the last to keep the bogey off the card for the last two days.
"I won two weeks ago at the Nedbank (South Africa). I've got myself into a great position here. It would be nice to win four times in a year."
Schwartzel, who is also in good form following five straight top-10s in his last five events, fired an eagle, six birdies and two bogeys to take sole possession of a distant second before conceding that the field faced an uphill task in preventing the runaway leader from taking home the inaugural Thailand Golf Championship title.
"I feel like Lee is playing his own tournament and we are playing something else. Halfway through it now, I still feel like I've got a very outside chance. I need to. I feel a good score out there. I can see eight or nine under if I play decent without the bogeys," said the lean 27-year-old.
"I mean it's difficult to chase 11 shots. You can't make it up in 18 holes, you need a lot of holes. We've got 36 holes to go and we've all played this game before. It's half from over. I need a 14 under weekend to have a sniff."
Daly, who shot three birdies against four bogeys, waved the white flag.
"Playing for second is all I can do. If you told me somebody would be 20-under after four rounds, I would have been shocked but after two? He (Westwood) is just in the zone. He is putting is so good. Nobody is going to catch him so I think the thing for me to do is to go out and shoot under-par in the last two days. The course is not that easy. He is making it look easy, but it is not that easy for us," said the colourful American veteran.
The halfway cut was set at 147 with 74 players progressing into the weekend rounds.
British Open champion Darren Clarke (76), Spanish star Sergio Garcia (71) and Japanese talent Ryo Ishikawa (77) all made the cut on the number.