Karlsson triumphs in Jumeirah play-off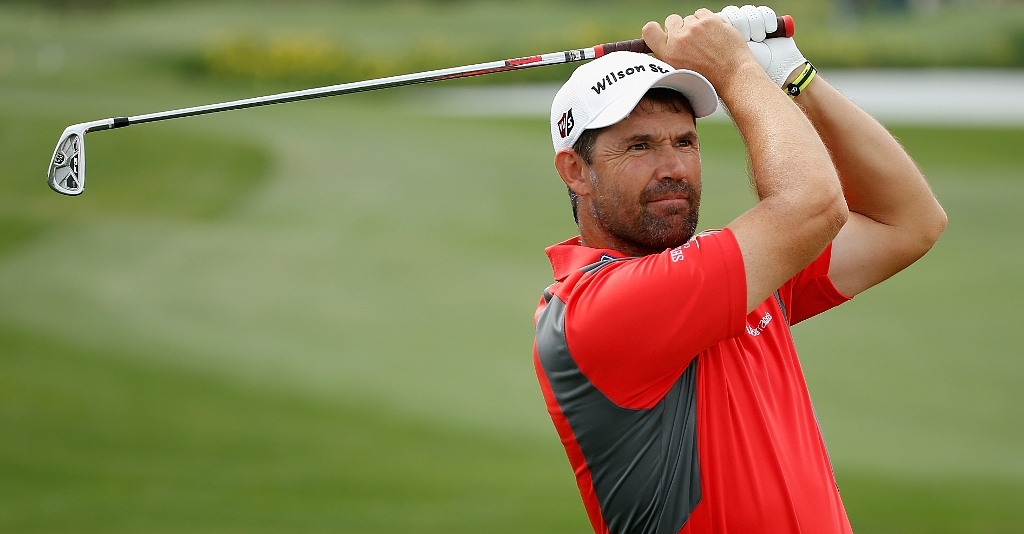 Ian Poulter was trying to keep a lid on his frustration after losing the play-off to Robert Karlsson in Dubai on Sunday
Ian Poulter was trying hard to keep a lid on his frustration on Sunday night after losing the play-off to Robert Karlsson at the Dubai World Championship and seeing £352,000 going down the drain.
For that amount was the difference between the first and second prizes.
On the green of the second play-off hole against Karlsson at the the plush Jumeirah Estate's outstanding Earth Golf Course, Poulter dropped his ball on his "lucky" marker – and because the marker moved, flipping over, he called for a referee and his worst fears were realised when he was penalised by a-shot.
"I've heard of it happening before, but not to me," Poulter said.
Now, Instead of being able to fully focus on his a difficult 30-foot, up-hill-and-down-dale putt for birdie to save the match and take it to the next hole, the charismatic Englishman was suddenly putting for par knowing there was very little chance Karlsson would miss his birdie attempt from just four feet away to win.
He didn't, off course, and long-time leader Poulter's hopes had suddenly gone up in smoke
It was bad enough that 41-year-old Karlsson had won £776,686 compared to Poulter's £517,789, in this his 9th European Tour victory, but there was more.
If Poulter had beaten the big Swede in the play-off, the Englishman would have finished third on this season's European Tour money list rather than fourth behind new number one Martin Kaymer, Graeme McDowell and Lee Westwood.
And that would have earned him a £466,012 bonus instead of "only" £372,809.
And there's more.
The runner-up spot, coming as it did a week after his Hong Kong Open victory, has lifted him from 11th to eighth in the world, but he could have been seventh with back-to-back titles.
Asked how frustrating the round had been, the 34-year-old Poulter said: "About 20 world ranking points (23 actually), a lovely trophy and about USD400,000 – that much frustrating.
"It's a shame it's just ended the way it has and it's not a consolation for me that Robert holed the putt in any case.
"It's a strange rule because if I had dropped the ball on the middle of the marker and it had not moved there's no penalty.
"But I should not drop my ball on it. It's been my lucky marker since the start of the year and has got my kids' names on.
"There are always positives, but right now I'm not seeing them."
What certainly was lucky for Karlsson was the 620-yard 18th. He birdied it to force the play-off, shared the first play-off hole in birdies after another pitch to three feet and then made four again to triumph.
The 2008 European number one, who has suffered a serious eye problem and glandular fever since then, will also remember his start.
From three behind Poulter overnight he birdied the first two holes and then sank an eight-iron on the third for an eagle two, just as Kaymer did in the opening round.
He and Poulter, who just missed a 15-foot chance to win on the last hole of regulation play, finished with rounds of 67 and 70 respectively for 14-under-par totals of 275.
World number one and defending champion Westwood shared third place with Alvaro Quiros a stroke behind, the Spaniard missing a long eagle putt on the 18th and Westwood pulling his second to the hole into water and taking five when a birdie would have made him part of the play-off.
Kaymer and McDowell, the only two contenders for the Order of Merit entering the event, finished joint 13th, which earned the 25-year-old German – the youngest number one since Ronan Rafferty in 1989 – a bonus of over £932,000.
McDowell had to finish third in the tournament just to have a chance, but a bonus of almost £700,000 – and the memories of the US Open and Ryder Cup, of course – softened the blow of just missing out on the top spot.
Karlsson said: "It was a strange day to say the least. To start birdie-birdie-eagle is not what you expect to happen when you are three behind.
"Then there was the one-shot penalty. It's not the way you want to win, but these things happen in golf.
"The rules are there for a reason, but some of them look very hard at stages. In one way that's the purity of the game."
Tour chief referee Andy McFee, the man who had to break the news to Poulter, said: "Any accidental movement of the ball marker which occurs before or after the specific act of marking – including as a result of dropping the ball – is not considered to be directly attributable to the specific act of marking and results in the player incurring a one-stroke penalty."