Jimenez happy to be in soggy Turin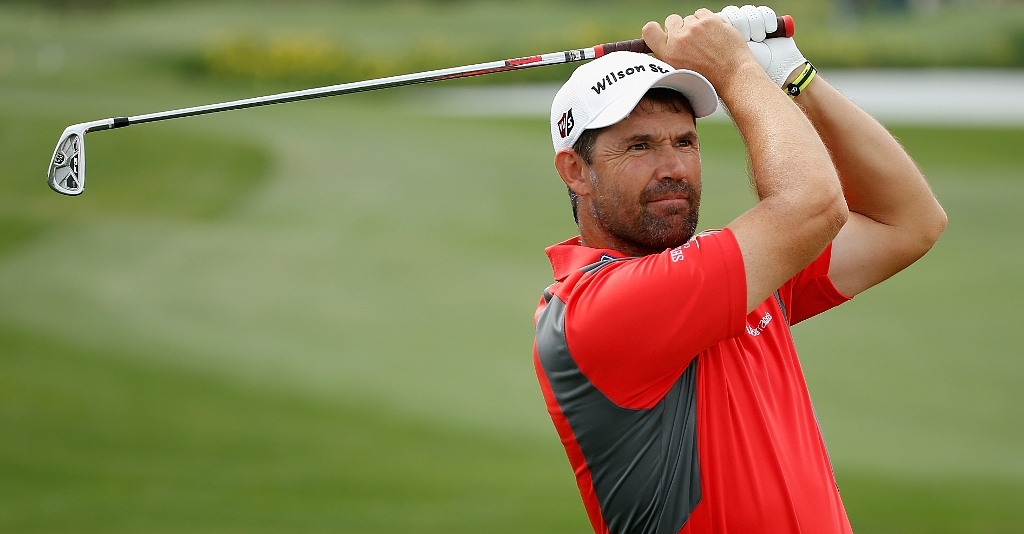 Miguel Angel Jimenez is happy he chose the Italian Open ahead of Sawgrass after a 68 left him one off the lead at halfway.
Spain's Miguel Angel Jimenez insists he has no regrets about swapping sunny Sawgrass for soggy Turin, despite a difference of almost £1million in prize money.
Jimenez is in contention to win £186,000 at this week's Italian Open, but only after turning down the chance to claim £1.1million instead.
That is the first prize on offer at golf's richest event, the £6.2million Players Championship at Sawgrass which, as a member of the world's top 50, Jimenez would have been expected to play.
However, the prospect of yet more trans-Atlantic travel was not to the 46-year-old's liking and he opted instead to play at Royal Park I Roveri in Turin, where a second round of 68 on Friday saw him claim a share of second place on seven under par.
Sweden's Fredrik Andersson Hed leads the field on eight under, with Jimenez and compatriots Alejandro Canizares and Ignacio Garrido, Belgium's Nicolas Colsaerts and South African Hennie Otto a shot behind.
Teenage star Matteo Manassero is just four off the lead on his professional debut after consecutive rounds of 70 which simply confirmed his enormous potential.
Speaking about Sawgrass, Jimenez – who claimed his 16th European Tour title in Dubai earlier this year and has won more than £15million in his career said: "It was a difficult decision, it's a great tournament and if the TPC was a major I would be there, but I did not want to make another long trip.
"I like the course and the place but I've never had a very good result there. With too many continental flights I get exhausted and I'm 46 now. I'm not young, although I'm not old.
"Money is important to help you enjoy life but that is all. My goal in life is to enjoy myself in every single moment. Also, the money in Sawgrass does not count for the European Tour Order of Merit.
"It's almost 10 years since I played in Italy and they have made a big effort to make this a special tournament so I wanted to support this tournament and the tour."
The highlight of Jimenez's round came at the par-five 18th, his ninth hole, when he holed a pitch shot from 70 yards for an eagle three.
Jimenez has made three Ryder Cup appearances and is currently 14th in the qualifying race, and added: "There is a lot of competition and one thing is guaranteed, Europe will have a very good team.
"If I play well I will be there and very pleased to play in Europe's colours, but if not it will not damage me as there are so many good players. That is the future and we have to make way for them. The Ryder Cup is so important and the most important thing is to have the best team there."
Andersson Hed was one of 18 players forced to complete their first rounds at 8am this morning following Thursday's two-hour delay, carding an opening 70 before adding a 66 by playing the last five holes in four under par with an eagle two and two birdies.
The 38-year-old regained his tour card after an incredible 14th trip to the qualifying school last November and has finished fourth in South Africa and seventh in India this season.
"In South Africa when I had a chance to win I was a bit too tense," he said. "In India I felt better and hopefully I will feel even better this weekend.
"Some people think I have so much experience but if it's been a few years since you were in that position it feels like a new situation."
Manassero turned professional on Monday after a stellar amateur career and at 17 years and 20 days old could become the youngest winner in European Tour history on Sunday.
New Zealand's Danny Lee was 18 years and 213 days old, and still an amateur, when he won the 2009 Johnnie Walker Classic.
"It's a great feeling," said Manassero, who outscored playing partner Colin Montgomerie by eight shots and would have only been only two off the lead if not for a double bogey on 16.
"I played very well today and I'm obviously happy with my game. Two under was not enough because my game was good enough to shoot five or six under today, but I'm 10th so I'm really happy about that.
"I'm playing well enough to be in contention and I'm pretty sure about my game going into the weekend. I'm dreaming a little about winning this tournament and if I keep playing like this I could be close."
Montgomerie had five birdies in seven holes from the fifth but could only add a 72 to his opening 76 to miss the cut, along with Darren Clarke, David Howell and Ryder Cup hopeful Ross McGowan.