Jacobson leads, Oosthuizen stars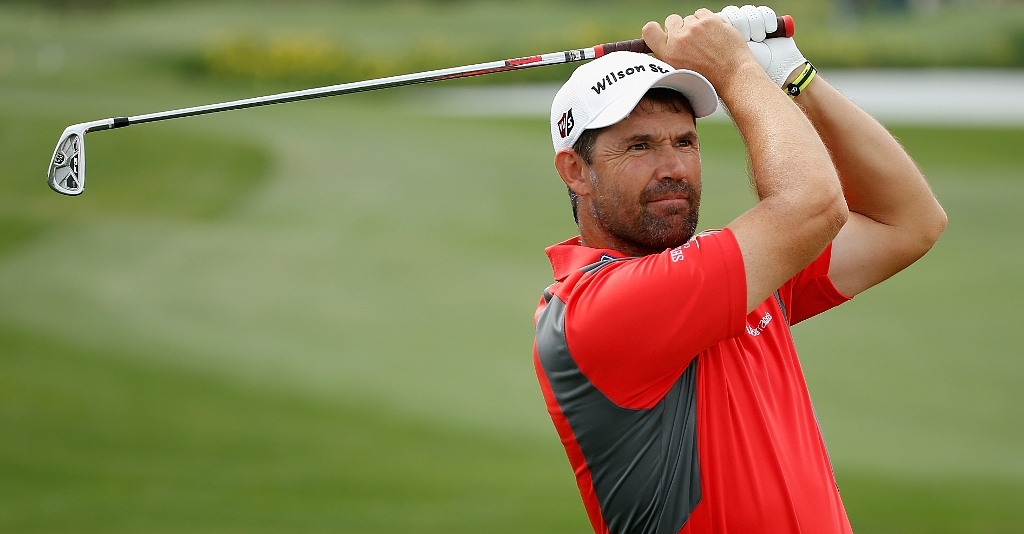 Sweden's Fredrik Jacobson will take a one shot lead into the weekend at the WGC-HSBC Champions in China.
In-form Swede Fredrik Jacobson will take a one shot lead into the weekend at the WGC-HSBC Champions after posting a sparkling 6-under 66 in Friday's second round.
But surprise, surprise!
The duo he'll be leading won't include the reigning PGA Champion and overnight leader Keegan Bradley who had topped the Swede by two shots after a first-round 65.
Instead it will be made up of 2010 Open Champion Louis Oosthuizen, who was tied for 29th and all of six shots off the pace after the first round, and highly-ranked Australian Adam Scott, who was four shots back after an opening 69.
Oosthuizen hasn't really been able to reproduce the brilliance that gave him his runaway Open victory at St Andrews two years ago. At least not since he seriously injured his ankle while out hunting shortly afterwards, but it all came back in a rush on Friday.
The little South Africa marched around the exclusive Sheshan National Golf Course and its many water hazards to a commanding but faultless nine-birdie, tournament best 9-under 63 performance that took him to 10-under tally and put him beside Scott in second place for the tournament, just one shot behind Jacobson who had moved into the second round lead with a rock-solid, six-birdie, 6-under 66.
On a day of low scores, Scott also burnt up the course with nine birdies, but marred his round of with two bogies to finish with a 7-under 65.
Bradley remained a major threat at 9-under, despite his one-eagle, two-birdie and two bogey round dropping him three shots off the pace to a 9-under.
He looked set to have another great day when he rolled in a 40 foot eagle putt on the second and a ten footer for birdie two holes later, but then the wheels came off a little and he made no further headway as his first bogey of the tournament and then a second one against just one more birdie tied him back to a rather pale 70.
Bradley is far from finished, though.
Mind you, in the kind of form he is in, Jacobson won't be easy to dislodge.
The 37-year old, whose three European Tour titles all came in 2003, won his first US PGA Tour title earlier this season and finished third last week in Malaysia.
Two behind Bradley overnight, the Swede eradicated the deficit with an outward 32, a wonderful 12 foot putt on the 16th completing a hat trick of gains.
A five footer at the seventh gave Jacobson his first birdie on the way in and the outright lead, before he finished his round by holing a 20 foot birdie putt at 18.
"I think," he said, "I've just been striking the ball really well. I've been driving the ball really well over these first two days.
"I got a new driver from Callaway a couple of weeks ago and started with it last week. They are coming out with a new model and it just seems to work really well.
"I've been hitting it a little bit further than before – I think last week there was not much run in the fairways and this course is playing pretty long sometimes. I feel I've been having pretty good distance off the tees, and if I can hit it straight, which I have so far, I'm going to get some good look ins with my irons."
Scott, winner of the last WGC event in Akron in August, went one better than Jacobson with a 65, but Oosthuizen had the round of the day with his nine under 63.
England's Paul Casey was in joint fifth spot with American Bo Van Pelt after a 66 and World Number Two Lee Westwood – runner-up here to Francesco Molinari last year – had a 68 to be part the group one further back.
World Number Three Rory McIlroy had seven birdies, but there were also four bogeys on his yo-yo card and he will have six strokes to make up at the weekend.
The 22-year-old US Open Champion three-putted the 12th from no great distance and, going for the green on the 288 yard 16th, he found the hazard on the right and bogeyed again.
Jacobson has been mostly based in the States in recent years, but could be set to feature more often in Europe as he tries to secure a place on José María Olazábal's Ryder Cup side next year.
He said: "It's been a great couple of days. I feel I've been striking the ball well and I've been setting up a lot of chances out there."
The World Number 54 could go top of Europe's Ryder Cup standings with a win and said: "I haven't decided yet on the schedule for next year exactly.
"I think it's going to depend a little bit on how I play. I'm starting to get into a lot of the tournaments where I can create points both on the European list and when it comes to world ranking points.
"But first things first, and that's to keep getting better and keep playing well. That's what my goal is.
"I had a hard time with the sleep and the jet-lag last week. I was sleeping in shifts for three hours here and two hours there.
"It was very difficult to have a 12-hour change like that. I've never been great at it and it probably took me a good six days before I slept for a full night."