It was a Cristie-Kristy day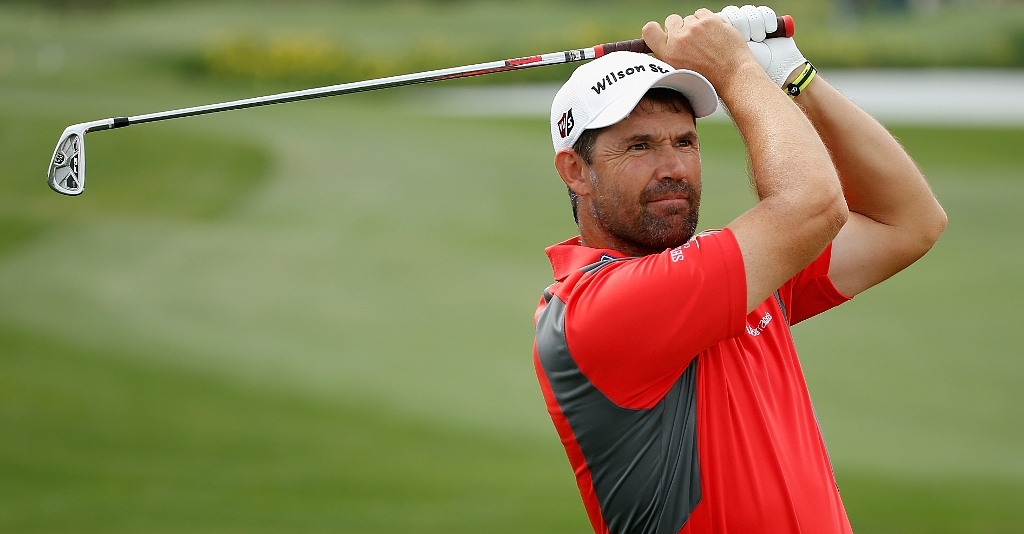 Cristie Kerr charged from four back, stumbled with two late bogeys, but nevertheless shares the lead at the State Farm Classic.
Cristie Kerr charged through from four back, stumbled with two late bogeys, but nevertheless finished with a share of the lead on a windy Saturday at the State Farm Classic.
Kerr had to pencil in a score of 6-under 66 after those bogeys at 16 and 17, but ended the third round at Panther Creek Country Club in Springfield, Illinois in a top-of-the-leaderboard tie with fellow American Kristy McPherson after she too had stumbled at the end, in her case with bogeys on the final two holes.
That put them both at 12-under 204 and one shot clear of Korea's hottest player this year, Jiyai Shin, heading into Sunday's fourth and final round of this important tune-up for next week's second major of the year at Bulle Rock.
Shin shot a 69.
Second-round co-leaders Se Ri Pak and Suzann Pettersen both struggled home in the wind with 72s and slipped back into a 10-strong log-jam for fourth place that included Japanese darling Ai Miyazato (65), Korean In-Kyung Kim (69), Thailand's Amy Hung (69), USA's Angela Stanford (69) and Sweden's Helen Alfredsson (71), who had stormed into contention with a stunning 63.
Michelle Wie went the other way, plunging down the scoreboard with a disastrous 77 that left her at 1 under.
With winds gusting up to 32 mph, Saturday's battlefield in Springfield was a tough one dominated by Kerr and McPherson who looked seemingly unshakable – until their late bogey trouble.
Nevertheless neither will be unhappy to be leading the stellar field at this stage.
The two traded leads on the final day of the season's first major, the Kraft Nabisco Championship, in April, but eventually finished in a tie for second when Brittany Lincicome beat them to the tape at the final hole.
It stands to reason, then, that both leaders would love to be able to tee off at Bulle Rock next week knowing that they had not been overtaken again here, although with player's of the calibre of Shin, Pak, Pettersen and fast-closing Alfredsson breathing down their necks, staying out in front won't be easy.
Collated third round scores from the LPGA Tour's LPGA State Farm Classic at Panther Creek CC in Springfield, Illinois (USA unless stated, par 72):
204 Cristie Kerr 69 69 66, Kristy McPherson 69 66 69
205 Ji-Yai Shin (Kor) 69 67 69
206 Ai Miyazato (Jpn) 73 68 65, Se Ri Pak (Kor) 66 68 72, In Kyung Kim (Kor) 69 68 69, Amy Hung (Tha) 71 66 69, Angela Stanford 70 67 69, Helen Alfredsson (Swe) 72 63 71, Suzann Pettersen (Nor) 68 66 72
207 Jee Young Lee (Kor) 66 69 72, Hee Young Park (Kor) 70 70 67
208 Hee-Won Han (Kor) 69 69 70, Sarah Lee 69 72 67, Karine Icher (Fra) 70 72 66
209 Joo Mi Kim (Kor) 70 68 71, Paula Creamer 69 71 69, Seon Hwa Lee (Kor) 69 68 72, Natalie Gulbis 68 72 69, Na Yeon Choi (Kor) 72 70 67, Amy Yang 69 69 71, Sarah Kemp (Aus) 72 70 67, Kris Tamulis 67 68 74
210 Taylor Leon 69 69 72, Meaghan Francella 69 68 73, Julieta Granada (Par) 69 73 68, Shanshan Feng (Chn) 69 70 71
211 Beth Bader 69 70 72, Eun Hee Ji (Kor) 70 72 69, Christina Kim 72 68 71, Pat Hurst 69 72 70, Anna Rawson (Aus) 71 71 69, Ya-Ni Tseng (Tai) 69 72 70, Ashleigh Simon (Rsa) 70 68 73, Jin young Pak (Kor) 69 70 72, Eunjung Yi (Kor) 72 67 72
212 Karen Stupples (Eng) 69 68 75, Chella Choi (Kor) 71 71 70, Juli Inkster 72 65 75, Morgan Pressel 69 69 74, Anna Grzebien 71 70 71, Haeji Kang (Kor) 74 68 70, Song-Hee Kim (Kor) 71 69 72, Katie Futcher 71 67 74, Becky Morgan (Wal) 73 69 70, Moira Dunn 69 66 77, Karin Sjodin (Swe) 71 71 70, Katherine Hull (Aus) 70 68 74
213 Anja Monke (Ger) 68 72 73, Mi-Hyun Kim (Kor) 70 69 74, Mikaela Parmlid (Swe) 70 70 73, Allison Hanna-Williams 71 69 73, Sarah-jane Smith (Aus) 70 70 73, Janice Moodie (Sco) 69 69 75, Meredith Duncan 69 72 72
214 Marisa Baena 69 71 74, Stephanie Louden 71 70 73, Anna Nordqvist 74 67 73, Laura Diaz 73 69 72, In-Bee Park (Kor) 69 70 75, Brittany Lang 69 72 73
215 Michelle Wie 70 68 77, Sun Young Yoo (Kor) 72 69 74, Young Kim (Kor) 70 70 75, Diana D'Alessio 70 71 74
216 Jackie Gallagher-Smith 72 68 76, Vicky Hurst 72 68 76, Meena Lee (Kor) 70 71 75, Soo-Yun Kang (Kor) 69 72 75, Nicole Castrale 70 72 74
217 Kyeong Bae (Kor) 71 69 77
219 Teresa Lu (Tai) 73 69 77