Howell comes in from the cold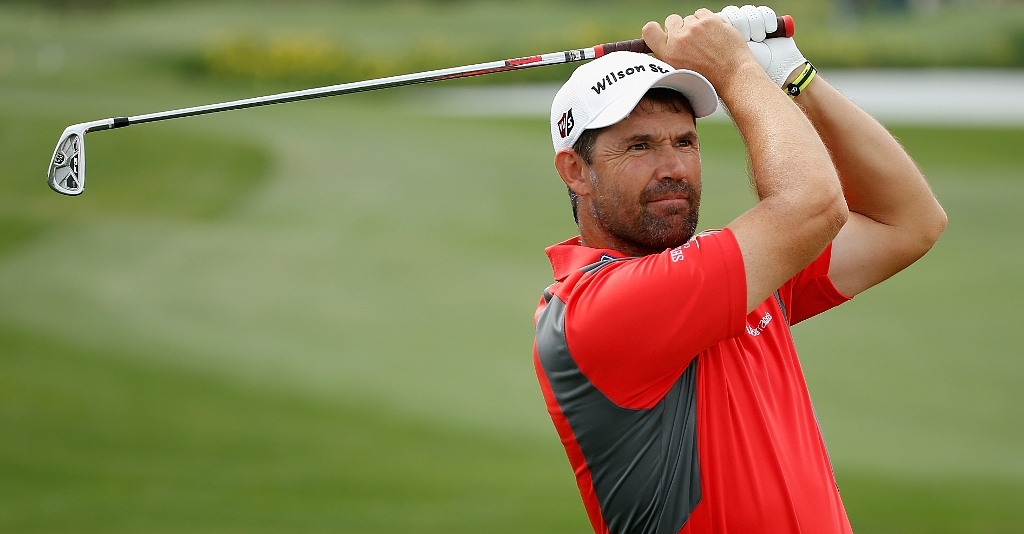 David Howell came in from the cold at the Irish Open on Saturday to put himself in contention for a first victory in five years.
David Howell gave away 278 places to Rory McIlroy on the World Rankings list at when he teed off in the third round of the Irish Open on Saturday, but he finally came in from the cold and beat the new US Open champion by all of eight shots as he charged into contention for a first victory in five years.
The former Ryder Cup star reignited his career with a superb seven-under-par 64 in the windiest and wettest conditions of the week and will go into Sunday's final round at the picturesque, par-71 Killarney Golf and Fishing Club in a three-way tie with fellow Englishman Simon Dyson and Australian left-hander Richard Green.
Green and Dyson both shot 4-under 67's to join Howell at 11-under 202.
Scott Stephen Gallacher is two shots further back at 9-under and one clear of a third Englishman, Ross Fisher, German Marcel Siem and Dane Soren Hansen, Siem having lost his overnight lead with a 2-over 73 and Hansen also having slipped down the leaderboard with a 1-over 72.
Ironically Howell, of whom nothing was expected this week, was paired with US Open Champion Rory McIlroy, the magician who finished 26 shots ahead of him at the US Open and of whom so much was expected.
But golf is golf and this time it was Howell who dished up the master class and produced the stunning 64 that rocketed him to the front of the stellar field.
In the meantime World Number Four McIlroy, whose record-breaking total at Congressional gave him his first Major title by a massive eight strokes, tumbled down the Irish Open leaderboard to joint 32nd with a one over par 72, the same as compatriot Graeme McDowell, the 2010 US Open champion.
Howell, known as one of golf's best putters when he was beating Tiger Woods head to head in 2005 and then leaving the rest for dead in the BMW PGA Championship at Wentworth the following May, rediscovered some of his wonderful touch as he put himself back on track with a chance of ending more than five injury plagued years without a victory.
He would, in fact, have led on his own had Dyson not birdied the 17th and left-hander Green the last.
Howell, twice a Ryder Cup player, said: "I've not been in the best of form for quite some time, so I was intrigued how I was going to be playing with Rory.
"He's the star of world golf, but there were no nerves and the crowds were amazing.
"I think I got inspiration from the big-time atmosphere. I did everything really well and it was great.
"I've given myself a chance – that's the main thing – and I was delighted to hole a seven footer (for par) on the last. Missing it would have been a sad way to end a flawless day."
The 36 year old has only once scored better in his European Tour career, but he also had a 64 on the opening day at Killarney last year.
"They're my best two rounds in a year and three days," he laughed. "While Rory was doing miraculous things at the US Open, I was absolutely shocking.
"We couldn't have had more polar opposite weeks, but it led me onto a lot of thinking.
"It's been a bit of a muddle for a few months, but finally last week I clicked on something that I thought was a sensible course of action in my swing thoughts.
"Nothing particularly major, but it cleared my mind a bit."
While McIlroy had two shots on the beach by Lough Leane for an opening six – he also double-bogeyed the eighth – Howell parred the first four, then birdied the fifth and seventh and had five more in a spectacular inward 31 as the wind and rain got worse.
McIlroy said: "I'm feeling as if I need a couple of drinks or something. It was a bad start, but I got it together at the end and one over is not too bad, considering.
"I'm happy that it's going right rather than left. At least the club's out in front of me instead of being behind and flipping it over.
"It's an easy fix. It's the ones that go left I don't like.
"At this tournament you're trying so hard to play well for not just yourself, but for everyone else. Sometimes you can just find yourself trying a little too hard and pushing a bit too much."
Dyson, who finished ninth in The Open Championship a fortnight ago after being called in as a late replacement also now has a chance to climb back into the world's top 50 and qualify for this coming week's World Golf Championships event in Ohio.
"I'm really excited," he said.
"I don't think the golf club has felt as good in my hand all year, so I'm looking forward to the last round.
"I always think that British golf fans are the best golf fans to play in front of and like The Open crowd, and the crowds here (in Ireland) are proving me right."
Green stated: "I have a bit of a reputation of firing it up in the last round, so hopefully it happens tomorrow."