Hoey holds off the big guns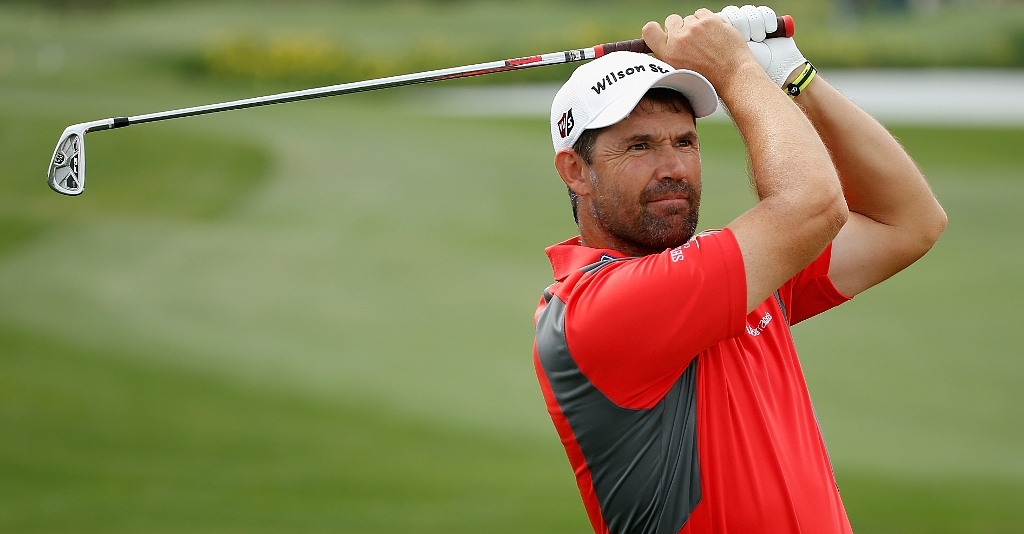 Michael Hoey will take a three-shot lead into the final round of the Alfred Dunhill Links Championship in Scotland on Sunday
Michael Hoey will take a three-shot lead into the final round of the Alfred Dunhill Links Championship after another splendid day in Scotland for the Northern Irish contingent.
Hoey carded an excellent 66 at Carnoustie to finish at 18-under par, while his compatriot, the former US Open Champion, Graeme McDowell, posted a third consecutive 67 at St Andrews to claim outright second at 15-under.
South Africa's 2010 Open champion Louis Oosthuizen marked his return to St Andrews where he won the title with a 69 to lie at 14 under in a seven-way tie on 13 under that includes World No 1 Luke Donald, fellow Englishman Simon Dyson, US Open Champion Rory McIlroy and three-time major winner Padraig Harrington.
Donald, fighting back from disappointing early rounds of 69 and 71 as he chases prize money with the aim of becoming the first man to top the money lists on both sides of the Atlantic in the same year, and Dyson both shot spectacular 63s at St Andrews to equal the course record for the extended layout set by McIlroy in The Open Championship last year.
"I'm very, very happy with my day," said Dyson, who is 30th on the Official World Golf Rankings list after two wins this year.
"I didn't realise my birdie putt on the 18th was for the course record otherwise I might have hit it a bit harder. But it's a good name to share the record with."
Around an hour later he was also sharing it with Donald, who did manage to pick up a shot at the 18th for his ninth birdie of a flawless round.
Donald currently enjoys a lead of over €1,600,000 over McIlroy on The Race to Dubai, but his lead over Webb Simpson on the US PGA Tour is just €50,000 after he overtook the American by finishing joint third in the Tour Championship on Sunday.
But getting back to the growing dominance of Northern Ireland golfers in world golf; McDowell got the ball rolling for his country when he put himself in the media's bright lights last year with his US Open Championship victory at Pebble Beach and then made the headlines again when he holed the winning putt for Europe on an ultra-tense final day in The Ryder Cup at The Celtic Manor Resort.
He was then succeeded as US Open Champion by compatriot Rory McIlroy earlier this year after which Darren Clarke won The Open Championship at Royal St George's to give Northern Ireland their third Major Champion in little over a year.
Hoey is only hitting the heights now following a successful amateur career which saw him play on the same victorious Walker Cup team as Donald in 2001, but McDowell had plenty of praise for his fellow Ulsterman.
"Michael's always been a very talented player," McDowell said. "He's a great ball-striker, has a great swing. He's always had the talent and won the British Amateur in 2001 before playing in the Walker Cup.
"It's a fine line between guys who go on to become the best in the world and guys who become journeymen pros. And you wouldn't say Michael is a journeyman, he's popped up twice and won on tour, and won well each time.
"When he applied himself and puts it all together he's as good as anyone out there. Why he doesn't put it together more often, who knows?"
Hoey himself, thinks he knows, although he has only recently found out why.
He said: "I've probably just been really too hard on myself. Trying to relax is obviously what I need to do and I've done that well so far this week.
"Golf is very mental, you have to accept poor shots. It's great to be in the lead in a really big tournament but there's a long way to go. Everything went very well today. My short game was unbelievable, the best it's ever been."
On for his prospects after a disappointing 2011 which resulted in him consulting former coach Clive Tucker again, McDowell added: "A top five or top ten tomorrow will be a nice result for me.
"I'm happy that I'm taking some steps in the right direction and I've always felt this was a tournament I could win, especially after shooting a 62 in the first round in 2004 and losing out in a play-off."
And the third member of the Northern Irish major brigade?
What did he have to say for himself after being left a little rueful at the fact that he let a number of chances go begging in the late stages of his round?
McIlroy said: "As long as the guys don't get too far ahead I think I have a chance."
and on Northern Ireland's unprecidented golfing success int he last few years, he added: "I don't know what it is. I don't know if it's just coincidence or if we're feeding off each other.
"I don't think it will last forever, but I hope it does. It's just a period where we are all playing well together, although we might just remember that two English guys are number one and two in the world right now!"