Harrington moves to 2nd place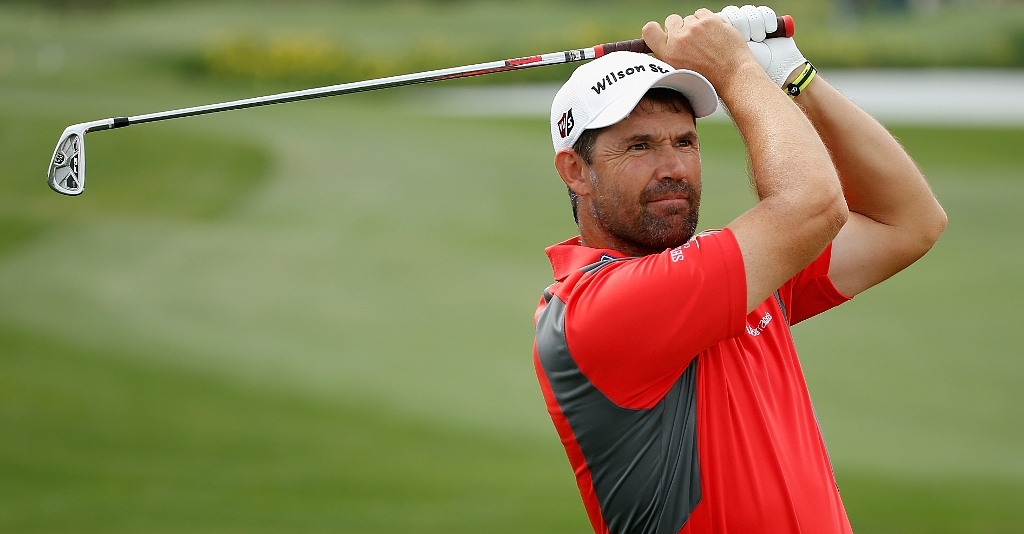 Padraig Harrington battled a stomach complaint for a solid 4-under 67 that has put him in second place in Malaysia.
Defending champion Padraig Harrington of Ireland battled a stomach complaint to post a solid four-under-par 67 that has put him in second place behind Daniel Chopra after 36-holes at the Horizon Hills Golf and Country Club.
Harrington, among the 70 players who had to come back on Saturday morning to complete their second rounds of the Iskandar Johor Open after Friday's storm delays, completed nine holes for a 36-hole, 11-under-par 131 tally that was matched by James Morrison of England and Gregory Bourdy of France at the US$2 million event sanctioned by the Asian Tour and European Tour.
Chopra, who finished the second round on Friday with a 65 to go to 13-under 129, aims to recapture the title he won in 1993 but will have to fend off a a man famed for winning when he has not been in the best of health. He won two of his three majors with injuries.
"I've actually been feeling a bit under the weather for the last 48 hours, so that break yesterday actually did me the world of good, because I was able to sleep for three hours. I'm not sure if it was something I ate, but I've been really struggling to sleep and I lost my appetite," said Harrington.
"But I felt better after my sleep yesterday afternoon, and I felt better again this morning. I've been surviving on toast for the last two days, but hopefully I can get something down me now and maybe go for a little nap before the third round starts," he added.
Harrington played nine holes on Friday before play was suspended due to darkness. He returned this morning with a pair of birdies from the 11th hole and added two more birdies on holes 16 and 18 to stay within touching distance of Chopra.
"It was important to get as close to Daniel (Chopra) as I could, because we don't know if there are 18 or 36 holes left to play. I was very aware of that coming down the last nine holes, and even on the last hole.
"The pin is very tight to the water but I decided to attack the flag with my pitch anyway, which maybe I wouldn't have done if I knew for definite there was still 36 holes left to play," he said.
Siddikur of Bangladesh, winner of the 2010 Brunei Open and the highest ranked Asian right now, and is tied for sixth place after posting a 67 on Friday for a 134 total to lie five shots off the lead.
FINAL 2ND ROUND TOP 10 LEADERBOARD
129 – Daniel Chopra (Swe) 64-65.
131 – Padraig Harrington (Irl) 64-67, James Morrison (Eng) 66-65, Gregory Bourdy (Fra) 64-67.
133 – Joost Luiten (Ned) 63-70.
134 – Siddikur (Ban) 67-67, Christian Nilsson (Swe) 67-67, Michael Jonzon (Swe) 69-65, Jose Manuel Lara (Esp) 67-67, Marcus Fraser (Aus) 64-70.
135 – Soren Hansen (Den) 68-67, Rhys Davies (Wal) 70-65, Soren Kjeldsen (Den) 71-64, Darren Beck (Aus) 70-65, Brett Rumford (Aus) 71-64, Manny Villegas (Col) 72-63, Fredrik Andersson Hed (Swe) 68-67.
136 – Rikard Karlberg (Swe) 70-66, Chapchai Nirat (Tha) 65-71, Peter Karmis (Rsa) 70-66, Jamie Mcleary (Sco) 66-70, Marcel Siem (Ger) 69-67, Louis Oosthuizen (Rsa) 69-67, Michael Hoey (Nir) 69-67.
137 – Mardan Mamat (Sin) 69-68, Steve Webster (Eng) 69-68, Sam Walker (Eng) 70-67, Anthony Kim (Usa) 68-69, Guido Van Der Valk (Ned) 69-68, Danny Willett (Eng) 69-68, Richie Ramsay (Sco) 68-69.