Gonzalez blitz clinches Masters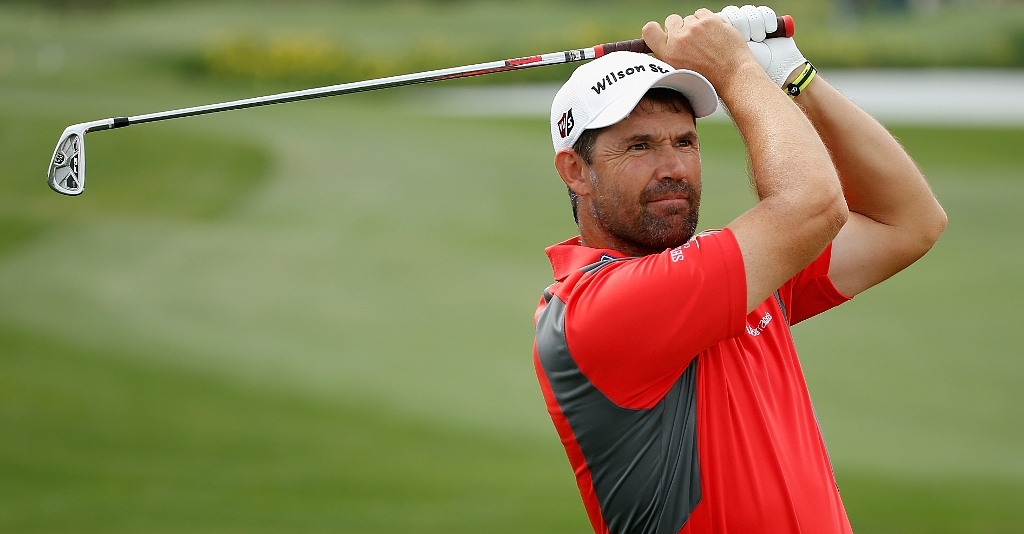 Argentina's Ricardo Gonzalez fired five birdies on the last six holes to win the SAS Masters going away.
Burly Ricardo Gonzalez fired five birdies on the last six holes at ultra-long Barseback on Sunday to win the SAS Masters going away.
The 'Axeman' as some journalist are calling him, or the 'Raging Bull' as one of the TV commentators said when referring to the big-hitting Argentine, came storming through with his late, great birdie blitz on the closing stretch to shoot a 4-under 69 for a winning 10-under total that gave him his first European Tour trophy in five years and a two-shot victory over strong-closing Welshman Jamie Donaldson.
Needing just 21 putts, a slightly disappointed but seriously elated Donaldson had earlier shot an equal-best-of-the-day 68 when all the leading contenders save Gonzalez found it difficult to break 70 and was able to move into contention at 8-under and wait and hope for the sudden-death play-off which, unfortunately for him, was never to come
The 39-year-old Gonzalez's five -birdie herois on the longest course in European Tour history included a magnificent bunker shot at the at the 17th that never looked like missing the hole and a wonder recovery shot with his nine-iron at the 18th that he threaded through a nine foot gap and set the ball down on the green just five feet from the flag.
"Incredible," he said after signing his winning card and talking about what until now has been a poor season with no previous top-10 finishes.
"It's been a hard year, but I was fighting, fighting, fighting. I had the feeling that you can always make it if you work hard and never lose faith.
"I don't know whether the shot on the last was luck or just brilliant, but it was very important because I am sure now to keep my Tour Card."
Gonzalez, whose last victory on the circuit was five years ago, also earned himself a nickname at last.
Compatriots Angel Cabrera and Eduardo Romero have long been known as "The Duck" and "The Cat".
Gonzalez is now "El Hombre del Hacha" – "The Axeman" – because after missing out on The Open he returned to his farm south of Buenos Aires and helped cut down trees.
Donaldson has still to win a Tour title nine years after partnering Paul Casey and Luke Donald to second place in the world amateur team championship.
But the 33-year-old was feeling good rather than bad about this near miss after witnessing what Gonzalez did.
"I had only 21 putts and didn't do anything wrong," he said after his joint best-of-the-day 68.
Donaldson's one previous second place was in Portugal in 2003 and he remembered: "Fredrik Jacobson had three chip-ins on the back nine and beat me by one."
Gonzalez earned £142,938 and Donaldson £95,294, while third place went to Denmark's Jeppe Huldahl, winner of the Wales Open early last month.
Huldahl led by three at the turn as overnight leader Marcus Fraser struggled on his 31st birthday, but bogeyed the 10th and 11th and dropped further shots at the last two as well.
Pre-tournament favourite Henrik Stenson could not get inspired by playing on his home course all week and with two closing double bogeys for a 76 finished down in 73rd place on 10 over.
Stenson had pledged his prize money to his new Foundation charity and hoped, of course, it would be a six-figure sum. Instead it was less than £1,300.
Winning could have taken him back to his career-high fourth in the world, but even as it is he is set to move up from seventh to fifth tomorrow.
That was the good news for him. The good news for a tournament which, in terms of prize money, has slumped from seventh on the European Tour a decade ago to outside the top 40 is that new life is about to be breathed into it.
Next year it moves to Bro Hof near Stockholm, the new course designed by Robert Trent Jones Jnr which is Sweden's candidate for the 2018 Ryder Cup.
The owner plans to double the purse instantly to £1.7million and within five years to make it the second richest event in Europe after The Open.
That is currently the BMW PGA Championship at Wentworth at just under £4million.
That should attract a better field. Stenson was the only member of last year's Ryder Cup side to take part this year and not one of the top 10 finishers was inside the world's top 200.
FOOTNOTE:
American Nathan Smith finished joint fourth here today – three days after coming within a minute of disqualification from the event.
The 26-year-old got his tee-off time wrong in the opening round after a rain delay and was saved by having his mobile on as he practised on the driving range.
He said: "A European Tour official rang me. I sprinted about 500 yards to the tee and got there four minutes late."
It meant a two-stroke penalty and he triple-bogeyed the hole, but being five minutes late would have meant disqualification.
From three over after one hole Smith battled back to finish four under.
ALL THE FINAL SCORES
(Gbr & Irl unless stated, par 73):
282 Ricardo Gonzalez (Arg) 68 68 77 69
284 Jamie Donaldson 71 72 73 68
286 Jeppe Huldahl (Den) 72 70 70 74
288 Lee Slattery 67 70 75 76, Nathan T Smith (USA) 75 71 71 71, Jacob Olesen (Den) 73 72 75 68, Martin Erlandsson (Swe) 70 70 72 76, Marcus Higley 72 71 70 75, Oskar Henningsson (Swe) 70 72 73 73, Marcus Fraser (Aus) 72 69 70 77
289 Danny Willett 71 72 76 70
290 Joakim Haeggman (Swe) 74 70 72 74, Soren Kjeldsen (Den) 72 71 75 72, Christian Nilsson (Swe) 72 71 73 74, Gareth Maybin 72 73 72 73, Robert Dinwiddie 74 70 75 71
291 Jean-Baptiste Gonnet (Fra) 73 71 70 77, Niclas Fasth (Swe) 72 71 73 75, Pelle Edberg (Swe) 72 73 73 73, Tano Goya (Arg) 69 74 75 73, Klas Eriksson (Swe) 69 78 73 71, David Lynn 73 73 71 74, Jesper Parnevik (Swe) 74 71 72 74
292 Mikael Lundberg (Swe) 73 74 70 75, Richie Ramsay 70 70 77 75, Richard S Johnson (Swe) 74 70 75 73
293 Robert Jan Derksen (Ned) 77 71 71 74, Maarten Lafeber (Ned) 72 75 75 71, Peter Lawrie 73 71 75 74, Pablo Larrazabal (Spa) 69 71 74 79, Marc Cayeux (Zim) 74 69 76 74, Joel Sjoholm (Swe) 73 72 71 77, Anders Sjostrand (Swe) 72 69 75 77, Wade Ormsby (Aus) 72 72 70 79
294 Brett Rumford (Aus) 70 75 74 75, John Mellor 76 70 77 71, Alejandro Canizares (Spa) 71 74 70 79
295 Gary Murphy 71 74 75 75, Steve Webster 71 73 76 75, Mikko Ilonen (Fin) 75 72 73 75, Sam Little 72 75 69 79, James Driscoll (USA) 73 74 73 75
296 Mattias Eliasson (Swe) 73 72 75 76, Francois Delamontagne (Fra) 73 75 75 73, Simon Dyson 75 72 73 76, Raphael Jacquelin (Fra) 76 69 73 78, Michael Hoey 72 74 74 76, Johan Edfors (Swe) 74 73 74 75
297 Callum Macaulay 73 72 74 78, Alvaro Velasco (Spa) 77 70 75 75, Phillip Archer 75 73 76 73, Pablo Martin (Spa) 69 75 74 79
298 Peter Hanson (Swe) 74 73 75 76, Damien McGrane 73 71 76 78, Alessandro Tadini (Ita) 74 74 73 77, Ignacio Garrido (Spa) 73 72 78 75, Fredrik Andersson Hed (Swe) 74 72 75 77
299 Richard Bland 74 72 77 76, Magnus A Carlsson (Swe) 71 71 79 78, Peter O'Malley (Aus) 74 70 77 78, Simon Khan 74 74 76 75
300 Michael Campbell (Nzl) 78 70 73 79, Ake Nilsson (Rsa) 75 73 75 77, Andrew