Glover reels in Barnes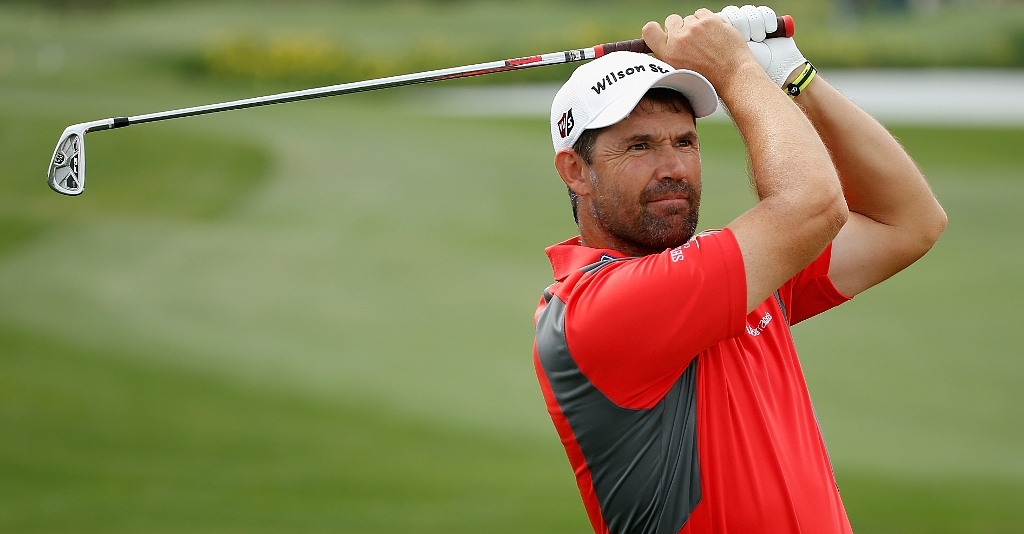 Ricky Barnes showed signs of cracking under final-round pressure at Bethpage Black tonight as he lost the outright lead.
Ricky Barnes showed signs of cracking under final-round pressure at Bethpage Black tonight as he lost the outright lead at the 109th US Open.
Barnes had led the field by six shots early the raij-delayed third round but ended it with a one-shot lead when it was finally completed on Sunday adfternoon.
Then, as the players went straight back out to start their final rounds, an errant drive saw him give that up, leaving him to go into Monday's final holes level at seven under par with Lucas Glover.
And with his ball in thick rough on the second hole, the chances are strong he'll lose another shot here when final-round play resumes on Monday.
Barnes and Glover both shot level-par 70s in the third round, the former to stay at eight under par for 54 holes, one clear of his rival and five ahead of England's Ross Fisher and American former Open champion David Duval.
Both Fisher and Duval bogeyed their opening holes to fall back into a tiel with Phil Mickelson and Hunter Mahan at two under, but the lead stayed at five shots as play was suspended for the day due to bad light.
After a week of heavy rains and numerous suspensions of play, the US Open now faces play on a Monday to complete 72 holes for the first time since 1983, with a resumption set for 9am local time (2pm BST).
Barnes had threatened to set more records after shooting an all-time US Open 36-hole low of 132, after a 65 on Saturday, holding a six-shot lead at 10 under par at the turn and then, when he was going the right way of emulating 2003 Open champion Ben Curtis and turning his maiden major into a victory the wheels begand to come off.
The 28-year-old had been at 11 under par after four holes, the first man in double digits at the US Open since Jim Furyk in the third round at Olympia Fields en route to his 2003 victory.
Yet but then he began to unravel over the back nine to fall to eight under, with Glover also shooting a 70 to return the leaderboard to the status quo.
Fisher finished with a 10-foot birdie putt at 18 for a 69 to move to three under ahead of the final round, which saw him playing in the penultimate group with Duval, who also closed with a birdie for a 70 to join him in a tie for third.
"It's still a new experience for me," Fisher said. "It's the US Open, it's a major.
"So any time you can put yourself into contention and turn around and look at that leaderboard and see your name there, you're doing something right.
"So fingers crossed, I can continue to do that for the rest of the evening and hopefully when we get back out there tomorrow and keep my name on that leaderboard, and who knows, try and climb up it a little bit higher."
That plan did not pan out as Fisher found right rough off the first tee, Duval veering left as both dropped a shot to slip to two under.
Canada's Mike Weir fell back to two under with a 74, where he was met coming the other way by American duo Mahan, with a 68, and world number two Mickelson, who delighted his big following of fans by sinking a 38-foot birdie putt at the 18th for a 69.
The Americans' status had not changed after playing two holes but Weir had dropped another shot with a bogey at the third.
Northern Irishman Graeme McDowell, who returned to form after a second-round 72 with his second 69 of the week to get to level par, was still on that mark having played four holes.
Defending champion Tiger Woods began his day 11 shots behind Barnes's overnight lead and made up two shots with a 68.
"It's one of those where you have to play a great round of golf and get some help," Woods said as he looked forward to his final round.
"Obviously it's not totally in my control. Only thing I can control is whether I can play a good one or not."
His fourth round did not begin well, finding right rough off the tee on the way to a bogey before rebounding with a birdie at the second only and the world number one finished the day on a high with a birdie at the seventh after the hooter sounded to get to even par, seven shots off the lead with 11 to play.
England's Oliver Wilson was two over after five holes while Sergio Garcia of Spain finished the day on the eighth hole at three over and Lee Westwood's US Open dreams dissolved when the Black course bit back.
Westwood had shot a second-round 66 to get to two under he was at four under after four holes of his third round before slipping to a 74 for two over.
It got worse in the fading light as he posted back to back doubles to slip to five over with 10 to play.
Rory McIlroy, though, followed a two-over 72 to left him at four over with final-round birdies at his second and fifth holes to get to two over after 11.
Ian Poulter started at seven over following a third-round 73 but two birdies got him to five over after five.