Garcia, Cook spearhead leading duo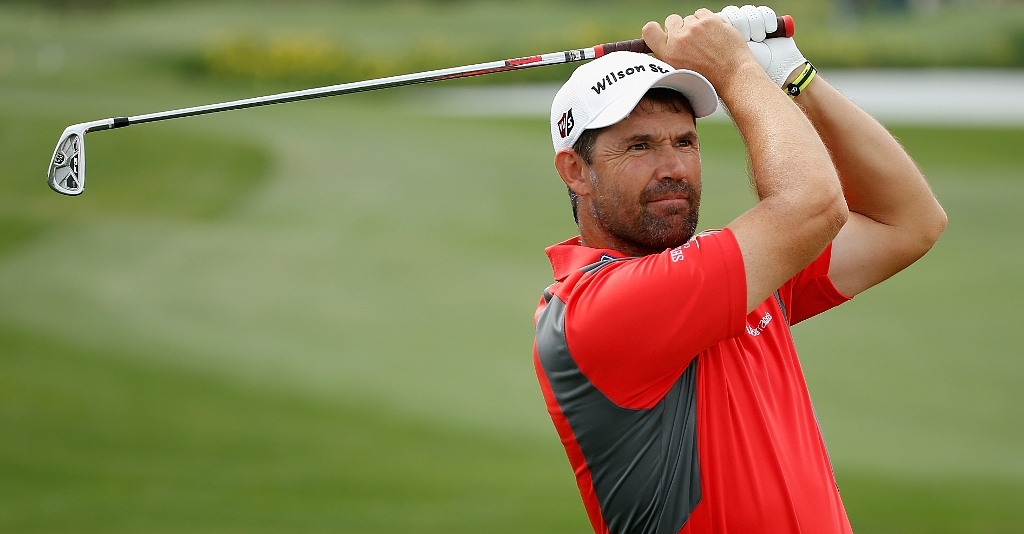 Dwight Yorke, though "terrified" to start with, ended day one of the Gary Player Invitational feeling pretty upbeat.
Former Manchester United footballer Dwight Yorke, though "terrified" to start with, ended the first day of the Gary Player Invitational, presented by Coca Cola, feeling pretty happy with the situation.
And why not?
Spearheaded by the sublime golf of professionals Sergio Garcia and John Cook, Yorke together with businesswoman Sinead Kenny, led the fourball alliance competition by one stroke on 14-under after round one at The Links at Fancourt.
The charity tournament partners a celebrity and business leader with professionals from both the regular and a senior tours over 36 holes.
Garcia and Cook are the front runners in the professional betterball competition. They lead by one stroke on seven under.
"I was terrified out there," Yorke admitted. "I've played in front of big crowds before, but the game of golf is certainly different. My golf did become easier, though, once I relaxed."
Kenny, a regular competitor in this tournament, is certainly looking forward to improving on her second place finish in the alliance competition last year.
"I think my teams get better every year. But we've had so much fun and it's a privilege to play with professionals like this."
Making his debut in this event and playing his first competitive event on The Links, Garcia looked impressive as he continued to work at recovering his old his form.
"It's getting there, but it's a work in progress. It's not like you just do something and suddenly it's a pretty picture again," he said.
In the amateur alliance competition, being the major sponsor of this event clearly benefited Alex Maditsi. The Country Manager of Coca-Cola East and Central Africa and his fourball are just one stroke off the lead on 13 under, with Maditsi enjoying one of his best rounds in this tournament.
Playing off a nine handicap, he went out in six over par and then played the back nine in level par.
"It was a memorable day for me. I didn't play at all well on the front nine and was extremely angry with myself. But I pulled it together on the back nine," he said.
One of the star attractions on Saturday was the professional pairing of tournament host Gary Player and leading South African women's professional Lee-Anne Pace. This was the first time Pace has played with the nine-time major winner.
"It was amazing – one of the best days of my life on the golf course. I've learnt a lot from him in our first round of golf together," said Pace.
Player, in the meantime, was greatly impressed with the potential of the five-time winner on the Ladies European Tour this year.
"I was impressed with how she keeps the ball in play. She has a good all-round game, and that kind of game can win Majors," he said.
Lee-Anne can do so much for women's golf and South Africa. I would love to see her with her ability to really put a massive effort into winning Majors. And I think she can do it."
First round scores:
Betterball Medal (professionals only):
66 John Cook & Sergio Garcia
67 John Bland & Louise Friberg; Bertus Smit & Darren Fichardt
69 Gary Player & Lee-Anne Pace; Bobby Lincoln & Lindani Ndwandwe
70 Vincent Tshabalala & George Coetzee; Mark McNulty & Retief Goosen
72 Tony Johnstone & Carly Booth
Fourball Alliance (best two scores to count)
-14 Sinead Kenny, Dwight Yorke, John Cook & Sergio Garcia
-13 Alex Maditsi, Thomas Msengana, Bertus Smit & Darren Fichardt
-9 Alan Campey, Kimberlin Brown, Bobby Lincoln & Lindani Ndwandwe
-8 Jurgen Dorsch, Zinzan Brooke, Mark McNulty & Retief Goosen
-7 Hendrik Riehmer, Sasha Martinengo, Vincent Tshabalala & George Coetzee
-5 Dr Andrew Golding, Lucas Radebe, John Bland & Louise Friberg
-4 Claudia Schoenfeld, Brian Lara, Gary Player & Lee-Anne Pace
-1 Dr Hans Walter-Peters, Shaun Pollock, Tony Johnstone & Carly Booth