Gal eagle secures LPGA lead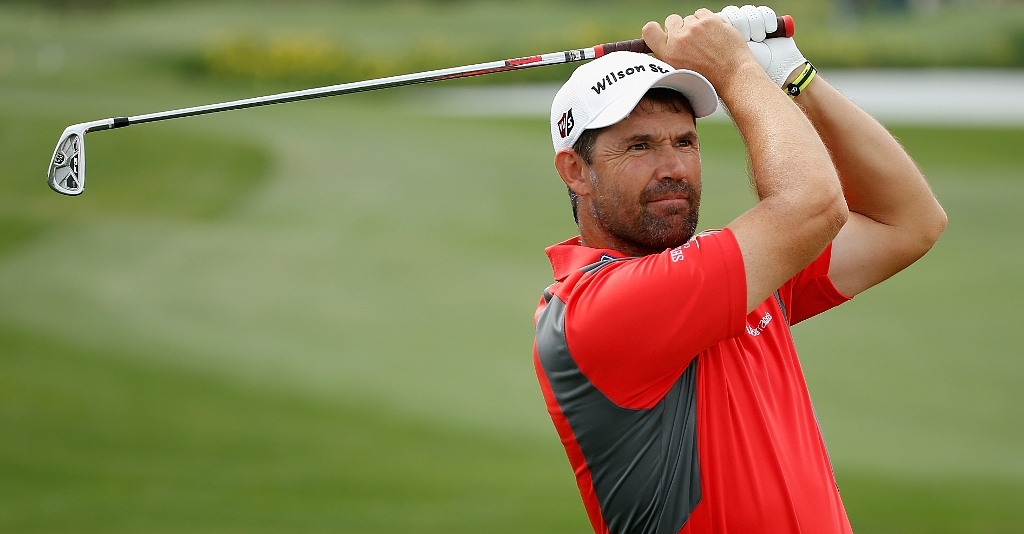 Germany's unheralded Sandra Gal's 15-foot putt for eagle at the last has given her the first-round lead in Arkansas.
Germany's unheralded Sandra Gal nailed a 15-foot putt for eagle that put her into the lead in Friday's first-round of the LPGA's P&G Beauty NW Arkansas Championship.
This on a day when the 24-year-old had been having no trouble in finding the hole after taking some minor corrective action to her putting stroke.
"I've been aiming it a little to the left, and I've been working on aiming it more on line," said Gal who is in her seconds season on the LPGA Tour.
"And my caddie was checking my line a little better, so I just feel I'm a little more confident over my putts because I know I'm starting them where I want without compensating."
Gal's final putt for an eagle at the Pinnacle Country Club's 18th hole on Friday gave her at 7-under 64 and a one stroke lead over Song-Hee Kim in this 54-hole event.
Brittany Lang, Pat Hurst and Angela Stanford are tied for third, just two strokes off the pace
Gal, who played college golf at the University of Florida before turning professional, was about 190 yards from the front of the green at the 515-yard par-5 last when she opted to go for the lead with an eagle.
She wasn't sure it would give her the distance, but chose a 4-iron and was delighted when it rolled to 15 feet of the pin
"I knew I could hit it to that bank and it would kind of skip to the hole," Gal said. "I had backed off initially only because I was aiming wrong."
She made the putt just as she had done with a 20-footer for birdie on the 3rd and a 25-footer for birdie on the 15th and unexpectedly leads a field that includes top guns like Cristie Kerr and Paula Creamer.
Gal is trying for her first win on the LPGA Tour. She led the Women's British Open this year after the first round, but shot an 80 in the second round and finished tied for 33rd.
Kerr, the tour's leading money winner this year, shot a 69 on Friday, one shot better than Creamer. Michelle Wie birdied the first three holes but had to settle for a 69.
ALL THE FIRST ROUND SCORES
(USA unless stated, par 71):
64 Sandra Gal (Ger)
65 Song-Hee Kim (Kor)
66 Angela Stanford, Pat Hurst, Brittany Lang
67 Kim Welch, Jane Park, Karen Stupples (Eng), Eun Hee Ji (Kor), Soo-Yun Kang (Kor), Jeong Jang (Kor)
68 Stacy Prammanasudh, Irene Cho, Sarah Lee, Marisa Baena, Vicky Hurst, Yani Tseng (Tai), Teresa Lu (Tai), Hye Jung Choi (Kor), Hee Young Park (Kor)
69 Lindsey Wright (Aus), Sun Young Yoo (Kor), Meena Lee (Kor), Cristie Kerr, Wendy Ward, Helen Alfredsson (Swe), Jee young Lee (Kor), Katie Futcher, Michelle Wie, Paige Mackenzie, Jessica Shepley (Can), M.J. Hur (Kor), Marcy Hart, Kyeong Bae (Kor), Katherine Hull (Aus)
70 Giulia Sergas (Ita), Chella Choi (Kor), Young Kim (Kor), Na Ri Kim (Kor), Anna Grzebien, Maria Hjorth (Swe), Kris Tamulis, Stephanie Louden, Paula Creamer, Jiyai Shin (Kor), Se Ri Pak (Kor), Eunjung Yi (Kor), Eva Dahllof (Swe), Alena Sharp (Can), Moira Dunn
71 Taylor Leon, Christi Cano, Maggie Will, Amy Yang, Michele Redman, Jimin Kang (Kor), Carri Wood, Allison Hanna-Williams, Allison Fouch, Janice Moodie (Sco), Jennifer Rosales (Phi), Mika Miyazato (Jpn), Shi Hyun Ahn (Kor), Morgan Pressel, Beth Bader, Charlotte Mayorkas, Anna Rawson (Aus), Candie Kung (Tai), Natalie Gulbis, Na Yeon Choi (Kor), Meg Mallon, Danielle Downey
72 Hee-Won Han (Kor), Kim Hall, Christina Kim, Julieta Granada (Par), Leta Lindley, Mindy Kim, Sophie Sheridan (Mex), Carolina Llano, Ai Miyazato (Jpn), Pornanong Phatlum (Tha), Rachel Hetherington (Aus), Becky Morgan (Wal), Mikaela Parmlid (Swe), Amy Hung (Tai), Meaghan Francella
73 Joo Mi Kim (Kor), Minea Blomqvist (Fin), Maria Verchenova (Rus), Reilley Rankin, Kristy McPherson, Sarah-jane Smith (Aus), Becky Iverson, Jeehae Lee (Kor), Ashli Bunch, Karine Icher (Fra), Ji-Young Oh (Kor), Louise Friberg (Swe), Mollie Fankhauser, Samantha Richdale, Jin young Pak (Kor), Lisa Strom (Gb), Stacy Lewis, Shanshan Feng (Chn)
74 Heather Young, Jeanne Cho-Hunicke, Il Mi Chung (Kor), Jamie Hullett, Janell Howland, Lorie Kane (Can), In-Bee Park (Kor), Louise Stahle (Swe), Jackie Gallagher-Smith, Sung Ah Yim (Kor), Silvia Cavalleri (Ita), Seon Hwa Lee (Kor), Karin Sjodin (Swe)
75 Nontaya Srisawang (Tha), Ashleigh Simon (Rsa), Lucy Nunn, Dorothy Delasin, Nicole Castrale, Leah Wigger, Meredith Duncan
76 Kelli Shean, Janice Gibson, Kim Williams, Tania Elosegui (Spa), Haeji Kang (Kor), Michelle Ellis, Jimin Jeong, Erica Blasberg, Audra Burks, Nicole Hage, Song yi Choi (Kor), Sarah Kemp (Aus)
77 Jill McGill, Brandi Jackson, Brittany Lincicome, Diana D'Alessio
78 Angela Park (Bra), Laura Diaz
79 Kate Golden, Kris Tschetter