Fraser keeps first round lead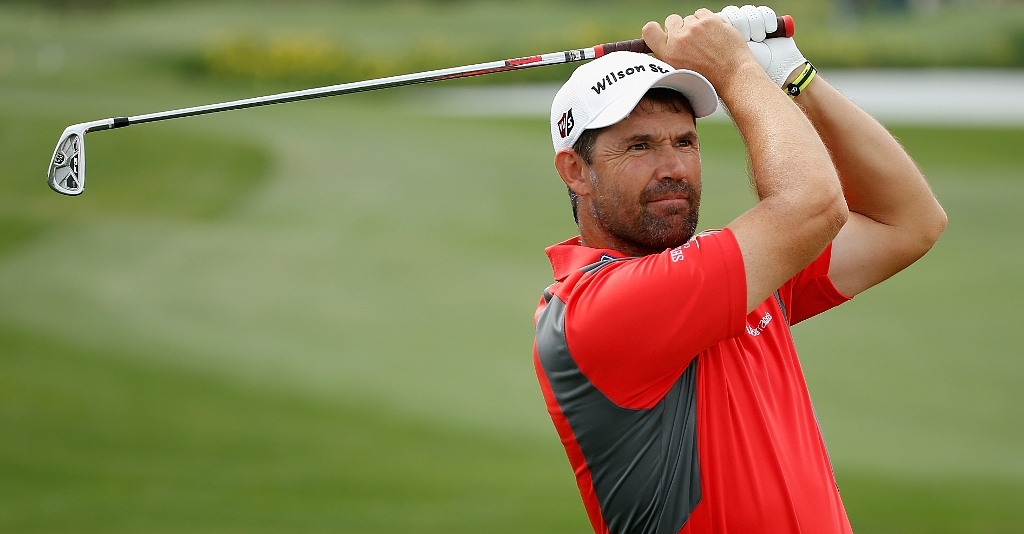 Marcus Fraser remained the leader after the fog-delayed first round of the Ballantine's Championship was completed on Friday.
Australia's Marcus Fraser was still leading when two thirds of the field completed their first rounds at the fog-delayed Ballantine's Championship on Friday.
Former Russian Open champion Fraser had topped the leaderboard after completing his first round at Pinx Golf Club with a bogey-free seven-under-par 65 – and he was still up there when the first round of an event which has been reduced to 54 holes was completed on Friday.
But when darkness fell on Thursday only a third of the field had managed to complete their rounds following a fog-delay of more than six hours.
At that stage, Worksop's Mark Foster led the chase of his playing partner, lying just one shot off the pace after blazing to six birdies and an eagle.
The Englishman was joined by Tano Goya after the Argentinian completed his own six-under-par 66 in bright sunshine and clear skies today (Friday) with a hat-trick of birdies.
"I am happy with my game although I have played only five tournaments this year, this is my sixth tournament. But I'm playing very good," said the 21-year-old, who won last year's Madeira Islands Open.
"You get a bit of confidence sometimes and you start to play well. Last week I finished with a good round and that helps me a lot.
"It's a long season, but would be really good to start with a win and good finishes so this is very important for me this week."
Brett Rumford had briefly joined his compatriot Fraser at the top of the leaderboard after carding two eagles in a flawless 11 holes, but a three-putt bogey at the last represented a second dropped shot in four holes and he dropped back into a tie for fourth alongside in-form Welsh rookie Rhys Davies, England's Robert Rock and Korea's Ted Oh.
Trophee Hassan II winner Davies, who finished joint runner-up last week in China, completed a five-under-par first round with a par at the last, while Rock picked up a birdie at the past after playing three holes as the pair joined Korea's Ted Oh two shots off the pace.
"It was a little frustrating, we had an incident last night where we were on the 17th green and it looked like the the hooter was about to go and I was about to run up to the last and hit off, because if we hit off we could finish, but the hooter went as he was running up to the tee and we had to come back at seven this morning," said 24-year-old Davies.
"Yesterday was a long day. It did take a long time, but it was same for everybody and I suppose in a way we don't have to play 36 holes today so that might be a bonus.
"But having said that I was able to switch off when I wasn't playing and when I got out there, I felt pretty fresh and ready so I think that was important."
After over six hours were lost yesterday due to fog, officials opted to reduce the tournament to 54 holes with the third and final round to be played on Sunday after a traditional 36 hole cut tomorrow.
"Following the delays to the first round and after reviewing the amount of golf completed yesterday, it has become clear that the completion of 72 holes within the required time frame is not feasible," said a statement from Tournament Directors John Paramor & Jitti Tamprasert.
"Therefore the 2010 Ballantine's Championship will be decided over three rounds (54 holes)."
Fraser, Foster, Davies and Rock – along with the remaining players from yesterday's morning groups – will not play their second rounds until tomorrow, while the remaining half of the field face a long second day as the majority will attempt to play two rounds today.
Welshman Jamie Donaldson and Australia's Rick Kulacz both sat two shots off the pace overnight, but unlike Davies and Rock, made disappointing finishes to their first round on Friday to drop back to four-under-par alongside a group that included the in-form trio Oliver Fisher, Ernie Els and Anthony Kim.
PGA Championship winner YE Yang will also return to the course for his second round this afternoon, but last week's Volvo China Open winner faces a battle to beat the cut on his home island of Jeju after shipping two double bogeys and a eagle in a five-over-par 77.