Foster steals the Saturday show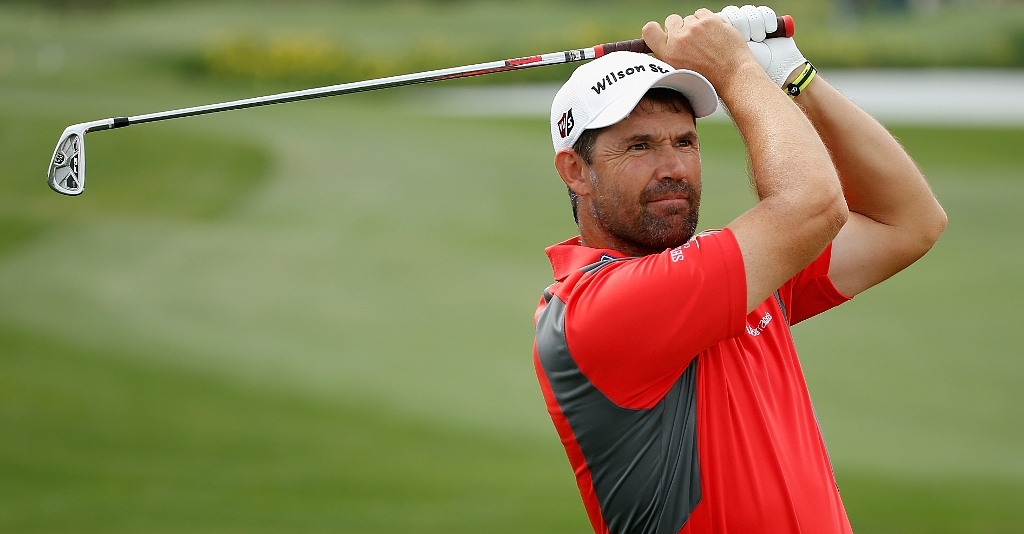 Mark Foster, a seasoned European Tour journeyman, has stolen the show on the third day of the BMW International Open.
On a 'moving Saturday' when some of the cream of world golf started rising to the top in the third round of the BMW International Open, Mark Foster, a seasoned European Tour journeyman, stole the show from under them.
The Englishman, posted a sparkling seven-birdie, one-bogey 6-under par 66 to surge two shots clear of a five-strong group tied for second place at 12-under.
Headed by a resurgent Sergio Garcia, who shot a stunning 8-under 64 and two-time US Open champion Retief Goosen who followed rounds of 68 and 69 with another rock-solid 67, the group also included England's Robert Coles, Spain's Pablo Larrazabal and a South African rookie, George Coetzee, one of the two overnight leaders who could have been in sole possession of second place at 13 under, but for an unfortunate closing bogey.
Not in this group is Swede Henrik, who looked to be ready to blast his way out of a near two-year slump when he charged into the first round lead with a blistering 64 and then, after saying that he thought he had found the solution to his problems, kept a share of it with a second round 68.
Sadly his crusade to get back on the winners podium ended on Saturday with a nasty nine at the par five 11th after he found water there from an excellent drive down the middle.
The quadruple bogey sent him tumbling 10 places down the leaderboard and dropped him 6 shots off the pace with a 73, despite him salvaging some of his rediscovered confidence with three closing birdies.
Foster meanwhile was cruising along in over-drive, nailing monster puts when it was needed, but most of the time, hitting one exquisite shot after another at the pins in pretty perfect scoring weather.
The 35 year old from Worksop – also the home of World Number Two Lee Westwood – has won only once in 278 starts on The European Tour and that was eight years ago, but you would never have thought so on Saturday, so accurate and composed was he as he surged two shots clear at Golfclub Munchen Eichenried.
The question now is can he stay there?
He was three ahead at both last year's Open de Espana and this season's Open de Andalucia but finished third and fourth respectively.
"I know I've got it in me – it flicks in and out," said the former English Amateur Champion.
"I've done it enough times to know that anything can happen.
"I've not been playing so much so I can be mentally stronger. That's my plan for this year and I will see how it goes.
"That was the key today. I'm making the right decisions and if something goes wrong I'm reacting in the right way."
Garcia's charge gives the Spaniard the chance not only to register his first victory in two and a half years and stop his slide from No 4 in the World Golf Rankings into the 80s it could also earn him a belated ticket to next month's Open Championship at Royal St Georges.
Joint seventh at last week's US Open, the 31 year old charged into the lead briefly at 12-under on Saturday with nine birdies after starting his round six behind.
A top-four finish would probably be good enough to give Garcia one of two Open places up for grabs off a mini-money list that has been running on The European Tour for the past month.
But there is hot competition for them. Foster could take one by coming second and Coles by winning.
"I knew for British Open purposes I needed to do something special," said Garcia, who a month ago pulled out of a qualifying event in America because of an infected fingernail.
"Last week was good – it was nice to be up there in a Major again.
"I didn't have a chance to win because Rory (McIlroy) was playing out of his mind, but it feels like the game is coming along again and I think my putting is definitely improving."
Garcia, who made it into the US Open only through a qualifying play-off, has not missed a Major since the 1999 Open at Carnoustie.