Fiery Funk leads as Jackson slips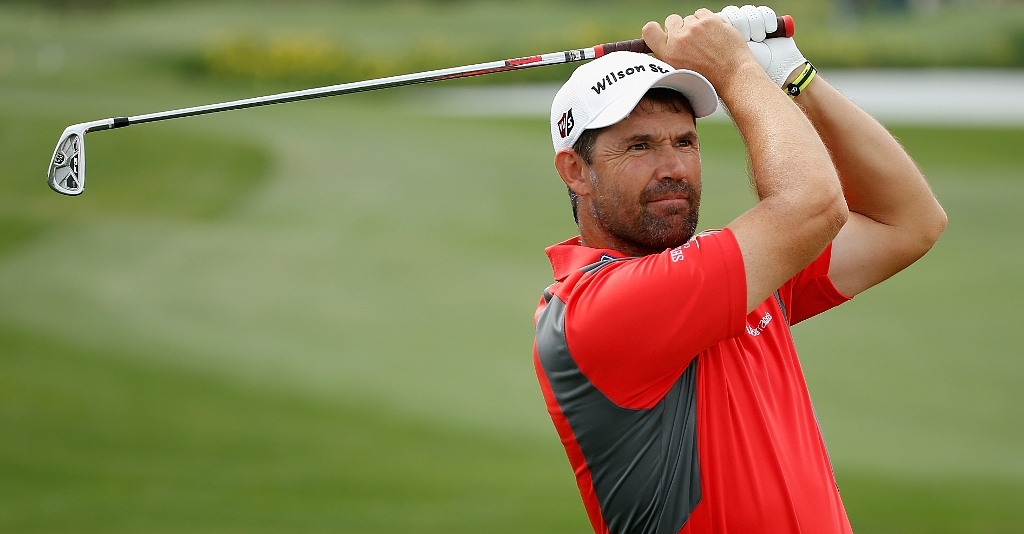 Fred Funk led the US Senior Open on Saturday after awesome amateur Tim Jackson slipped with a 73.
Tim Jackson, the 50-year-old amateur who has rocked the US Senior Open, could not sustain his remarkable charge in the Third round at Crooked Stick Golf Club on Saturday – and it is one of the high-profile professionals, Fred Funk, who has moved to the front.
Teeing off with the second round lead that had so stunned the elite field, Jackson did manage to hold Funk and his round co-leaders leaders Greg Norman and Joey Sindelar to a tie for the lead at 13-under midway through the round, but in the end it was a fired-up and impassioned Funk who came through on moving Saturday to grab the lead.
The always demonstrative Funk, who has probably never punched air , thrust his arms to the heavens, kicked his legs or jumped about quite as much as he did on Saturday, will take a one shot lead into Sunday's final round after shooting a solid four-under 68 that took his 54-hole total to 13-under 203.
Norman, who also shot a 68, and Sindelar, who posted a 70, are still major contenders, just one shot back at 12-under, and Jackson, so unbending in the first two rounds, followed his 66 and 67 with a one-over 73 for an 11-under total.
That's put him three shots off the pace in sole possession of third place and left him hoping he can still become the first male amateur to win any American Open championship since Johnny Goodman at the 1933 US Open.
"You're going to have a day where you struggle. Hopefully, that was today," said Jackson, who didn't make any real errors off the greens were his putter was ice cold.
Funk had five birdies and one bogey to his name before he managed to break free of Norman at the par-four 16th, the American rolling in a 20-foot birdie putt while Norman registered his only bogey of the day to fall to 12 under.
Both men parred the final two holes to leave Funk at 13 under, with Norman, whose 68 also included an eagle at the par-five 15th and three birdies, to start with the leader in the final group at 12 under on Sunday.
Funk, not regarded as one of the big hitters on the PGA Tour, credited his success on the longest course in US Senior Open history to a new driver.
"I got this new driver a couple of weeks ago and when I hit it right it's got the prefect trajectory and when it gets on the ground it's running," Funk said.
"Everybody's hitting it long this week because the fairways are running but I just love it.
"Probably every drive that I'm in the fairway I'm averaging 290 to 310 (yards) and that's uncharted territory for me."
Norman, who played with Funk in the third round, was also happy with his play off the tee and he said he knows exactly what he needs to do in the final round.
"Keep hitting it to where I'm hitting," Norman said. "I'm driving the ball long and straight, and Freddy made the comment that I'm driving the ball like I used to do it.
"It's a good feeling when you get up on any tee and hit it the way you feel like you can hit it."
Funk, who lost the British Open play-off last week, is where he is despite struggling with painful knee and should injuries
"One thing I can't do is take a practice swing," Funk said. "As long as I turn the whole way, it takes the stress off the shoulder. So I don't hit too many punch shots any more. That shot is basically out of my game."
As we've seen so many times, 'beware the injured golfer'.
Funk birdied three holes on the front nine to get to 12 under, then birdied No. 13 to take the lead.
After dropping back into a tie with a bogey on 14, he retook the lead on the par-4 16th when he made a 20-foot birdie putt and when Norman bogeyed after missing the fairway and pushing an 18-foot par putt to the right.
"I'm just trying, really, to enjoy it, really let myself go," Funk said. "I was really disappointed last Sunday when I missed a couple of putts (in the play-off). I don't want to play defensive, so you've got to go out there and play your game."
Winning today, though, won't be easy. All the front-runners are capable of doing that, especially Norman who his resurgence going with some solid golf as he matched Funk's 68.
"I'm driving the ball long and straight, and Freddy made the comment that I'm driving it like I used to do it," said Norman, who will be paired with Funk again on Sunday. "It's a good feeling when you get up on any tee and hit it the way you feel you can hit it."
Defending champion Eduardo Romero of Argentina carded a second 70 in a row to get to three under, in a four-way tie for 15th with Bob Tway, Mark Wiebe and British Senior Open champion Loren Roberts.
Bernhard Langer shot a 73 to fall to one over par, maintaining his position as the leading European, with Ireland's Mark McNulty and Ian Woosnam of Wales at two over following a 72 and 74 respectively.
ALL THE THIRD ROUND SCORES
(USA unless stated, par 72):
203 Fred Funk 68 67 68
204 Joey Sindelar 66 68 70, Greg Norman 66 70 68
206 Tim Jackson 66 67 73
207 Mark O'Meara 70 69 68
208 Russ Cochran 72 72 64, Dan Forsman 66 71 71, Scott Simpson 68 72 68
209 Bruce Vaughan 68 70 71, Robin Freeman 70 68 71
210 Brad Bryant 68 71 71, Tom Lehman 68 70 72
211 Jay Haas 70 70 71
212 Steve Haskins 73 70 69
213 Loren Roberts 68 71 74, Mark Wiebe 70 71 72, Eduardo Romero (Arg) 73 70 70, Bob Tway 70 69 74
214 Jim Thorpe 71 69 74, John Cook 73 69 72, Jeff Sluman 69 74 71, Keith Fergus 73 72 69, Tim Simpson 70 72 72
215 R.W. Eaks 72 69 74, Mike Goodes 70 70 75, Bryan Norton 73 73 69, Olin Browne 72 75 68, David Eger 71 70 74, Hale Irwin 78 67 70
216 Andy Bean 67 74 75, Tom Jenkins 73 73 70, Ronnie Black 73 73 70
217 Bernhard Langer (Ger) 73 71 73, Gene Jones 72 75 70, Mike Reid 73 71 73, Bob Gilder 71 71 75, John Ross 74 70 73, Don Pooley 71 71 75, David Edwards 72 74 71, Larry Mize 73 73 71
218 Gil Morgan 75 69 74, Tom Watson 71 72 75, Craig Stadler 75 72 71, Joe Ozaki (Jpn) 71 71 76, Bruce Fleisher 74 73 71, Jerry Courville 71 73 74, Ian Woosnam (Wal) 72 72 74, John Harris 68 75 75, Mark McNulty (Irl) 73 73 72, Bobby Wadkins 71 75 72
219 Fulton Allem (Rsa) 67 76 76, Hal Sutton 73 74 72
220 Chip Beck 74 71 75, Graham Banister 72 75 73, Dana Quigley 71 75 74
221 Jim Woodward 75 72 74, Tsukasa Watanabe (Jpn) 71 74 76
222 Denis Watson (Zim) 72 73 77
223 Bruce Lietzke 75 72 76
224 Steve Thomas 73 73 78
225 Bert Atkinson 72 75 78
232 Kevin Marion 75 72 85