Faldo joins clamour for logo change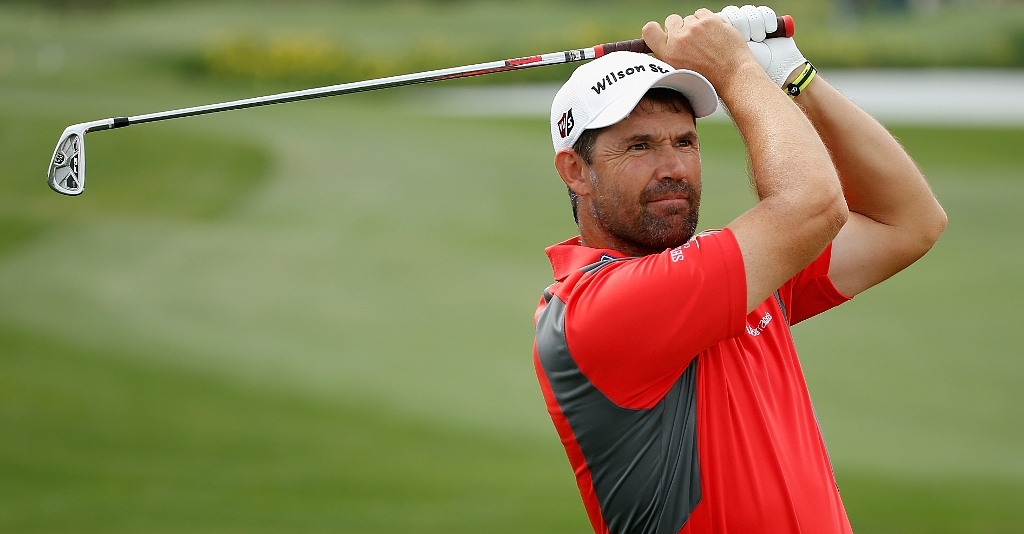 Sir Nick Faldo has joined Paul Lawrie in calling for a European Tour logo change to include Seve Ballesteros.
A host of golf's big guns, including Sir Nick Faldo and Colin Montgomerie, have added their voices to Paul Lawrie's call for a European Tour logo change that will include Seve Ballesteros.
Lawrie said earlier this week that Ballesteros, who died on Saturday after a 3½ year battle with brain cancer, should replace Harry Vardon as the central figure on the new European Tour logo which was recently upgraded in keeping with the introduction of the Race to Dubai.
And Faldo and Montgomerie, who were among a delegation of the six European Ryder Cup captains who attended Ballesteros's funeral in Pedrena on Wednesday, strongly agreed.
Faldo, in fact, said that from the word go he never did like the decision to have a silhouette of Harry Vardon on the logo.
Vardon won The Open Champion a record six times between 1896 and 1914 when the European Tour did not even exist.
Faldo says he even told George O'Grady, the Tour's CEO: "George, come on. We're not 110-year-old golfers.
"I think they would have a very difficult time not changing the logo."
Faldo joined Ian Woosnam, Sam Torrance, Bernard Gallacher, Montgomerie and current captain Jose Maria Olazabal in flying to Ballesteros' home village for the funeral.
"I think you will find it does change and let's hope it is sooner rather than later," said Montgomerie outside the church in Pedrena where so many came to pay their respects.
"I would vote for that immediately. When you talk about the European Tour you talk about Seve and I think it's only right he should appear on our logo."
Montgomerie described the funeral service as "very sad and moving, but after this mournful day we have to start to celebrate his life."
Faldo added: "There will never be another Seve. He had everything – the good looks, the charisma, the smile, the walk and the swashbuckling golf game.
"We shared lots of battles and it's tragic. We would have been mates and we've lost out on that. We always had mutual respect, but we never realised the level of feelings that we had for each other," Faldo added with clear regret.
Earlier, in first broaching the subject of replacing Vardin with Ballesteros on the logo, Lawrie had said that the legendary's Spaniard's early death at 54 had given the tour authorities the perfect opportunity to right an original wrong.
"I absolutely support the idea (of changing the logo). It would be a great move," Lawrie said.
"Seve is the reason why we are playing on the European Tour, and everyone would have that opinion."
"There are quite a few players, I can assure you, who believe that the (European Tour) logo should have featured Seve in the first place.
"Of course, it's not for me to tell the Tour what to do. The current logo is a nice logo and it's been very well done.
"But everyone knows and agrees that Seve was the player that really started it all for the European Tour. He was the difference."
Lawrie's fellow Scot and European Tour professional, Andy Coltart, who has been busy moving house, used Twitter to back Lawrie's idea of changing the logo.
"We've already got a Harry Vardon Trophy, so why not a Seve logo instead," the Scot tweeted.
"No disrespect to Harry Vardon, who is obviously… a legend, but today's strength in the European Tour is down to Seve, and he is 21st century.
"I hear that the Seve Trophy may struggle to continue getting a sponsor, so that's another reason we should be looking at Seve," Coltart said in referring to the annual Britain and Ireland v Continental Europe battle pioneered by Ballesteros
"We need to make sure we have some kind of recognition of Seve's legendary status."
FOOTNOTE:
In a poll taken before his death on Saturday Seve Ballesteros was voted by readers of 'Golf Monthly' magazine as the player they most wanted in their dream fourball.
He received 46% of the votes, followed by Jack Nicklaus with 41% and Tiger Woods with 24%.
Woods came out top, though, in a separate survey of who has inspired the most people to take up the game. Ballesteros was second, Arnold Palmer third and Nicklaus fourth.
The famous 1977 'Duel in the Sun' between Nicklaus and Tom Watson at Turnberry was voted the greatest Open of the last century, just ahead of Ballesteros's 1984 victory at St Andrews.