Europe mount comeback in Paris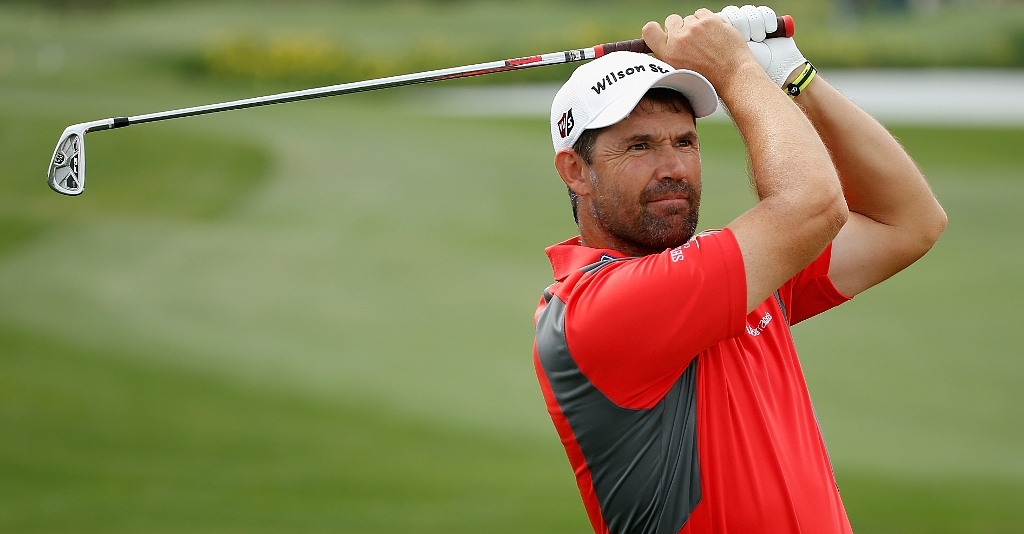 Continental Europe hit back strongly on the second day of the Seve Vivendi Trophy at Saint-Nom-La-Bretèche.
Continental Europe mounted a strong comeback on the second day of the Seve Vivendi Trophy at Saint-Nom-La-Bretèche.
Captain Jean van de Velde praised his team's fighting spirit as they wiped out two full points off the three-point deficit they suffered against Great Britain & Ireland after the first day's play in Paris, leaving the overall score at 5½ – 4½.
The two teams once again squared off in five Fourball matches, just as they did on Thursday. Great Britain & Ireland stuck to the same teams that proved so successful the first time around, while a little re-jigging from Van de Velde led to much better fortunes for Europe on Friday.
The Continental Europe captain was unsurprisingly happy with day's proceedings.
"I'm very proud of what they've done and what I've seen today," Van de Velde told Sky Sports.
"They were really focused from the first hole. Yesterday was a shaky start and some of them couldn't find their rhythm. They were not there.
"Today they tried and they knew what they had to do to play well. I'm very happy."
He was especially pleased with the way the first pairing out, Thomas Bjorn and Raphael Jacquelin, fought back from three down to halve their match against Simon Dyson and Jamie Donaldson.
"It was a big half-point on the first game," he added. "They were trailing all the way and they managed to raise their game up considerably in the last five holes so I'm pleased with that last half-point.
"I'm pleased with everything and a good result."
Spanish duo Miguel Angel Jimenez and Pablo Larrazabal beat Open champion Darren Clarke and David Horsey 3&2, while the two rookies, Nicolas Colsaerts and Matteo Manassero, took out Scott Jamieson and Ross Fisher by two holes.
It might have seemed a risky move to keep the two inexperienced players together after they lost on Thursday, but it was a decision by Van de Velde that proved the right one.
"Matteo is 30th in the world so of course he's a rookie but he's a pretty good rookie," he said.
"You still have to implement the trust you have in them. It's not because it didn't work out I was going to throw everything away.
"They held on through the pressure and they went down to the wire.
"They could have closed it on 17 but fine, he didn't, they were here on the 18th on the green and I am very pleased with that."
Peter Hanson and Alexander Noren also triumphed over Robert Rock and Ian Poulter, the duo who had won so convincingly on day one, by 5&3.
The only GB&I victory came, somewhat ironically, from the only GB&I pairing to have lost on the first day – Worksop duo Lee Westwood and Mark Foster. They comprehensively beat Anders Hansen and Francesco Molinari by 5&3.
While disappointed with the overall effort, GB&I captain Paul McGinley had special praise for the way that Westwood in particular was able to turn his fortunes around and score a valuable point for his side.
"I think he won that match on his own," said McGinley. "Fozzy (Foster) was great when he needed to be but Westwood made birdies and eagles when he needed to.
"We needed to win a point and it looked at one stage that we were going to struggle to win any.
"Lee Westwood was very important for us. He carried it through and carried the team today."
Of his side's overall performance, McGinley acknowledged that they were simply outplayed on the day.
"We didn't play with the same intensity and they were fired up," he added.
"A couple of their players played really well and carried them through. Obviously we know they've got quality in their team and we didn't hole the putts we did yesterday.
"We're playing at the very top level in the world and sometimes the other guys will go out and play better than you."
Saturday's action will consist of four greensome matches in the morning and four foursome matches in the afternoon.
Greensome matches are unique to the Seve Vivendi Trophy. Each of the two players on the team plays his ball, then they choose the "best" one and finish the hole by playing alternately.