Eagle saves Tiger, but Mac's the man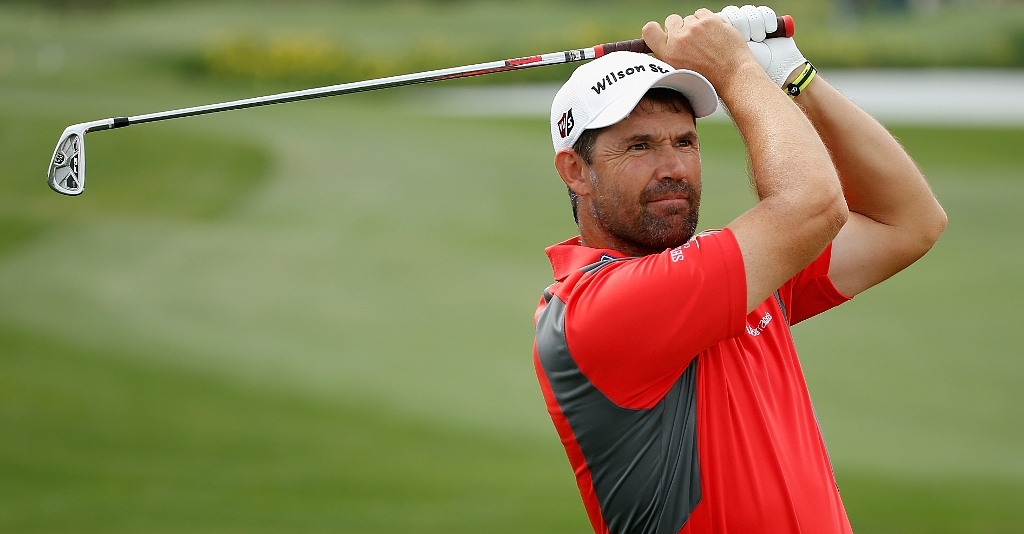 Tiger Woods won't rate Thursday's 1st round in Dubai very highly, but he might rank his eagle at 18 as one of his greatest.
Tiger Woods didn't rate Thursday's first round at the Omega Dubai Desert Classic very highly, but he might yet rank his final hole eagle as one of his greatest – especially if it comes as the spark that re-ignites his embattled career.
After a mediocre round that had the World No 3 struggling all of eight shots behind the super-hot first-round leader Rory McIlrey, five behind solid World No 1, Lee Westwood, and four behind a workmanlike World No 2, Martin Kaymer, Woods was looking a little bit of a sorry sight.
But then he stepped up on to the par-five 18th and hit one of the greatest risk-or-reward approach shots of his life over a dangerous stretch of water into the fading gloom.
He barely saw his ball roll down from the right side of the green, but a huge roar from the gallery confirmed that it had settled not much more than six feet from the pin.
Woods nailed the relatively easy putt for a vital eagle that took him to 1-under and although it left him six shots of the pace set by McIlroy earlier in the day, it gave him a 71 and brought him up to two shots behind Westwood and Kaymer and must surely have boosted his sagging confidence sky high.
He said of the eagle: "I had 254 (yards) to the hole and had to take something off it. I threw it up in the air and it was perfect."
As for his overall performance, "scratchy" was his one-word description before adding: "I started putting awful and I struggled with my trajectory."
Ironically he had clearly been the weakest of the trumpeted threesome he was drawn with on Thursday and will play with again on Friday, but the irony of that final hole is that while he picked up two shots, the hitherto rock-solid Westwood. who had been at 4 under at 17, finally lost his edge, almost dumped his, short, laid-up approach shot in the stretch of water Tiger and Kaymer had so skillfully avoided and then chipped short and two putted for a bogey that saw a three shot swing bring Woods back into the picture
Westwood blamed "a loss of concentration" for his sloppy finish, while Kaymer said his round would have been "fantastic" but for his unlucky break on the ninth.
It was a disappointing finish for Westwood, but no train smash for at 3-under, both he and Kaymer still look stronger candidates than Woods to overhaul the flying McIlroy when the threesome get their chance of an early morning crack at the Emirates Golf Club's Majlis Course on Friday.
But then again, you never can tell with Woods.
He had a patchy first day to be sure, making just one birdie as against three bogies on the first nine, recovering with two early birdies on the back nine, but stumbling again with a double bogey six on the par four 16th before getting back under par with a 4th birdie and that amazing eagle at 18.
What it will all mean to him is a question only tomorrow's second round can answer, but in the meantime, man of the first day at the Emirates Golf Club was surely Rory McIlroy whose 7-under 65 storm in the desert will have given clear warning to the stellar field that he is ready to start fulfilling his great promise again.
With the pre-tournament spotlight strongly focussed on the battle of the World's top three players, the 21 year old Northern Irishman spoke of coming in under the radar.
And he did just that – although back-in-form Sergio Garcia and tenacious South African Thomas Aiken, weren't going to let him get two far clear and each shot a fine 5-under 67 to finish two shots back in joint possession of second place heading into what could be a fascinating second round on Friday.
"I'm a more mature and rounded golfer," McIlroy said when asked about the differences between 2009 and now when victory could see him climb from World Number Seven to a career-high fourth.
Woods was quickly in trouble, missing par putts of under six feet on the first and fourth.
Then, after coming back with a birdie at the sixth, he dumped his tee shot into the lake on the next.
It cost him a third bogey and although there were birdies to come at the tenth and 11th he immediately followed them with a double bogey six, driving into sand and hitting his third over the green.
A two-putt birdie at the long 13th repaired some of the damage and his playing of the 18th may leave him thinking he can still get into contention for a third victory at the event.
Westwood, who missed the cut in Qatar last week and was the outsider of the trio in the eyes of the bookmakers, did not drop a stroke until his pitch to the last only just made it over the lake and he needed three more strokes from there.
Kaymer, an eight stroke winner in Abu Dhabi three weeks ago and runner-up to Woods on the American's last appearance in the event in 2008, had the most birdies of the trio – six – but also bogeyed the short 15th and had an unfortunate double bogey on the ninth.
The German's approach, like that of defending champion Miguel Angel Jiménez and Alvaro Quiros, hit the hospitality units right of the green and bounced into the water guarding the green.
McIlroy had five successive birdies around the turn and was seven under with three to play, but three-putted the seventh before responding with yet another birdie at eight (his 17th).
He said: "Today was good – I really hit a lot of good iron shots.
"I had a putt for another 64, but I will take 65 in those conditions every day."
Garcia's ninth place in Qatar last week was his best finish for almost a year, but he still needs first or second place on Sunday to climb into the game's top 64 in time for the World Golf Championships-Accenture Match Play in Arizona later this month.
Voted shot of the day above Wood's magical approach at 18 was David Howell's superb effort on the 186 yard seventh.
The Englishman, whose 1999 victory in the event came at the Dubai Creek course, holed out for an ace to earn himself two first-class airline tickets