Drummond shocks Senior PGA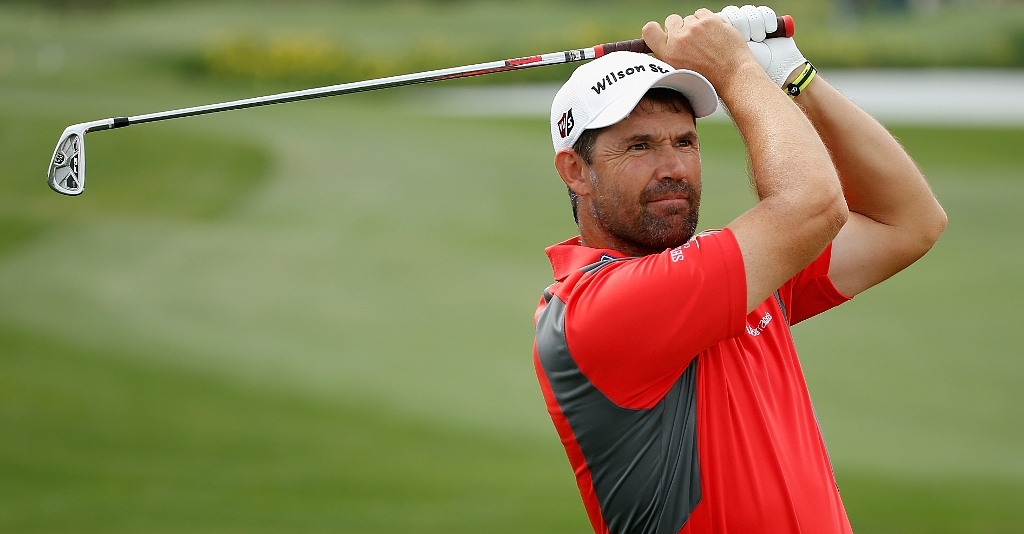 Unheralded Scot Ross Drummond shook up the Senior PGA on Friday with a 66 that swept him into the halfway lead.
Unheralded Scot Ross Drummond shook up the 70th Senior PGA Championship on Friday with a 4-under 66 that swept into the halfway lead at Canterbury Golf Club.
Even Drummond was surprised.
It's daunting enough to lead a senior major after 36 holes, especially when winning would make you the first European since Jock Hutchison to win the coveted title since 1947, but to literally come from out of the blue among some of the greatest names in golfing history is something else.
He said: "I felt my game was good enough to make the cut," but I didn't expect to be in or near the lead. I would say, yes, I'm very surprised."
Surprise or not, Drummond. who has won the Scottish Professional Championship, but never won in his 20 years on the European Tour, did it in style.
When the unknown Scot came out of the woodwork with an up-and-down for par from behind the 18th green on Friday for an outstanding 4-under 66 that took his 36-hole score to a 4-under 136 in a championship where picking up shots is like pulling wisdom teeth and left
Bernhard Langer (70), Jeff Sluman (68), Scott Hoch (72), Tom Purtzer (72) and Larry Mize (69) trailing by two, it certainly caused a major buzz.
The question now is can he hold on to his shock lead
"To be honest, I don't think I even want to contemplate that," he said. "It would be a dream come true, obviously. It would be an unbelievable achievement, and something to be very proud of. But I don't think I can even contemplate that."
"There's still a long way to go," he added. "It's only halftime."
Wise words. The pressure over the weekend is going to be intense – and it could start with Sluman
, who shot a 68 for his halfway 2-under 138, had the best round of the five players tied for second place, thanks to three early birdies and along with a first-round leader Hoch, will play in the final group on Saturday.
Hoch pointed to two "yipped three putts" and a bad day with his driver as the reason for his
"It just wasn't a good day," Hoch said. "But I'm where I can still do something. I still have a good chance as long as I play well. There are a lot of good players out here."
Tom Kite had the early lead at 4 under, but bogeyed three of his last seven holes, including the last two which trouble the entire field all day, and posted a 70 that put him in a seventh-place tie at 1-under 139.
"I'm playing well enough to win, but I just need to finish better,"Kite said.
"This is a tricky course. You can't miss a shot on those last two holes or it's really going to cost you."
The big collapse of the day belonged to ever-popular Greg Norman. He was 2 under and a strong contender after 15 holes but he made a real mess of his third shot at the par-5 16th, put it out of bounds and ended up with a triple-bogey 8 that led to a 72 that put him a little to close for comfort to the cutline.
"C'est la vie," Norman said with a shrug. "What are you going to do?"
Some of the famous names to finish below the cut line at 6-over 147 included those of Fuzzy Zoeller, Nick Price, Jerry Pate, Sandy Lyle and Craig Staddler
All the second round scores
(USA unless stated, par 70):
136 Ross Drummond (Sco) 70 66
138 Bernhard Langer (Ger) 68 70, Tom Purtzer 66 72, Scott Hoch 66 72, Jeff Sluman 70 68, Larry Mize 69 69
139 Gil Morgan 71 68, Tom Kite 69 70, Chris Starkjohann 71 68, Jay Don Blake 70 69
140 Michael Allen 74 66, Brad Bryant 73 67, Dan Forsman 70 70, Mark James (Eng) 69 71
141 Bruce Fleisher 71 70, Sam Torrance (Sco) 70 71, Joey Sindelar 69 72, Russ Cochran 70 71, John Morse 69 72, Mark McNulty (Irl) 72 69, Tim Simpson 70 71
142 John Cook 73 69, Roger Chapman (Eng) 74 68, Keith Fergus 73 69, Joe Ozaki (Jpn) 75 67, Fred Funk 71 71
143 Gary Hallberg 69 74, Tom Lehman 75 68, Wayne Grady (Aus) 71 72, Don Pooley 74 69, Ian Woosnam (Wal) 71 72, James Blair 71 72, John Jacobs 70 73, Dave Stockton 70 73
144 James Mason 71 73, Gene Jones 75 69, Tom Watson 72 72, Kiyoshi Murota (Jpn) 73 71, Dana Quigley 69 75, Hale Irwin 70 74, Robert Gibbons 71 73
145 Kirk Hanefeld 75 70, Mike Reid 74 71, Bill Britton 75 70, Bob Gilder 71 74, Greg Norman (Aus) 73 72, Tom McKnight 72 73, Lonnie Nielsen 76 69, Mark Wiebe 72 73, Bob Cameron (Eng) 72 73, Walter Hall 72 73, Jay Haas 71 74, Eduardo Romero (Arg) 73 72
146 Andy Bean 74 72, Mike Smith 75 71, Mike Goodes 75 71, Ronnie Black 75 71, Ken Green 72 74, Mark O'Meara 76 70, Chip Beck 73 73, John Harris 72 74, Allen Doyle 72 74, Bobby Wadkins 75 71, Jon Fiedler 72 74
147 Juan Quiros (Spa) 72 75, Jim White 74 73, Freddy Gibson 73 74, Vicente Fernandez (Arg) 76 71, Hal Sutton 71 76, Jeff Roth 74 73, Bill Longmuir (Sco) 77 70, Bob Tway 75 72, Tom Wargo 74 73, Costantino Rocca (Ita) 72 75, Jim Woodward 72 75, Loren Roberts 73 74, Ron Streck 73 74
————–The following players failed to make the cut——————
148 Luis Carbonetti (Arg) 75 73, Butch Sheehan 70 78, Jimmy Heggarty (NIrl) 77 71, Mike Malaska 77 71, Morris Hatalsky 74 74, Gary Robison 76 72, Mark W Johnson 77 71, Mike San Filippo 74 74, Domingo Hospital (Spa) 75 73, Angel Franco (Par) 75 73, David Eger 73 75, Mike Harwood (Aus) 73 75, R.W. Eaks 74 74, Tom Jenkins 71 77, Craig Stadler 75 73, Perry Arthur 73 75, Blaine McCallister 75 73, Jerry Pate 73 75, Kong Meshiai (Jpn) 75 73, Bruce Vaughan 76 72, Fuzzy Zoeller 72 76
149 John Aubrey 71 78, Mouse Bruner 75 74, Mike Hulbert 72 77, Ben Crenshaw 73 76, Phil Blackmar 74 75, Jim Sobb 75 74, Nick Price (Zim) 74 75, Tsukasa Watanabe (Jpn) 79 70, Sandy Lyle (Sco) 74 75
150 Fulton Allem (Rsa) 73 77
151 Ron Vlosich 79 72, Denis Watson (Zim) 70 81, Bill Loeffler 78 73, Cleve Coldwater 75 76, Mike Cunning 73 78, Peter Mitchell (Eng) 78 73, Jim Thorpe 77 74, Thomas Herzan 74 77, Mitch Adams 73 78
152 Roy Vucinich 79 73, J.C Snead 72 80, Lanny Wadkins 72 80
153 Giuseppe Cali (Ita) 77 76, Nick Job (Eng) 77 76, Cory George 77 76, Brett Upper 77 76, Fred Holton 74 79, George Forster 76 77, Scott Davis 78 75, Dan Pohl 77 76, Robert Thompson 77 76
154 David Edwards 75 79, Dave Merriman (Aus) 80 74, Tony Johnstone (Zim) 73 81, Gary Sowinski 76 78, Curt Byrum 77 77, Jim Logue 78 76, Steve Thomas 77 77
155 Bob Charles (Nzl) 78 77, Mike Lawrence 78 77, Jeff Coston 75 80, Fran Marrello 78 77
157 Victor Tortorici 80 77, Denis O'Sullivan (Irl) 81 76, Chris Tucker 78 79
158 Nevin Sutcliffe 80 78, Mike Borich 83 75, Isao Aoki (Jpn) 81 77
159 Gordon J Brand (Eng) 81 78, Pete Oakley 80 79, Gordon Brand Jnr (Sco) 84 75
160 Mark Hayes 80 80, Bob McGrath 81 79, Jim Lapsley (Nzl) 81 79
161 Will Frantz 81 80
165 Dale Douglass 86 79
168 Charles Coody 83 85