Donald's wife and baby come first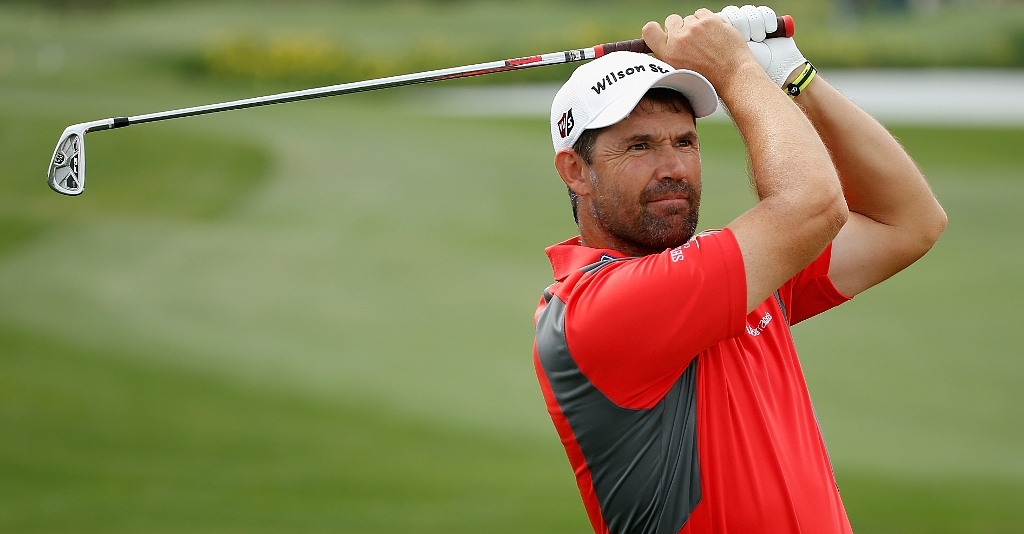 Luke Donald has pulled out of the WGC-HSBC Champions to be with his wife Diane for the birth of their second child.
Luke Donald has reluctantly cancelled his trip to next week's WGC-HSBC Champions in Shanghai to be with his wife for the birth of their second child.
The World No 1, who is trying to become the first player in history to win the money lists on both sides of the Atlantic, had been hoping that the daughter they are expecting would conveniently arrive this week, but it hasn't happened.
The US-based Englishman, who had his bags packed and was ready to go, finally conceded on Friday that family had to take precedence over the US$7 million event in China and his quest to get into the record books.
"It's important for my wife and it's important for me to make sure that I'm around to support her.
"It's no coincidence that the birth of our first daughter inspired me to some really great golf. Family does put a lot of things into perspective; my job is very important but the family out-trumps everything," said the 33-year-old Donald in a phone interview from his home in the Chicago suburbs.
Professionally, Donald has every reason to want to be in Shanghai for the WGC-HSBC Champions.
With five weeks left on the European Tour schedule he leads the Race to Dubai by over 1.3 million Euros from Rory McIlroy.
He also has previous form at the Sheshan International Golf Club. He finished third, albeit by ten and nine shots, behind Italy's Francesco Molinari and fellow Englishman Lee Westwood.
"It speaks volumes for the tournament. I got to witness it as the third man in that group. I was a few shots back – I didn't have my best golf – but it was nice to see the quality of the golf down the stretch from both players; it was a fitting end to a great event," Donald said, despite admitting to having been what the English would call a 'gooseberry'.
"I actually was feeling a bit 'third wheel'. To finish third was actually a pretty good accomplishment. I was struggling with my game big time at that stage and I was using every bit of energy and strength just to give myself a chance to get into that final group.
"I didn't have control of the golf ball. I was a little bit frustrated with my own game but it was still nice to see how it should have been done!" he explained.
"It's a world-class golf course – a long course – and it's produced some great winners. That's the biggest bonus about the tournament: the winners have been world-class players. Francesco last year, how well he played down the stretch fending off Lee Westwood. That's always a mark of a good tournament when it produces good winners," he said, referring to a roll of honour that includes Phil Mickelson (twice), Sergio Garcia and Asia's first male Major champion 'YE' Yang..
Donald added that the recent controversy over the last-minute decision to delay mailing out the ballots for the PGA Tour Player of the Year voting had nothing to do with his choice to stay by his wife's side.
Donald won the Children's Miracle Network Classic at Disneyworld to claim the PGA Tour's money list, but described holding off posting the voting slips to the players until after Shanghai, because a WGC win for a PGA Tour player might impact the outcome, as 'sketchy'.
"I have no problem with them including the HSBC Champions, they should! It was just the timing of it.
"The thing that disappointed me is that the schedule has been the same all year. I feel bad for the Asian golf fans that they didn't see that. It's something that should have been known at the beginning of the year, not the day after Disney.
"The goalposts were moved. It's like running a marathon for 26 miles, crossing the finish line and then they say 'actually we're going to make it 27 miles'. It's just the timing of it. It's an important event; to have a WGC outside the US and such a big event in Asia. I've supported it the last few years when I've been eligible. I would be there if it wasn't for the baby," he said, adding that headlines describing him as 'angered' or 'upset' as being wide of the mark.