Donald's control puts him on top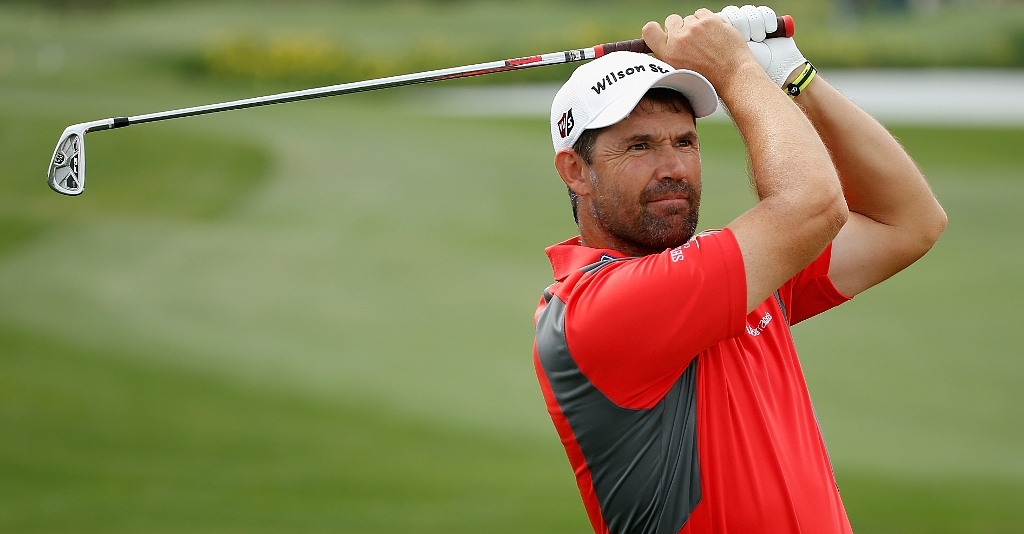 Luke Donald will be the World's highest ranked golfer on Sunday if he can hold on to his newly-won Heritage lead this weekend.
Luke Donald will be the highest ranked golfer in the world come Sunday if he can hold on to the lead he established in Friday's second round of The Heritage.
The 33-year-old Englishman charged to the top of the leaderboard with a sparkling six-under 65 that took his halfway total to a 10-under 132 and put him one shot clear of overnight leader Garret Willis of the US (69).
Australia's Jason Day, this year's joint Masters runner-up who also shot a 65, defending champion Jim Furyk (66) and fellow American Chad Campbell (69) along with Colombian young gun , Camilo Villegas (68) were tied for third, two shots of the pace on 8-under with Ben Crane (66) and Ian Poulter (66) three strokes behind Donald.
Donald is currently No 3 in the world behind No 1 Martin Kaymer (who is not playing this week) and No 2 Lee Westwood, but even if Westwood, also leading at the Indonesian Masters in Jakarta after two rounds, goes on to win, Donald would still leapfrog both Westwood and Kaymer if he pulls of a victory in South Carolina this weekend for the simple reason that the field he opposes is far stronger in terms of ranking points than the Jakarta one in which Westwood is playing.
As it is. Donald was the highest ranked of the seven players in the world's top 20 at The Heritage. an endangered PGA Tour event that may not be on next year's Tour schedule unless a new headline sponsor can be found.
A Donald win and his subsequent promotion to World No 1 might help boost this popular events marketability, but right now the World Ranking list one of his low priority as he focuses on his game, one shot at a time.
"I guess it's always in the back of your mind," the Englishman said. "It's hard to get away from knowing that with Twitter and Facebook and the media and everything, you obviously know what's at stake."
But right now his aim is to focus on what got him to this point – some solid and steady, golf underpinned by some accurate iron play and a reliable putter. .
"I can control where I hit the golf ball, and hopefully, I'll give myself a good shot at it come Sunday," he said.
Donald has enjoyed Pete Dye's tricky layout on picturesque Hilton Head Island for some time. He finished second two years ago, then was third behind Furyk last year so maybe the number one spot will be his this year.
Donald began the round three shots behind Willis but quickly edged past him and into the lead with five birdies on the front nine. After a bogey on the 10th hole, Donald moved in front again a hole later with a 20-foot birdie putt from the fringe.
An 8-footer on the par-5 15th earned him his final birdie of the day and pars on the remaining holes were enough to hold onto the lead and break 70 for eighth time in his last nine rounds here.
"The last couple of years, I've come here playing reasonably well because I've had control of the golf ball, which is the key at this place," Donald said.
Yet he knows that control is one is one of his strength, the Englishman is well aware that winning here won't be a cake walk.
Willis closed with a birdie to get within a stroke. Furyk probably loves Harbour Town even more than he does and a lot of other Tour cream has come to the top as The Heritage moves into the weekend, not the least of them being Day, Villegas and Poulter
Furyk a three-time winner starting here last year and the eventual 2010 FedEx Cup champion, might be his greatest threat, though, for along with his win at Harbour Town last year he has also had two seconds and a fourth in the last few years – and, as if to point this out, he opened with three straight birdies on Friday to get right back into contention after a slowish start..
"It seems like when I play well, I play really well here," he said. "And I think it's a little bit of a testament to the golf course. I really like it here."
US Open champion Graeme McDowell, ranked fifth in the world, was five shots behind after a 69 but World No 10, Matt Kuchar, shot a 72 to fall into a tie for 43rd, eight shots off the pace, and was not among the gathering forces
Ernie Els, 15th in the rankings, missed the cut with rounds of 75 and 78, in what was easily his worst performance in 12 career trips to the Heritage.
Els switched to a belly putter this week to try to alleviate his putting problems, but it made no difference, the three-time major winner needing 59 putts and making not one single birdie in his brief 36-hole stay.
Other high-profile golfers who missed the cut were five-time Heritage winner Davis Love III and the rising US young gun Rickie Fowler.