Donald fights back from six down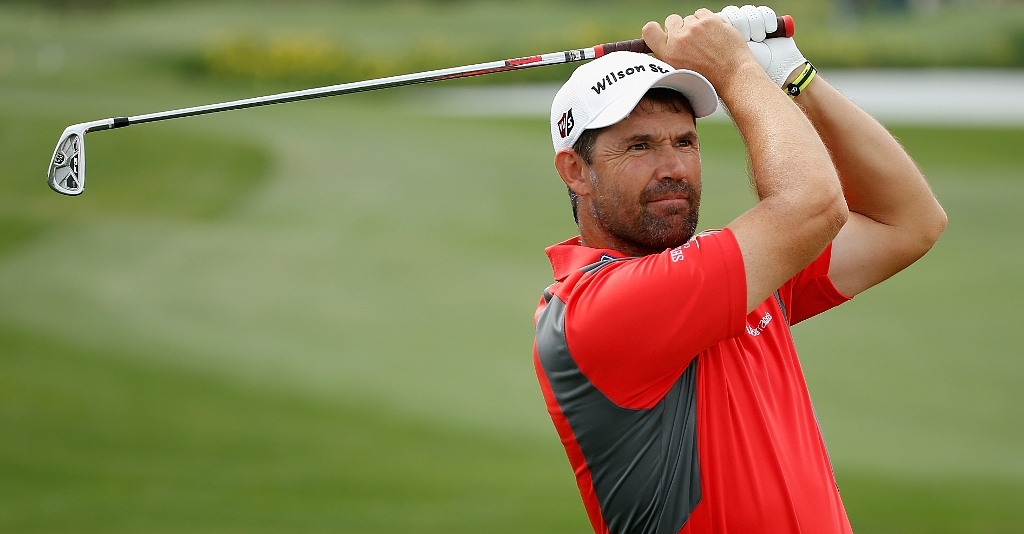 Luke Donald and Matteo Manassero are still tied atop the Wentworth leader board heading into Sunday's final round.
Luke Donald and Matteo Manassero were still tied at the top of the Wentworth leaderboard after a day of high drama in the BMW PGA Championship on Saturday.
And Lee Westwood is right on their heels.
Donald, the current World No 2 who is bidding to overtake Westwood at the top of the World Rankings list, looked to have blown himself out of the water when he tumbled six shots behind the Italian 18-year old after just six holes of Saturday's third round.
But it said much for his stick-to-it-tenacity that he was able to fight back on a 'nasty' course with 'brutal pin placing, to use the words of some of the players, and draw level by the end of the day.
Donald, today a hard and honed international Tour professional and Manassero, perhaps the most talented teenaged golfer in the world right now, each carded a one-over-par 72, although their rounds were hardly similar.
Donald, a model of consistency in recent months, admitted he felt "a bit like Seve" after a host of wayward shots ended up in the trees.
But four, fight-back birdies on the second nine hoisted him back into contention and, after another wayward drive into the forest at the last looked as if it would cost him another vital shot, he hacked out, found the green in four, and sunk a 20 footer for a great par saver
Manassero has no illusions about the battle he faces on Sunday when, in the light of the fact that World No 1 Westwood all but caught the two front runners with a 2-under 69 that put him just two shots off the lead, the young Italian will be up against the World's two highest ranked players.
On the other hand, the two seasoned English stars are fully aware of the towering talent possessed by Manassero, who mixed three bogeys and two birdies for his 71
Thirteenth in The Open Championship at the age of 16 and the youngest-ever player to make the cut in the Masters Tournament last year, the precocious Italian youngster has already won twice on The European Tour in just over 12 months as a professional.
A third victory now would make him the youngest winner of this flagship event, take his earnings through the two million Euro mark – and, unbelievably, could take him as high as 15th in the Official World Golf Rankings.
"I am certainly not as strong mentally as them (Donald and Westwood) because they are more experienced and everything, but I will try to fight for it," he said with clear-cut determination.
"Really I don't think it's going to be a mental battle. It's going to be the guy who plays and putts better."
"Irritatingly young, isn't he? I've been on Tour longer than he's been on Earth – but he's very good," mused a smiling Westwood who is tied for third with Fabrizio Zanotti of Paraguay and is a shot ahead of Frenchman Raphaël Jacquelin (69), Welshman Bradley Dredge (69) and Englishman Simon Dyson (72).
Zanotti stunned the field by producing a Championship record seven consecutive threes from the eighth, and then said: "It was a tough day. I was hitting good but I was four over, so I was pretty calm I think. I started making some putts and then the round started getting better and better."
As for Alvaro Quiros, who led at halfway with Donald and Manassero, the big-hitting Spaniard took seven on the ninth and eight at the 17th in a 76 that left him with four shots to make up on Sunday.
Donald's troubles, on the other hand, started with a double bogey on the short second, where he missed the green long and left and then chipped long and saw it roll down the slope in front of the green.
Another shot went on the next and at the sixth a drive deep into the trees cost him another double bogey.
He was in danger of going from "invincible" – as he said he felt while firing Thursday's 64 – to invisible, but birdies at the 11th and 12th brought him back into it and then a 30 footer on the 16th left him only one behind.
Westwood talked before the event about lurking and then coming through strongly under the radar – and so far he has kept to his blueprint
"I have by no means flushed it or ripped it this week," Westwood said.
"I am edging my way into the week and hopefully tomorrow I will play special because that's what I think I will need to do to win.
"It was a good 69. You've got to be on your game here – it's a tough examination."
Donald said he might call his Chicago-based coach Pat Goss after his error-strewn display.
"He might have seen something and a little key could make a big difference," he said.
"I didn't have much control of the ball, but I dug deep and I'm very proud of the way I came back.
"I am going to have to play better than that for sure. I felt somewhat like Seve (Ballesteros) – in the trees, leaves on my back, dropping the ball, escaping from everywhere.
"It would have been very easy to keep the head down and shoot myself out of the tournament, but I don't like to do that and it was a great fight back."
Top 10 leaderboard
208 Matteo Manassero (Ita) 66 70 72, Luke Donald 64 72 72
210 Fabrizio Zanotti (Par) 71 70 69, Lee Westwood 72 69 69
211 Simon Dyson 71 68 72, Bradley Dredge 68 74 69, Raphael Jacquelin (Fra) 72 70 69
212 Peter Hanson (Swe) 70 73 69, David Horsey 70 68 74, Alvaro Quiros (Spa) 69 67 76, Jose Manuel Lara (Spa) 68 70 74, Johan Edfors (Swe) 66 75 71