Donald delight at his latest success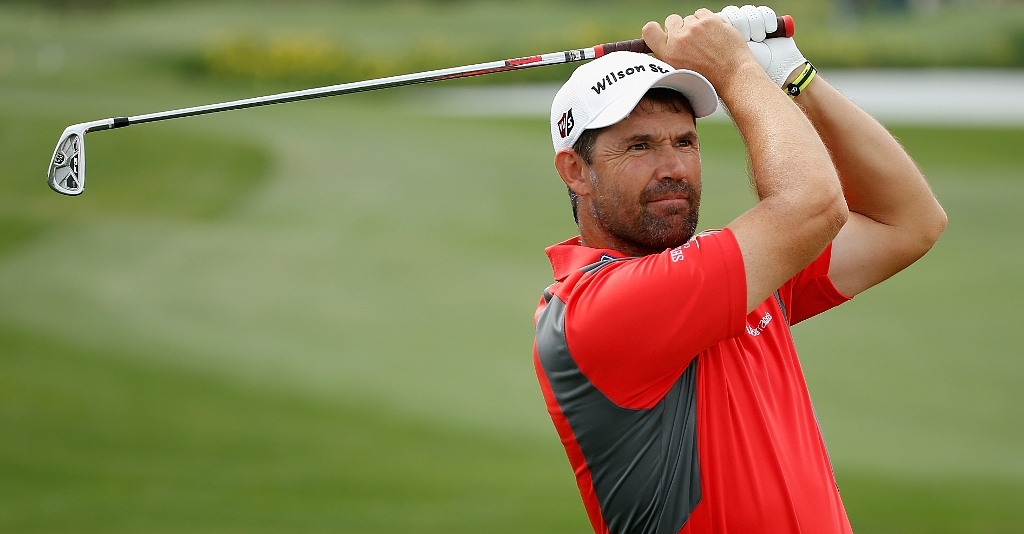 England's US-based Luke Donald had much to celebrate at the Ritz Carlton Golf Club in Arizona on Friday evening.
England's US-based Luke Donald had much to celebrate at the Ritz Carlton Golf Club in Arizona on Friday evening.
It was his daughter's first birthday and in winning his way into the quarter-finals of the WGC-Accenture Match Play Championship with his victory over surprise package Mateo Manassero, he had advanced further in this event than he had ever done before'
"Yes, it was a great day, obviously," he acknowledged afterwards.
"I played really solid today, didn't really give Mateo too much. Kept it in reasonably close, gave myself birdie chances, made four or five birdies out there and kind of made him work for it. He pushed me at the end, but I held on."
Donald had praise for the young Italian.
"Yes, he'd done well, alright. To take out Stricker and Schwartzel was quite something. I know I was nowhere near ready to be competing at 17. He's ahead of the curve, for sure."
Asked what he thought was behind what has been his most successful WGC Match Play challenge, Donald said: "I played nicely. I've played well the last round, the last few rounds. You never know in match play. It's a little bit unpredictable. But I have played solidly and given myself good chances to win. So I put it down to just good play.
And the big difference between this week and the last one where he missed the cut?
Donald said last week had been his first back in completive play in 11 weeks and although he had worked hard on his game a month prior to that, practicing was "not the same as competing".
"I've been hitting great shots on the range and playing a round or two with friends, but it isn't quite the same. And I've been trying to work on a few things in my swing, and I think I got caught a little bit in between some of my old swing thoughts and some of the new ones. It was just a bad day on Friday.
"I was disappointed and frustrated that I shot 79, but I put it down to more being just rusty in terms of being competitive. And I wasn't really worried. I still felt like I was swinging well. I've been hitting the ball really nicely on the range. And it was just one of those days.
When it was pointed out to Donald that Bubba Watson, who has also made it into the quarters, had been eating up the course with his length and the Englishman was asked if it was possible for a shorter hitter to win at Dove Mountain, Donald calmly replied:"Last year's winner, Ian Poulter, is not a tremendously long hitter. It definitely helps to hit long. There's a lot of holes where if you can carry the ball 270, 280 in the air or a little bit more, you're making the holes a lot shorter.
"I'm kind of having to go around and hit longer clubs into par-5s, and longer clubs into the par-4s. But I still, I've been 3 to 5-under every round, and it's been good enough.
"If Bubba…if I catch him on a great day, if I happen to play him and he shoots lights out, it's going to be tough for me, to be sure..
"But it's definitely a course that I know I can make birdies on. I think even with 7-irons and 6-irons on some of these greens, the greens are slopey enough and tricky enough that it's not that easy. You still need to be very precise into the greens. And when you miss it, you have to rely on a good short game.
When Donald was told that he was "arguably the star of the show the last time the format was 18-hole match play at the Ryder Cup", and asked if there was a secret to it, Donald replied: "Lets just say I enjoy match play. I enjoy the urgency of it; that you have to kind of get it done in 18 holes. I enjoy the fact that being consistent and not giving away holes is kind of the strength of my game, and I think that helps in match play.
"It would be nice to play a few more (match play) events. Obviously the Ryder Cup is a little bit different to this event in terms of the vibe and the atmosphere. But still I kind of seem to thrive on that match play kind of feeling, I guess.