DLF Golf & CC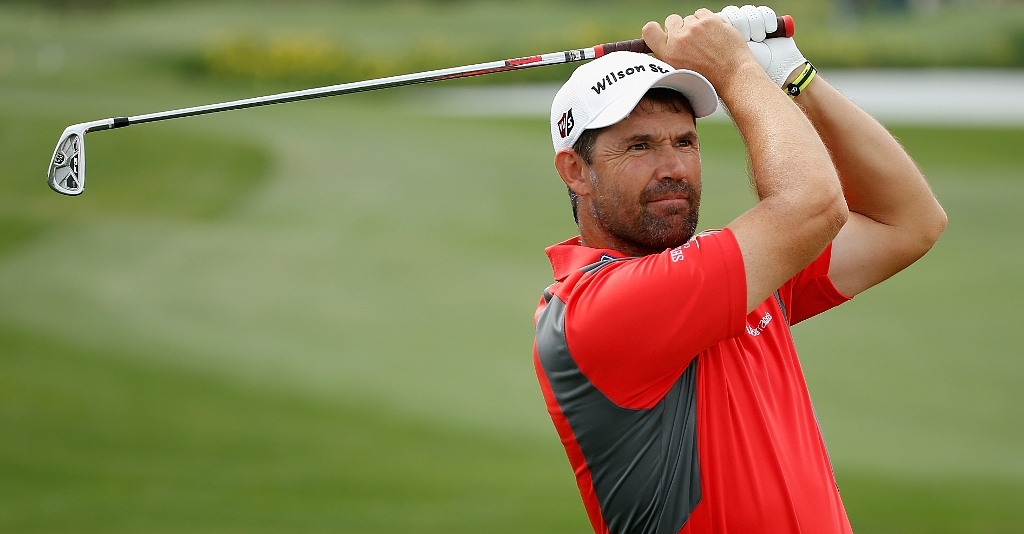 The DLF G & CC where the Avantha Masters is being staged this week, is one of India's finest golfing institutions.
The DLF Golf and Country Club where the European Tour's Avantha Masters is being staged this week, can boast of being one of the finest golfing institutions in India
It is also India's only course where a full 18-hole round of golf can be played under floodlights.
It's establishment was triggered by the 'walk-to-work concept pioneered by the developers of the surrounding DLF City, on the southern border of India's capitol city, New Delhi, which attracted much of corporate Delhi in the 1990s.
DLF the respected real estate developers, owners and managers of the DLF Golf and Country Club, have spared nothing in creating an exclusive institution with a 7,250-yard Arnold Palmer signature championship course, a golf academy with up-to-the-minute, state of the art practice and teaching facilities, a posh colonial style clubhouse containing a well-stocked, one-stop pro shop, a bar and restaurant, pool tables and an electronic dart board and a stand-alone sports complex that includes first class facilities catering for Tennis, Squash, Swimming, Gymnasium, Aerobics, Artistic and Traditional Yoga and Horse Ridding.
In the immediate vicinity of the club are other DLF City standouts including a resort complex with a five-star hotel, ultra-modern convention facilities, sophisticated shopping malls and modern entertainment centres.

THE GOLF COURSE
Nestling in the foothills of the gently rolling Aravalli Range, DLF's 7250-yard golf course carries the distinctive signature of Palmer, its unique layout with white-sand bunkers, buffers between fairways and water features which are all, in total harmony with nature whilst simultaneously offering challenging play to golfers of all skill levels.
Day and Night, golfers tee off at this manicured, parkland style course that boasts of five lakes, 14,000 trees and waterfalls and has been sewn with a variety of grasses selected on their ability to cope with vagaries of the weather, tolerance to disease and pest attack and also their colour holding capacities in the winter, summer, spring and monsoon seasons.
In order to provide perfect playing surfaces, DLF has hand-picked what they claim to be two of the most superior grasses available anywhere in the world – Tiff dwarf 11 for their greens and Tiff way 419 for their tees, fairways & roughs.
The 'King', the course owners claim, has produced a layout with few equals in the world with landscaping specifically designed to ensure the creation of a golfs course that integrates with nature
In designing the course, Palmer said: "As always, I tried to give the player a course where good shots are rewarded and where course reproaches you for the bad shots – and makes you just try harder".
Although designed to make a round enjoyable to every level of golfer with the five tees on every hole, the course was constructed to United States Golf Association (USGA) standards concerning the greens and tee complexes, bunker construction and the drainage and irrigation system.
TOUR THE COURSE
For a tour of the DLF Golf and Country Club course click here
THE ACADEMY
The Golf Academy has a floodlit dual-level driving range where you can choose to practice either from a state of the art Astroturf mat or from natural turf. The facility includes four target greens, a pitching area, a chipping green with a practice bunker and a large putting green.
The concept is designed to create a practice facility that gives the golfer an opportunity to practice all the shots that he may need on the course.
The Academy which offers tuition through seven PGA/IGU certified teachers is also equipped to conduct Video Analysis of the golf swing on the internationally acclaimed V1 Pro Software where after recording the swing in super slow motion, the swing is analyzed on laptops loaded with the software.
Other facilities at the Academy include a video room for the analysis and classroom lectures, a video and book library and a coffee shop.
Teaching programs offered by the academy include:
– Academy Programs for Members of DLF G&CC
– Academy Programs for Non-Members– Junior Program (Gold / Silver / Bronze Division)
– Lessons on the V1 Software
– Golf Schools with Karan Bindra
– Corporate Clinics
THE CLUBHOUSE:
The Club House was designed by the renowned architect Hafeez Contractor in true colonial style; the lush and warm interiors creating the perfect setting to complement a great game of golf.
It houses a luxurious lounge and ultra-smart locker rooms, a well-stocked, one-stop pro shop where golf cars can be hired, a multi cuisine restaurant, a bar with a pool table and an electronic dart board and a delightful sun-deck overlooking the lake with a fabulous views of the surround landscape.
A private dining room for 16 persons has an aerial view of the lake and fountains from the attached terrace..
The restaurant balcony, located on the first floor of the clubhouse, overlooking the lawns and the lake, offers additional space for seating and a magnificent view of the course. Buffets are offered here on typical days of tournaments, but the usual lunch consists of sets of "Quick lunch" ala carte on week days and a buffet on the weekends.
SPORTS COMPLEX
This stand-alone facilities offers tennis, squash, swimming, gymnasium, artistic and traditional yoga, aerobics and horse riding with experts / coaches for members requiring tuition..it is open from 6 am to 9 pm every day
CONTACT DETAILS
Aakash Ohri,
Senior General Manager,
Dlf Golf & Country Club,
DLF City, Phase-V
Gurgaon-122 002(HARYANA)
INDIA
Tel :+91-124-4525274, 2385413
Fax :+91-124-4525282
Email :contact-golf@dlfgroup.in
Website:www.dlfgolfresort.com