Davies retains share of the lead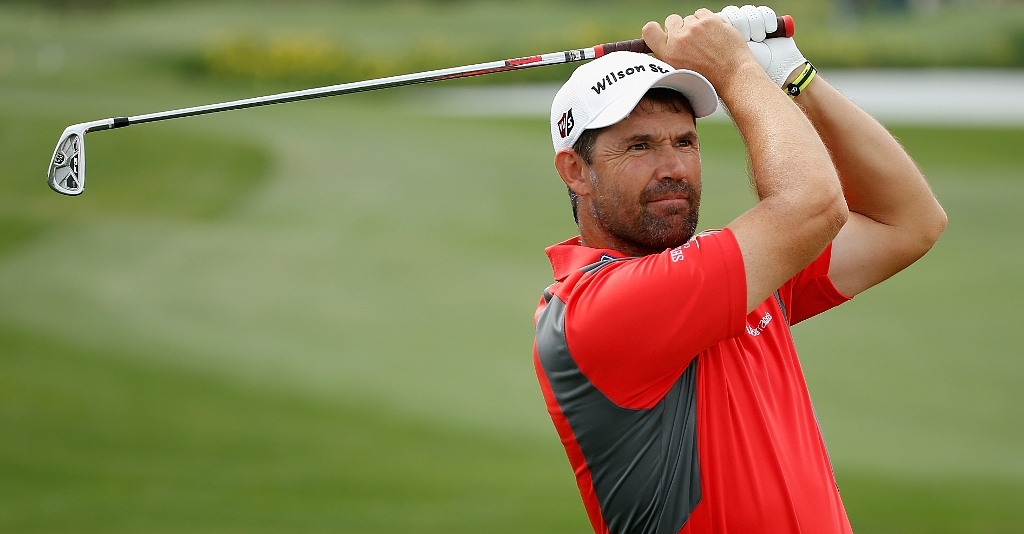 Laura Davies, Bettina Hauert and Marjet van der Graaff led after Friday's second round of the UNIQA Ladies Golf Open.
England's Laura Davies, Germany's Bettina Hauert and Marjet van der Graaff of the Netherlands lead after Friday's second round of the UNIQA Ladies Golf Open
The 45-year-old English veteran, along with Hauert and Van der Graaff finished with matching eight-under-par 136 totals before play was suspended due to darkness with just one group left to finish.
Ana Belen Sanchez, Johanna Lundberg and Clare Queen have two holes to play and will complete their second rounds at 7am tomorrow.
Van der Graaf shot a day's best 5-under 67 to Hauert's second successive 68 and Davies' solid 69 on an overcast and wind-blown day suspended for an hour by thunder and lightning at around 3pm.
When play resumed Davies, seeking a third-successive victory at Golfclub Föhrenwald in Wiener Neustadt, surged home with five birdies and two bogeys.
"It's a very good score considering the weather today," said Davies, a 72-time tournament winner. "It was a lot tougher with the wind. It could have been better, though, because I missed some putts and my only two bogeys came after three putts. I chipped in for a birdie on the 14th hole so it balanced out to not a bad score,"
"I'm very pleased. I did hit it good today. I hit one poor tee shot on 17 and got my first bogey of the week when I three putted from the front edge," the English veteran added.
Hauert posted five birdies and just one bogey after she missed the green with her second shot at the par-four fifth hole, but she was clearly feeling a lot more confident after a poor 2008 season.
"I'm very focused on the course," said Hauert who won in Switzerland and Finland in 2007.. "I don't let my thoughts run away and I stick to the golf,"
"I'm very happy with the result today. There were five holes in a row where I only had one putt, that was three times after up and downs and then two birdies. That stretch started on hole-13.
"Everybody who is playing in this tournament probably wants to win it. In the last few days I gave myself good chances to do it but there are still two rounds to go. There are other girls out there too so I'll have to keep working."
England's first round co-leader Melissa Reid stumbled with a second round 74, but even in joint 10th place at 3-under she is not altogether out of it as she seeks her maiden Ladies European Tour victory.
Spain's Marta Prieto, another of the four first round leaders, scored a hugely disappointing 81 but there was some small consolation – she was presented with a cake for her 31st birthday after her round.
Ireland's Rebecca Coakley, who also led on 67 overnight, was another who slipped backwards, but her 5-under total is only three shots off the pace.
ALL THE SECOND ROUND SCORES
(Gbr & Irl unless stated, par 72):
Note: Second round play was suspended due to darkness with one group left to finish. Tee Times for round 3 will run from 8.20am to 12.30pm played from a one-tee start in 3-balls.
136 Laura Davies (Eng) 67 69, Bettina Hauert (Ger) 68 68, Marjet Van Der Graaff (Ned) 69 67
138 Jade Schaeffer (Fra) 68 70, Johanna Westerberg (Swe) 70 68, Linda Wessberg (Swe) 70 68
139 Veronica Zorzi (Ita) 69 70, Rebecca Coakley (Irl) 67 72
140 Gwladys Nocera (Fra) 70 70
141 Federica Piovano (Ita) 69 72, Melissa Reid (Eng) 67 74, Lydia Hall (Wal) 69 72, Hazel Kavanagh (Irl) 68 73, Maria Boden (Swe) 70 71, Smriti Mehra (Ind) 70 71
142 Virginie Lagoutte-Clement (Fra) 72 70, Felicity Johnson (Eng) 71 71, Christel Boeljon (Ned) 71 71
143 Nicole Gergely (Aut) 71 72, Elisabeth Esterl (Ger) 71 72, Elena Giraud (Fra) 73 70, Frances Bondad (Aus) 74 69, Caroline Afonso (Fra) 72 71, Titiya Plucksataporn (Tha) 73 70, Joanne Mills (Aus) 76 67
144 Morgana Robbertze (Rsa) 74 70, Ursula Wikstrom (Fin) 71 73, Pamela Feggans (Sco) 73 71, Johanna Mundy (Eng) 72 72, Nina Reis (Swe) 71 73, Christine Hallstrom (Swe) 71 73, Anja Monke (Ger) 70 74
145 Sophie Walker (Eng) 74 71, Becky Brewerton (Wal) 72 73, Lisa Holm Sorensen (Den) 75 70, Martina Hochwimmer (Aut) 74 71, Dana Lacey (Aus) 72 73
146 Bronwyn Mullins-Lane (Aus) 73 73, Lee-Anne Pace (Rsa) 73 73, Stefanie Michl (Aut) 69 77, Malene Jorgensen (Den) 70 76, Kyra Van Leeuwen (Ned) 73 73, Elizabeth Bennett (Eng) 76 70, Lisa Hall (Eng) 74 72, Riikka Hakkarainen (Fin) 74 72
147 Isabella Maconi (Ita) 74 73, Ellen Smets (Bel) 74 73, Trish Johnson (Eng) 70 77, Rebecca Hudson (Eng) 71 76, Marina Stutz (Aut) 76 71, Tara Delaney (Irl) 74 73, Camille Fallay (Fra) 71 76, Samantha Head (Eng) 73 74, Lora Fairclough (Eng) 75 72
148 Breanne Alicia Loucks (Wal) 72 76, Nikki Garrett (Aus) 75 73, Marta Prieto (Spa) 67 81, Stefania Croce (Ita) 74 74, Katharina Schallenberg (Ger) 74 74, Julie Tvede (Den) 74 74, Stacy Lee Bregman (Rsa) 74 74, Lotta Wahlin (Swe) 74 74, Zuzana Masinova (Cze) 73 75, Julie Greciet (Fra) 72 76, Laurette Maritz (Rsa) 71 77, Mianne Bagger (Den) 76 72, Marina Kotnik (Aut) 74 74, Lynnette Brooky (Nzl) 73 75, Kiran Matharu (Eng) 72 76, Anna Knutsson (Swe) 74 74, Anna Tybring (Swe) 71 77, Jenni Kuosa (Fin) 75 73