Clarke one step closer to glory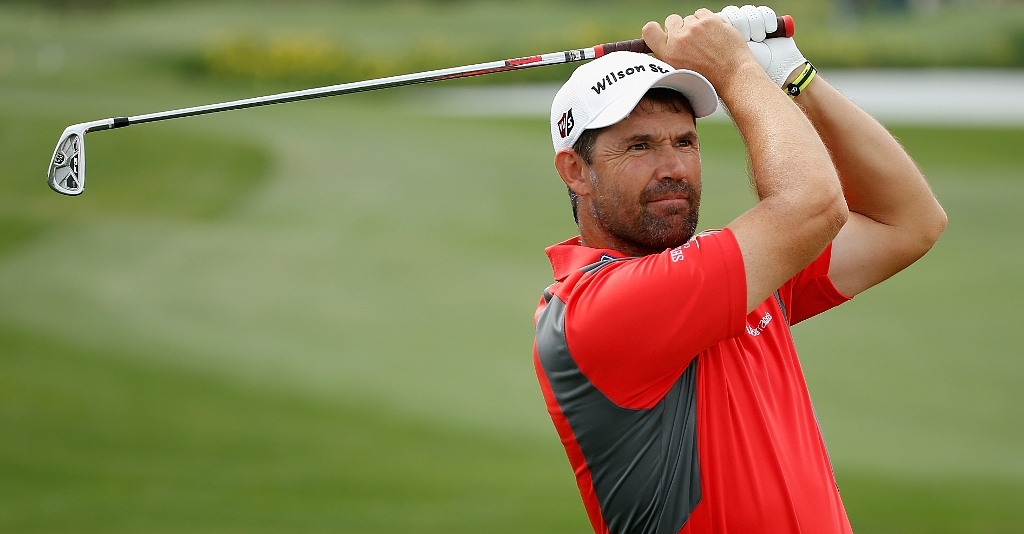 Darren Clarke, who played in his first Open Championship 20 years ago, has a chance to finally win one of his own on Sunday.
Northern Ireland's Darren Clarke, who played in his first Open Championship 20 years ago, has given himself another chance to finally win one of his own on Sunday.
The 42-year-old kept his nose in front on Saturday, firing a one-under-par 69 to lie on five under par, one shot clear of American Dustin Johnson with 18 holes to go.
Clarke battled the rain and the wind to maintain his advantage, though he and the other later starters were fortunate to get the best of the conditions on what was a miserable day at Royal St George's.
Still, only two of the 71 players who made the cut were able to better his round – Johnson, and fellow American Rickie Fowler, who both shot 68s.
Clarke is looking to follow in the footsteps of Dubliner Padraig Harrington, who won back-to-back Opens in 2007 and 2008, and his Northern Irish compatriots Graeme Mcdowell, who won the US Open last year, and Rory McIlroy, who succeeded McDowell last month.
It's an incredible achievement, considering that Clarke hasn't had as much as a top-10 finish in any major for a decade, and he'd dearly love to make up for what happened in 1997, when only a 65 from Justin Leonard in the final round prevented him from lifting the Claret Jug.
Clarke picked up his first birdie of the day on the par-four first hole, and he was the only player in the field who managed to birdie that hole all day.
A bogey followed on the fifth after he avoided danger at the dangerous fourth hole, which was playing incredibly difficult on the day, straight into the wind, and he then went birdie-bogey on the seventh and eighth.
From then on it was all pars, save for a birdie three at the par-four 12th.
"From tee to green I can't really play any better. I had one of those days where I had full control of my ball flight, but I didn't have the speed with my putting at all," said Clarke.
"If somebody had said before the start I could have 69, though, I would have bitten their hand off."
Clarke received plenty of cheers from the crowd on Saturday, and he remarked: "I think most of the crowd identify with a guy who's not quite an athlete and likes a pint.
"I have a chance to realise a dream now and that would be fantastic.
"I've done just about everything else. I've been fortunate to win Ryder Cups and World Championships, but a major has so far eluded me.
"I've a pretty decent chance. A major is always tough to win, but I've put myself in position."
But his closest competitor Dustin Johnson has some wrongs of his own to right, and will be a force to reckon with come Sunday.
The 27-year-old led the US Open by three with a round to go at Pebble Beach last year, but let McDowell in by crashing to an 82. And two months later at the US PGA he thought he had made it into a play-off for the title, only to be given a two-stroke penalty for grounding his club on sand on the final hole.
"Obviously I've been in this situation a few times, so I think the more and more you can put yourself in it the more comfortable you get," said Johnson.
"I know what to expect. I know how to approach it and what to do."
In joint third place, two shots behind Johnson, are Dane Thomas Bjorn, yet another player out to make good for mistakes made in the past – most notably his implosion over the closing holes of this very tournament at this very course back in 2003 – and American Rickie Fowler, whose 68 on the day was arguably even better than Johnson's, as he spent more time out on the course in the worst conditions.
For a player inexperienced in links golf and unused to the rough weather conditions, Fowler's performance was nothing short of remarkable, and he is now a serious contender for the title.
"I'd love for my first win to be a major and I'd love for it to be here," said Fowler.
"I'm playing every tournament to be in contention and give it a shot, so I'm in a perfect place going into tomorrow.
"I felt like I played really well today and it's going to give me a lot of confidence going into tomorrow.
"I just need to make some putts and it's going to put me in a good spot.
"I've just got to make sure I keep having fun. I think that'll keep me for the most part kind of mellow and not getting too far ahead of myself.
"As long as I draw on some past experiences being in contention – I was in contention two weeks ago (at the AT&T National, where he shot a final-round 74) and I couldn't get any putts to fall.
"I felt really good where I was at in that position. Obviously this is a little bit bigger stage and a major but I'm ready to go out and have some fun and play well."
A further shot back are American Lucas Glover and Spaniard Miguel Angel Jimenez. At one under par, they are the only other players still in red figures.
A total of six players are even par for the tournament, only five shots back and still in contention – Americans Anthony Kim, Davis Love and a threatening Phil Mickelson, Dane Anders Hansen, South African George Coetzee and Germany's Martin Kaymer.
Despite the terrible weather, Mickelson enjoyed himself out on the course.
"It was a fun day," he said. "It was certainly challenging with the rain. We got lucky. I think the guys that played late got really lucky, myself included, that it went away right around the turn, and we went from really fighting for pars on every hole to thinking birdies on some.
"I let a couple of short putts slide away and fought back the last eight holes to make a few birdies to get right back in it. Certainly I've got to do something really good tomorrow.
"I've got to shoot something under par, I'm just not sure how low.
"It's fun for me to come over here and have a chance on Sunday," he admitted. "I'm very excited. There's nothing more exciting than having a chance in a major on Sunday.
"I know that I'm not leading, but I'm also right there. I feel like it's my first time over here. It would be cool (to win), but we shouldn't go into that yet. We've got a lot of golf left."
Elsewhere, it was a disappointing day for Rory McIlroy, who was unable to put any pressure on the leaders, and had to settle for a third-round 74 that left him nine shots off the lead.
He picked up a double-bogey on the 14th, where his leaked drive hopped out of bounds. He was forced to hit another off the tee and missed the green with his fifth shot.
"To be two over after 13 was a pretty decent effort," said the Northern Irishman.
"You've done so well to keep yourself in it and with half of Kent on your left to hit it right was a bit disappointing.
"The moment I hit it I thought it was out of bounds, but then it started to hang on and I thought it could be okay.
"I think it bounced in bounds and then went out.
"That was a tough one to take. It's big setback. I obviously wanted to get closer to the lead rather than further away."
When he was asked how many shots back was too many, he recalled Paul Lawrie's victory at Carnoustie in