Clarke and Glover have the edge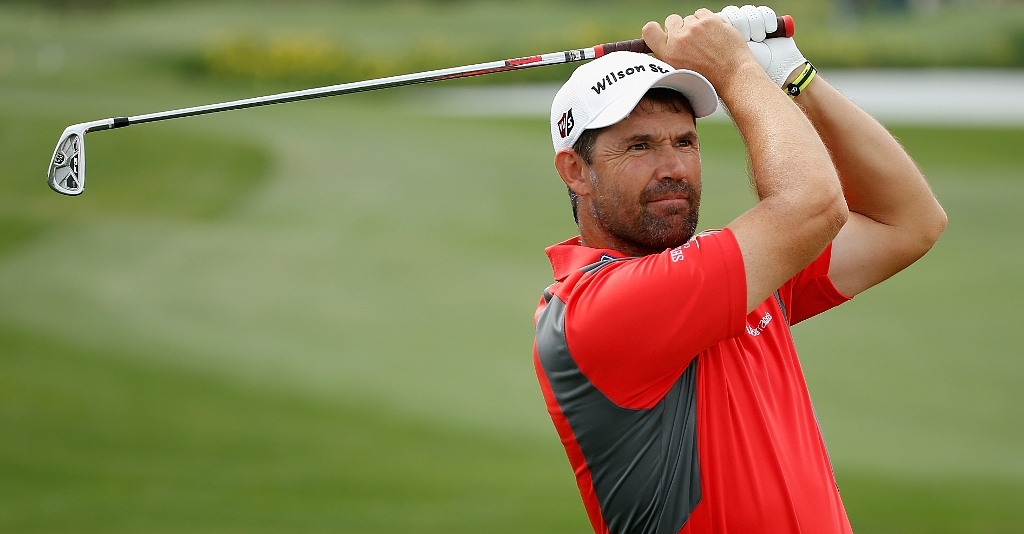 Darren Clarke and Lucas Glover have taken over the lead after the second round of the Open Championship at Royal St George's.
Northern Ireland's Darren Clarke and American Lucas Glover have taken over the lead after the second round of the Open Championship at Royal St George's.
Both lie on four under par – Clarke thanks to a second consecutive 68 and Glover thanks to a 70 to follow up his opening 66 on Thursday.
The duo are only one shot clear of four others – American Chad Campbell, Germany's Martin Kaymer, first-round co-leader Thomas Bjorn from Denmark and Spaniard Miguel Angel Jimenez.
Bjorn and fellow first-round leader and unheralded amateur, Tom Lewis, both lost ground in their second rounds, meaning Clarke and Glover's leading score is actually one shot lower than the five under mark set on Thursday.
With bad weather forecast for the weekend, the winning total might not be much higher than it is now, and with more than 30 players within four shots of the lead, this year's Championship is still wide open.
Joint leader Clarke, perhaps best remembered for his unbeaten performance at the 2006 Ryder Cup just a month after his wife Heather lost her cancer battle, has since seen fellow Ulstermen Graeme McDowell and Rory McIlroy become major champions.
"Nothing could be more difficult than that particular week," said the 42-year-old when asked about The K Club five years ago.
It was 2008 before he won again, but he has still not had a top-10 finish in a major since he was third at Royal Lytham a decade ago.
"It would mean an awful lot, but obviously this is only after two rounds – there is an awful long way to go yet.
"And I believe the forecast for the weekend is very, very poor. I quite look forward to that, but the course is going to play very, very tough.
"If that's the case, then the tournament is still wide open for an awful lot of players."
His round began with laughter.
"That was somebody whistling at me when I was bending over stretching," he explained. "I said 'I hope that was a lady', but he whistled again, same guy. I'm doing something all wrong."
Not in his personal life, though.
After he met former Miss Northern Ireland Alison Campbell in a blind date set up by McDowell, he moved to Portrush and they became engaged in December.
"I've got a wonderful fiancee. Alison is a great girl and instrumental in my getting my life back on track," he said.
He owes his place in his 20th Open to taking the 30th and last exempt spot off last year's European Tour money list by less than £2,000.
Clarke's best chance to win came at Troon in 1997. He was clear of the field there, but was overtaken by Justin Leonard's closing 65.
He described his round as "adventurous".
He birdied the short third, double-bogeyed the next after a chip came back down a bank to him, but then rolled in an eagle putt of around 80 feet at the long seventh.
He went joint top with a birdie on the eighth, bogeyed the 10th, birdied the 12th and 13th, took six on the 547-yard next after pitching over the green, then failed to get up and down from sand on the 16th.
Clarke finished on a high, though, cutting in a seven-iron at the last and making the 20-footer.
Tom Lewis, the amateur who surprised everyone by taking a share of the first-round lead, didn't have the greatest day, shooting a four-over 74 – though it still leaves him only three shots off the lead.
"I think if you asked me that two days ago I would have taken it, but at this moment it doesn't feel so good," said Lewis, who booked his Open place after winning a qualifier at Rye.
"Four over is not a great score but hopefully I can have two good scores at the weekend.
"I had to limit the damage and I felt there was loads of it out there.
"Every hole felt like there was something because the way I was hitting it wasn't great."
Thomas Bjorn, who surprised everyone on Thursday by taking the lead on the course that provided him with the biggest disappointment of his career back in the 2003 Open, shot a two-over 72. At three under, he is only one shot off the lead.
"It wasn't the prettiest of days golf-wise, but I'll take where I stand in the championship right now," said the Dane, who recovered nicely after three early bogeys in his round.
Also one shot back, and lurking ominously, is current US PGA Champion Martin Kaymer, who shot a 69 on Friday.
"I think the first two rounds were fairly good and I'm happy with that," said Kaymer.
"But if the weather comes in, if the rain comes in and the wind, then it's a battle. Then you need to fight, and then it becomes very difficult to keep that position.
"But I'm ready for it. I had a week off last week, so I'm prepared for some mental strength out there. I think I should be fine."
US Open champion Rory McIlroy remains a threat at level par after a 69, four shots back.
"It was a grind," the 22-year-old admitted. "Even though it was sunny and it looked nice out there, it was very tricky. The course is playing a lot firmer, a lot of cross winds, and to shoot something in the 60s today I'm very pleased with.
"It would have been nicer to be a couple better, but I'll take that going into the weekend. I'm very happy with my position and within striking distance of the leaders.
"It's the most open Open I've seen in a long time. I think it'll be exciting to be a part of and it'll be exciting to watch over the next two days.
"I'm very happy with my position going into the weekend. I'm happy with where I'm at. If I get off to a decent start tomorrow I'm right in it."
Another major champion, Masters winner Charl Schwartzel, is also only two shots off the pace, after tying for the lowest round of the day – a 67.
He was surprised to be so high up the leaderboard.
"A little bit," he admitted. "I got off to such a good start (three under after five), I had a good score out there, but I guess that's this golf course. You're not going to just walk all over it."
Asked if he knew about the weather forecast, he said: "I've seen it, and I don't want to think about it."
Further down the field, a slew of big names failed to make the halfway cut, most notably world number one and world number two Luke Donald and Lee Westwood, as well as Graeme McDowell, Padraig Harrington, Ernie Els, Hunter Mahan, Nick Watney, Matt Kuchar and Ian Poulter.
Donald had no excuses for yet another disappointing major performance.
"I will keep searching and keep trying to put myself in position but the last two majors [he finished 45th at last month's US Open] have been disappointing," he said.
"I believe in my ability but for whatever reason it is not happening.
"I feel like I have tried everything; I've been playing 10 years and played countless majors and come close a couple of times but I have to figure out a way to contend a bit more.
"I have to figure out a better way to play the Open. I have to do a better job of adapting to conditions on the day."