Choi leads, but Tiger's looking good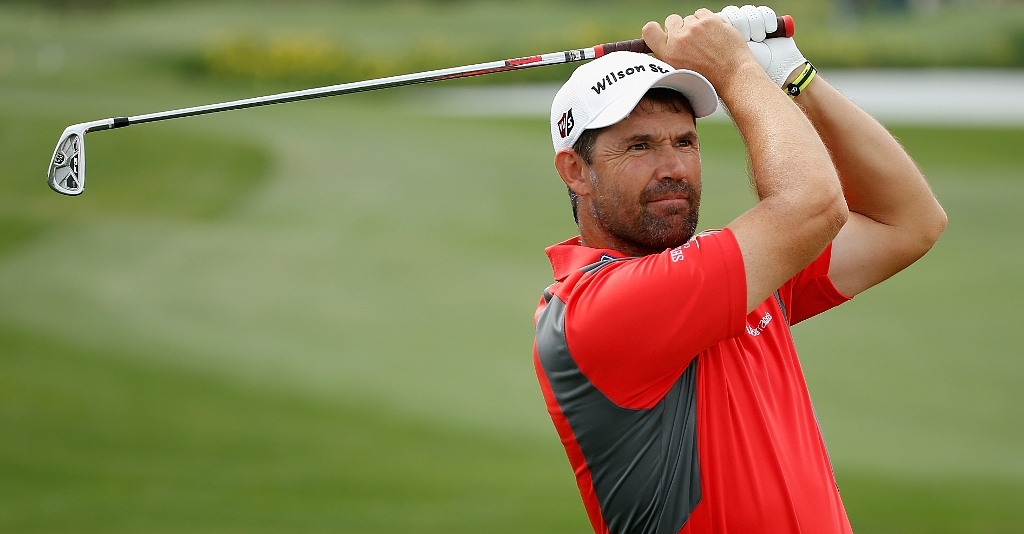 KJ Choi, rock solid in strong, unfriendly winds, led the Chevron World Challenge after Thursday's first round.
KJ Choi, rock solid in unfriendly winds that gusted up to 35 miles per hour (56 kmh) at Sherwood Country Club in California, led the Chevron World Challenge after Thursday's first round.
The stocky South Korean, who regularly practices in strong winds at his US home in Dallas Texas and is renowned for his ability to keep his shots low and under the wind, hurried into a three-shot, first-round lead over tournament host Tiger Woods and US Presidents Cup team mate Steve Stricker with an excellent 6-under 66
Choi, 41, said his big surprise of the day was to arrive at the course and find that the strong winds forecast overnight hadn't materialised.
It was only while playing the 6th hole that they did finally get there and by that time he had already shot five consecutive birdies in a stunning start to a tournament which Woods has won four times and finished second four times in something like 10 starts.
"Today I wake up early, so I am looking around outside the window and it looked very calm," Choi told the media afterwards.
"Last night, the weather (forecasts were) saying 45 mph (72 km/h) and 60 mph (97 km/h) winds. But I'm very confident in the wind, playing with my low ball, the high draw and low draw.
"And I started very quick, and set a (personal) record with birdies on my first fine holes."
Choi, whose last of his eight PGA Tour victories came at the prestigious Players Championship in May, said he had not found the conditions too bad.
"Living in Dallas, where there are 20, 30 mph (32, 48 km/h) winds every other day, I'm used to practicing in those conditions," he explained
"And throughout the years from just playing in the wind at tournaments, I've become very comfortable with windy conditions.
"But I don't think practicing in windy conditions really gave me the advantage today. Overall my game has really improved. This being the second time for me to play here, I felt more comfortable. And my good putting really helped today."
Playing three groups behind Woods on Thursday, Choi was able to catch glimpses of the former World No 1 in action on the front nine and said he was greatly impressed by what he saw.
"He is really 80, 90 per cent back to his form again," Choi said of the 14-times major champion who has not won a tournament in more than two years.
"I'm very happy about playing with him tomorrow. Tiger is a good friend and he's got a very strong will. He's got the right mental attitude right now, and I think it's going to be a very fun day tomorrow."
Choi said he watched Woods hit shots on the fifth and sixth holes and was most impressed.
"He was swinging at his rhythm, at the power that he had (before)," the Korean said. "It almost seemed like I was watching the old Tiger.
"With this form that he has right now, he's going to play well, and I think it's very good for the game. It's very good to see that he's really coming back to his old shape."
Woods, who along with Stricker, fired a three-under-par 69 on a day when swirling winds gusting ands swirling across the Santa Monica Mountains, made low scores difficult, would not have disagreed with Choi.
When asked if his start had been a good one, Woods, who posted six birdies and three bogies, replied: "Absolutely. To be in the red (under par) made it a good day today."
Along with the three front-runners, Americans Nick Watney, 2009 champion Jim Furyk and Rickie Fowler, who carded matching 71s, and were the only other players in the elite field of 18 who shot sub-par scores on Thursday.
"Anything under par was a good round today," opined Woods "It was tough out there.
"You didn't know which way it (the wind) was coming from, then you have the intensity changes on top of that. The wind was dancing all over the place."
Woods, a four-time winner at Sherwood, also made a fast start on a still windless morning, coolly sinking a five-footer at the par-four first and then hitting a wedge to two feet for a tap-in putt at the par-five second.
Two birdies in two holes, but there was more tom come.
He nailed a 20-foot birdie putt at the fourth and then very nearly eagled the par-five fifth after reaching the green in two.
His first putt from 18 feet lipped out to anguished roars from the supportive gallery before he knocked in the birdie putt to get to four under.
The wind got up after that and bogeys at the 15th and 16th slowed him down coming home.
Stricker, who rolled home a wonderful 40-foot birdie putt at the last to join Woods at three under, applauded his playing partner's form on a tricky day at Sherwood.
"I think Tiger's playing great," said the World No 6.
"He's striking the ball so solidly. It was tough out there today but he looks like the Tiger of old."
Choi, though, was the man who delivered the finest round of the day.
He reached the turn in five-under 31, and picked up further shots at the 13th and 16th before making his one and only mistake of the day with a three-putt bogey at the par-three 15th.
I played very well today. The back nine was more difficult and my mind set was just to make pars. I tried to be patient and I think my strategy worked well," Choi said of his seven-birdie, one-bogey round.