Chan in four-way Macau tie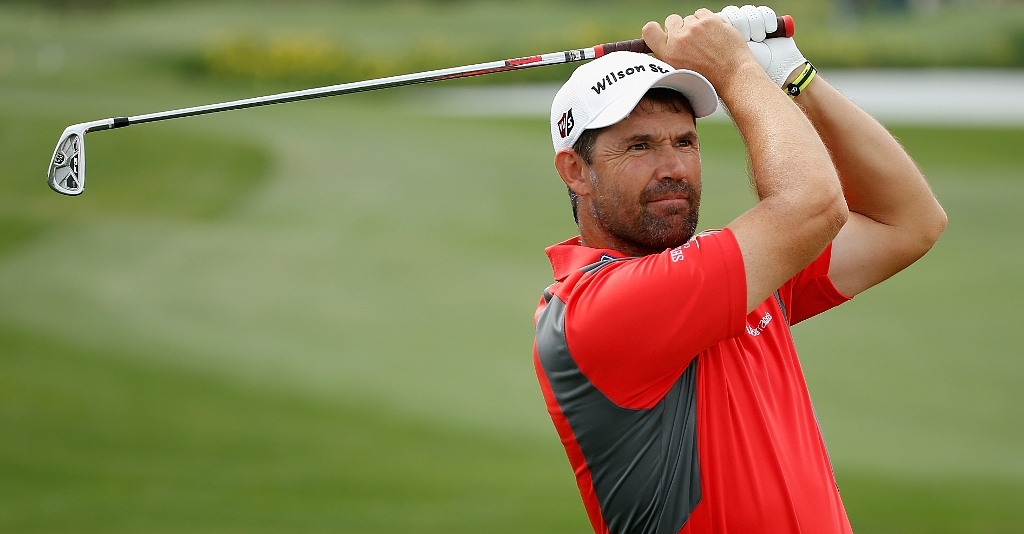 Tapei's Chan Yih-shin has snatched a share of the first round lead at the Macau Open with a last-minute eagle at the 18th.
Chan Yih-shin of Chinese Taipei has snatched a share of the first round lead at the Macau Open with a last-minute eagle at the 18th.
Chan, a one-time winner on the Asian Tour, shot an opening 5-under par 66 at the Macau Golf and Country Club that included an eagle, five birdies and just one bogey to match leaderboard toppers Anthony Kang of the US, 2010 Rookie of the Year Rikard Karlberg of Sweden and Englishman Nick Redfern for the first round lead.
Veteran Wang Ter-chang of Chinese Taipei, winner of the 2005 Macau Open, continued to roll back the years when he shot a 67 that was matched by Australians Brad Smith and Adam Groom for a share of 5th place, one shot off the pace.
Chan, winner of the 2009 King's Cup in Thailand, eagled the last hole when his four iron approach from 230 yards out landed 20 feet from the pin on the par five 18th hole and he made the putt..
"I didn't expect to eagle the last hole. I hit a good drive and attacked the green and knew I needed to get my putt as close to the hole as possible but it went in instead which was a bonus," said the beaming 34-year-old.
"It hasn't been a good year for me. I can't seem to point out which aspect of my game has been pulling my results down but I'm feeling more confident now," added Chan, who is currently in 64th place on the ASian Tour's Order of Merit.
Korean-American Kang, 38, bounced back into form in a round of six birdies against one bogey. He missed 20 out of 27 cuts in Asia, Europe and Africa this year but rediscovered his putting touch where he made 26 putts and missed only four fairways.
"I missed a ton of cuts this year but my game is getting better because my short game has improved. You really don't notice it as you are playing but it adds up to a stroke saved here and there and before you know it you are on the good side of the cut," said the three-time Asian Tour winner.
Karlberg, who is making his debut in the Macau Open, misjudged his yardages early in his round to turn in 35 but in the end was able to storm home with a total of eight birdies against three bogeys. The highlight of his round came when he sank a tricky 15 foot birdie putt on the par four fifth hole.
"Some of my putts dropped which haven't been happening to me lately. The birdie on five felt great because it is such a tough hole," said the 24-year-old, who won two Asian Tour titles last season.
Veteran Wang continued playing his best golf despite his age of 49. His confidence spilled over to the Macau Open presented by Cityneon as he was in contention at the ISPS Handa Singapore Classic last week before finishing in tied 24th place.
"This is my 12th year playing in Macau and I feel very comfortable here. The competition gets tougher every year and the course is good for the big hitters and young players. A player of my age has to put in more effort to play well," smiled Wang, who birdied four of his last six holes.
Jeev MIlha Singh, playing in his first Macau Open since 1999, admitted he could have gone lower in a flawless round highlighted by three birdies.
"I'm satisfied. I could have done better. All golfers want to do better but it is a good start to the week," said the two-time Asian Tour Order of Merit winner.
The Macau Open has been a regular fixture on the Asian Tour calendar and has previously attracted some of the world's best players. The tournament has been won by many world stars, including Lee Westwood of England (1999) and Colin Montgomerie of Scotland (2003).
The Macau Open presented by Cityneon will be beamed live during all four rounds on the Asian Tour's television platform of over 200 nations and 850 million homes, ensuring that Macau will be the centre of attention during the week.
Leading first round scores:
66 – Anthony Kang (USA), Rikard Karlberg (Swe), Yih-Shin Chan (Tpe), Nick Redfern (Eng).
67 – Wang Ter-Chang (Tpe), Brad Smith (Aus), Adam Groom (Aus).
68 – Pasamet Pogamnerd (Tha), Hwang Inn-Choon (Kor), Jeev M Singh (Ind), Marciano Pucay (Phi), Namchok Tantipokhakul (Tha), Juvic Pagunsan (Phi), Lin Chie-Hsiang (Tpe), Kalle Samooja (Fin), Angelo Que (Phi), Simon Griffiths (Eng), Danny Chia (Mas).