Calc on track to Open double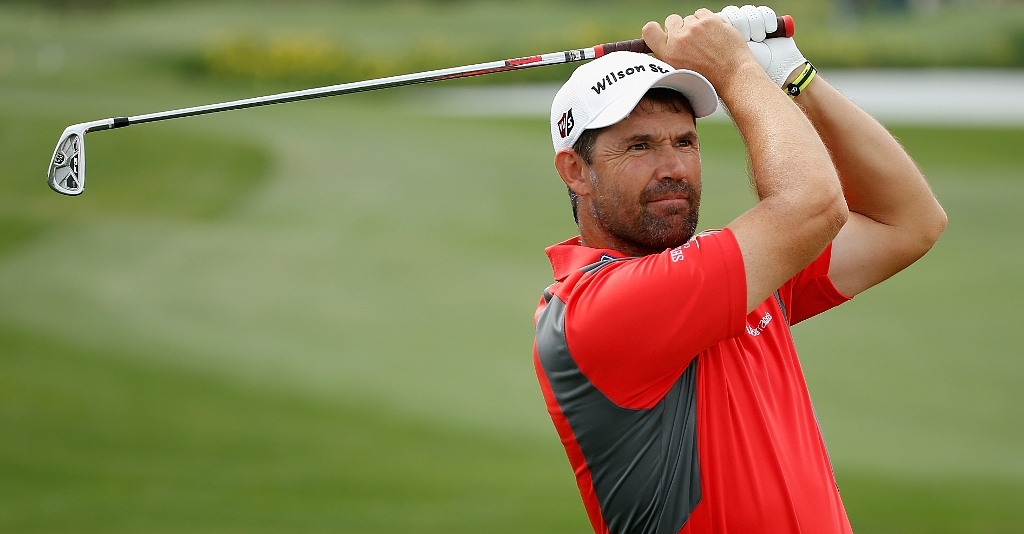 Mark Calcavecchia has kept on track his bid to become the 4th man to win a British Open double at Walton Heath in Surrey.
Mark Calcavecchia kept on track his bid this week to become the fourth man to win a British Open double when he shot a second round 69 to retain his share of the overnight lead at Walton Heath Golf Club in Surrey..
On Thursday evening the US veteran was tied for first with Australian Mike Harwood and Irishman Mark McNulty.
On Friday evening he was in the same position, but now his partners in the three-way tie were two of the Champions Tour's lesser known campaigners, Lee Rinker of the US and Canadian Rod Spittle.
Harwood had fallen back into a tie for 10th with a three bogey, one birdie 74 while McNulty had stumbled with a three-birdie, two-bogey and two-double bogey 4-over 76 and tumbled into an 8-way tie for 32nd place that included Ian Woosnam
Calcavecchia in the meantime, was quickly out of his blocks on Friday morning with two birdies in his opening two holes.
The 1989 Open Champion reached the turn in 34, before birdies at the 12th and 18th holes shot him to an outright afternoon lead on seven under par, leaving him in pole position to join Bob Charles, Gary Player and Tom Watson on the list of Open Champions who have also won the British Senior Open.
And from this position Calcavecchia sees no reason why he cannot push on and secure his first Senior Open Championship.
"I don't see why not, but there's a long way to go. Like I said, I kind of held it together. I got a little sloppy on the back nine, but I'll try to be aware of it tomorrow," he added
"My last four drives were great, after three crooked ones on 11, 12 and 13. I'm looking forward to the weekend now."
Calcavecchia could be joined in the last group on Sunday by his close friend Rinker, who shot a sparkling 67.
The pair have been friends since playing junior golf together in their native Florida, although since then, Rinker has not enjoyed quite the same success as Calcavecchia.
He said: "It's just a total dream to be in this position. You dream of it your whole life, having a chance to win a tournament like this. So it's going to be a lot of fun the last few days."
Australian Peter Fowler is currently in fourth place after carding an excellent 68 that took his halfway tally to 5-under
Fowler, a winner of two titles on the Senior Tour this season, notched five birdies and a solitary bogey to continue the form which has seen him climb to second place on the European Senior Tour's Order of Merit.
He said: "My body's feeling much better than it has for a while, and I think that's showing in my results. I had a few surgeries a couple of years ago on my back, so I did a lot of rehab, and I'm still doing it. The body feels good, and I think it's helping my golf swing, because I've got to pay special attention to make sure that my body doesn't move around too much.
"I played pretty well today. I started to loosen up a little more than yesterday. I knew that if I drove the ball well, I wouldn't get into too much trouble. And that's what happened, so I was pretty happy."
England's Barry Lane is also well placed on three under par after a solid round of 70, whilst compatriot Kevin Spurgeon shot the lowest round of the day, a 66, which moved him up to one under par.
Tom Watson, meanwhile, shot a superb round of 68 to rectify some of the damage done by his disappointing opening effort of 75.
But he still believes he is in with a chance of victory on one under par, having hit 17 greens in regulation on Friday.
"I kept the ball in play and drove the ball beautifully. I wasn't in any of the heather and any of the bunkers, so that's your main aim here at Walton Heath," Watson said..
"This heathland golf course is very exacting off the tee; if you make a few mistakes here, you'll make some bogeys or worse.
"And the putter is going to have to work this weekend for me to have a chance to win. I'm one under par for the tournament, so it looks like I'm going to have to make up some ground and the only way to do it is really with your putter."