Browne's two eagles put him clear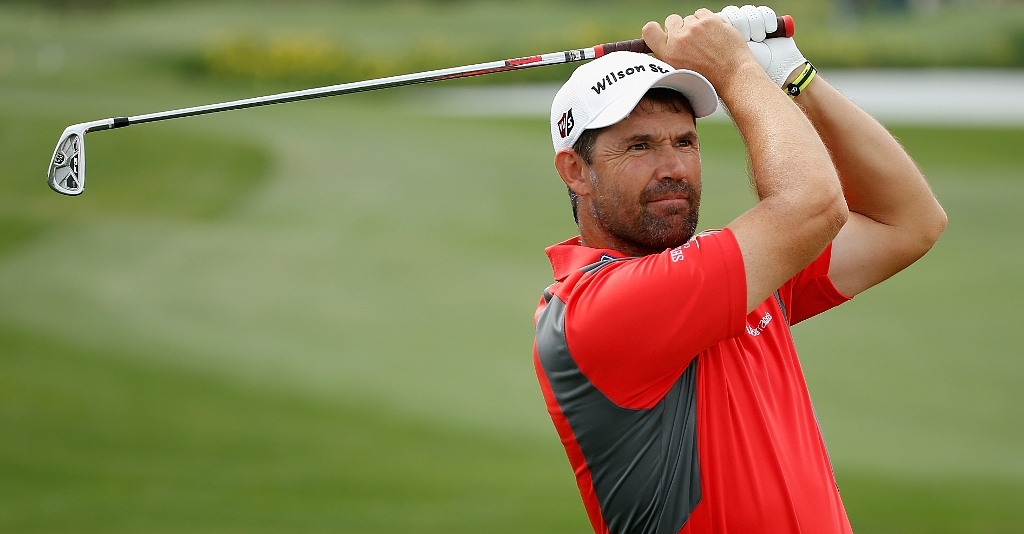 Olin Browne grabbed the 1st round lead at the US Senior Open on Thursday – thanks to two eagles on the closing stretch.
Unheralded Olin Browne grabbed the first round lead at the US Senior Open on Thursday when he fired off not one, but two eagles heading down the closing stretch.
His heroics earned the American senior journeyman a sparkling 7-under 64 and put him into a two-stroke lead over Masters and Open winner Mark O'Meara and fellow American Michael Allen.
They also enabled his 64 to equal the lowest first round score ever at a US Senior Open, matching Bruce Fleisher (2000), RW Eaks (2002) and Craig Stadler (2005).
Amateur Damon Green, better known as 2007 Masters winner Zach Johnson's regular PGA Tour caddie, former US Open champion Steve Jones and Mark Wiebe are tied for joint fourth place a further shot back after shooting 67s to make up an all-American Top five.
Namibia's Trevor Dodds and Japan's Kiyoshi Murota, who both shot 68s to be four shots off the pace in an eight-man tie, were the highest foreign golfers after the first round.
Germany's defending champion Bernhard Langer, returning from a four-month lay-off with a thumb injury, had a slowish start and was six shots off the pace after an opening 70.
Browne, a three-time winner on the regular PGA Tour who is in his third year on the over-50 circuit, was 1-under on the day and four shots off the lead when he came to the third hole, his 12th.
He birdied it, then cooly hit a hybrid-3 from 216 yards that came to rest a mere six feet from the pin at the fourth. He easily drained the eagle putt.
He followed that with a par and a birdie in a round so far of no fuss and no bother, but drama was to follow.
Browne, who tied for third a year ago at the US Senior Open, had 97 yards left as he prepared for his third shot on the par-5 8th. His wedge shot over-flew the flag, but then spun smartly back into the cup to stun both Browne and his caddy.
"The key to hitting that shot in was, first of all, you've got to get super lucky," he said with a broad smile afterwards.
"You've also got to hit the right distance – the wind was up and down. I managed to hit it and guess the wind properly."
Over the six holes numbered 3 to 8, he went 6-under, picking up five shots against par in a span of just five holes.
Browne had never gone as low since turning 50, but he has closed with rounds of 65 and 66 in his previous two starts in the tournament and that won't come as good news to the chasing pack.
Browne himself, though, wasn't getting too excited about the three rounds still to come.
"You know, this game giveth and this game taketh back," he said. "So I'm not all that hysterical about it right now. I'm really pleased with where I am, but there is a lot of stuff to be done yet."
O'Meara used some older clubs while fighting off jet lag.
He had played in a Champions Tour event at Pebble Beach, then in the British Open at Sandwich and finally in the Senior British Open at Walton Heath before flying back across the Atlantic on Sunday night to his home in Houston, where he was able to spend two days before coming to the Rust Belt for a quick practice round late on Wednesday.
While at home, he swapped some of the clubs he had used in Britain.
"I got my old set (of irons) and put those back in the bag and kind of went back to my old driver. I fiddle a little bit but not too much," he said. "So I was on familiar ground. Like yesterday in the practice round, I hit the ball nicely. I was like, 'OK, there's no reason why I can't continue on that path.'"
Allen's only Champions Tour victory came in another major championship in Ohio, the 2009 Senior PGA Championship at Canterbury in Cleveland.
He said his fast start will make it easier for him to be patient.
"Usually when I'm out here I seem to be chasing from far behind," he said. "So it's nice to be able to come out and play and not have to keep making birdies and catching up all the time."