Bland: 'I've got what it takes to win'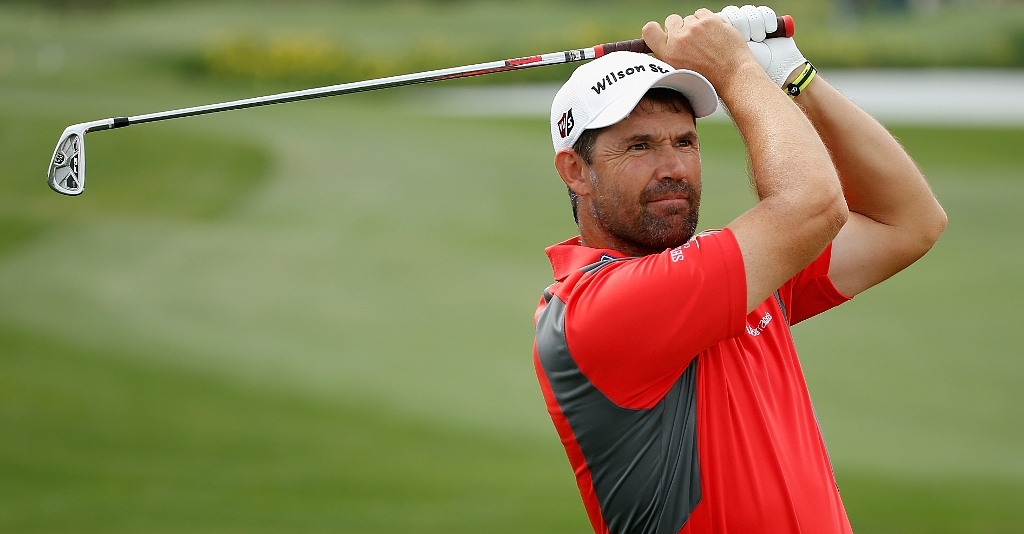 Richard Bland believes he is ready to win his first European Tour title at the age of 37 after joining a six-way tie in India
Richard Bland claims he is ready to win his first European Tour title at the age of 37 after joining six others in a tie for the lead in Saturday's third round of the Avantha Masters.
The Englishman surged to the top with a sparkling 66 after starting his day five shots off the pace and down the field in a tie for 20th, collecting early birdies at the first and third and then, after draining a long putt for birdie at the 14th, he picked up two more shots at the 15th and 17th following good approach shots.
Bland afterwards credited mind coach Jamil Qureshi for making him more mentally resilient, borne out by the fact he has made the cut in 10 of his last 11 European Tour events.
Now Bland is confident he can hold his nerve on Sunday in what is set to be a thrilling and dramatic final day shootout at DLF Golf and Country Club.
"I have been doing a lot of work with Jamil and I believe that I have the game to win, and the last six months have shown me that I do have the game to win at this level," he said.
"He has turned me around like you wouldn't believe, my self-belief and how I think on the golf course.
"I am not as hard on myself and I will take everything as it comes a lot more these days. It is an ongoing thing and there is always room to improve but he gets me in the right frame of mind from the moment I set out for a tournament.
"He has made me start to believe that I am here to win and to have that attitude every week. I am not here to make the cut or pick up a cheque, I am here to win and to play to win and that is what I have done this week.
"As soon as I came here I was thinking that I was here to win. I kind of felt that there would be a lot guys here this week that might be a bit uncertain and I just thought that I have to concentrate on winning from the very first swing.
"Even in the first round I was thinking about winning on Sunday and I hope that continues into tomorrow until I have that trophy in my hands. It's about visualising victory and playing to win the tournament which I have managed to do.
"Sometimes your attitude can contribute so much because you are not always going to play great and that is what Jamil has helped me to do."
Despite carding the joint best round of the day, Bland curiously played down his effort.
"I have to say that it felt a bit strange that 66, because there were points when I felt that I wasn't playing too well," he added.
"It was strange – it felt like my playing partners played better than I did but I was the one that made the score.
"Sometimes you have to do it the ugly way. I'm not saying it was a really ugly day but usually 66s are a little bit prettier than that. But I managed to take advantage, I am in with a great shout."
Fellow Englishman Barry Lane kept alive his bid to become the oldest man to win a European Tour event after the 49-year-old recorded a one-under 71 to join the leading pack and pinpointed the greens as key to his chances tomorrow.
"I played beautifully today, really nice," he said.
"I just couldn't hole any putts until the 15th and then holed another good one on the 17th but apart from that, I struggled on the greens again.
"I have a great chance. I just have to hole a few more putts and I have as good a chance as anyone because it is a very packed leaderboard with so many shots within a few shots of the lead.
"I have been in these situations before so it will help me in that sense but it has been a long time since my last win."
Second-round leader Chan Yih-Shin fought back from what was proving to be a mixed day with two birdies at the 12th and 15th to rescue a level-par 72 and remain 11 under.
He was joined by Swede Fredrick Andersson Hed, who carded a 66 that contained eight birdies against just two bogeys, while Indian golfer Rahil Gangjee produced a solid 69 to also finish 11 under.
In a day of missed chances Tetsuji Hiratsuka, who set a course record 62 yesterday, also wasted a opportunity to head the field after a bogey at the 18th saw the Japanese golfer sign for a 70, while the same fate befell Darren Beck after the Australian had picked up four early birdies.
Scotland's David Drysdale, Australian Andrew Dodt and Thailand's Kwanchai Tannin were tied for eighth a stroke back on 10 under, while Darren Clarke was part of a six-strong group on nine under.