Birdie blitz puts Moodie clear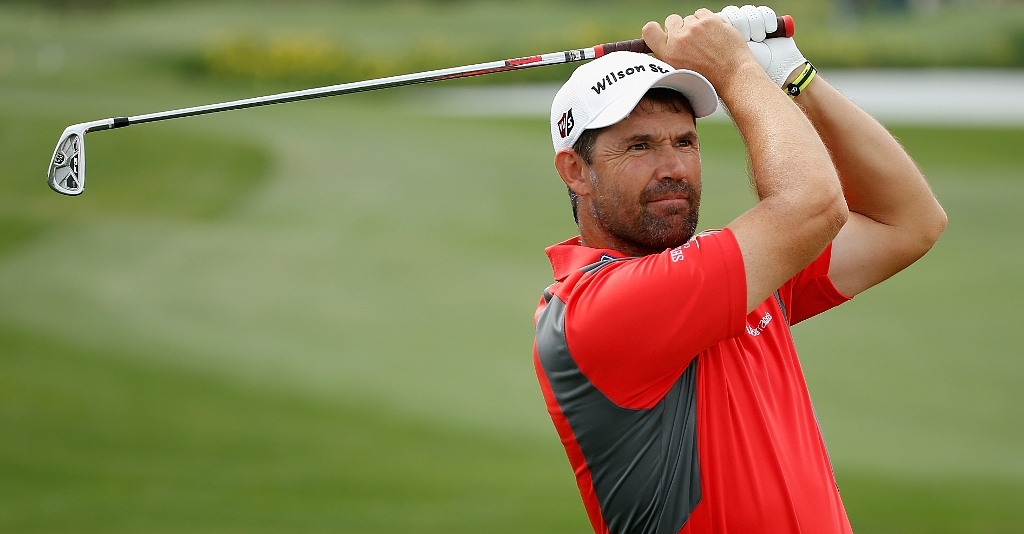 Scotland's Janice Moodie leads the Navistar LPGA Classic after shooting a career-best eight-under 64.
Scotland's Janice Moodie has shot a blistering, career-best, eight-birdie, eight-under 64 to lead the Navistar LPGA Classic after Thursday's first round.
Moodie, 36, came through late in the round to edge one shot clear of the long-time leader in the clubhouse and surprise package of the day, 14-year-old amateur Alexis Thompson, whose own career-low seven-under 65 had kept her on top of the leaderboard for most of the day.
World No 1 Lorena Ochoa, Michelle Wie and French star Karine Icher shared third place just two shots off the lead and one ahead of a log-jam of 10 players that included in-form Australian Katherine Hull.
Moodie, who played for Europe in this year's Solheim Cup, picked up two birdies going out from the tenth at the RTJ GolfTrail in Alabama, but then, after turning, came blazing home with six birdies between the third and the ninth, her only birdie miss, once she got on her devastating roll in her bogey-free round, being a par at the 5th.
"The last time I played the golf course," a clearly delighted Moodie said afterwards, "was Tuesday and it was playing really, really well. All of a sudden today I'm hitting driver, wedge, driver wedge and I thought, you know, I better capitalize on this one, and I did.
"How many fairways did I hit?"
"I guess quite a few. I wasn't in the rough very often. I missed the fairway at 18, and I think that was probably for the first time. So I really hit it well."
Thompson, whose age prevents her playing professional golf and whose best finish on the LPGA Tour this year was 21st at the Kraft Nabisco Championship, made only one bogey, this shortly before she made the turn on the 18th.
She told the media: "Today everything was working for me. I mean, my ball striking was good. I mean, my driver was a little off, but, I mean, I'm not gonna complain. I rolled my putter really good."
Commenting on Thompson and her tender age, Moodie said: "It's funny, I'm going down 18, and Hee Won and I were talking about it, you know, these girls are so young. I think Hee Won is 10 years younger than I am.'
"Then I'm looking at her (Thompson) thinking, I'm almost three times her age. You know, never mind 10 years younger. I'm three times this girl's age and she shot a seven under.
"But you know, I think it's just great to see. Alexis is a nice girl. I played with her at the Kraft Nabisco, and we both played very well there the last day. I think she's gonna be a nice addition to the tour when she's ready."
Despite their early joy, the two front-runners are not going to find it easy staying out in front for the next three rounds, however..
Not with Ochoa and Wie right on their tails and in a very hungry mood, Ochoa to break her winless streak after two early-season victories, and Wie, who has been at it since she was 14, to finally pick up her first LPGA title six years later aged 20.
ALL THE FIRST ROUND SCORES
(USA unless stated, par 72):
64 Janice Moodie (Sco)
65 Alexis Thompson
66 Michelle Wie, Lorena Ochoa (Mex), Karine Icher (Fra)
67 In-Bee Park (Kor), Pat Hurst, Sung Ah Yim (Kor), Pornanong Phatlum (Tha), Na Yeon Choi (Kor), Eunjung Yi (Kor), Meaghan Francella, Lisa Strom (Gbr), Alena Sharp (Can), Katherine Hull (Aus)
68 Sandra Gal (Ger), Brittany Lang, Christina Kim, M.J. Hur (Kor), Allison Hanna-Williams, Allison Fouch, Nicole Castrale, Hye Jung Choi (Kor), Shanshan Feng (Chn)
69 Chella Choi (Kor), Jamie Hullett, Amy Yang, Angela Park (Bra), Julieta Granada (Par), Ashleigh Simon (Rsa), Paige Mackenzie, Mikaela Parmlid (Swe), Giulia Sergas (Ita), Jennifer Rosales (Phi), Morgan Pressel, Jin Joo Hong (Kor), Hee-Won Han (Kor), Maria Hjorth (Swe), Karin Sjodin (Swe), Laura Davies (Eng)
70 Christi Cano, Stacy Prammanasudh, Meena Lee (Kor), Beth Bader, Brandi Jackson, Haeji Kang (Kor), Anna Rawson (Aus), Candie Kung (Tai), Sophia Sheridan (Mex), Laura Diaz, Erica Blasberg, Sophie Gustafson (Swe)
71 Taylor Leon, Joo Mi Kim (Kor), Minea Blomqvist (Fin), Irene Cho, Jill McGill, Heather Bowie young, Cristie Kerr, Anna Grzebien, Diana D'Alessio, Yani Tseng (Tai), Wendy Doolan (Aus), Sun Young Yoo (Kor), Kim Hall, Song-Hee Kim (Kor), Sarah Lee, Kris Tamulis, Ji-Young Oh (Kor), Teresa Lu (Tai), Natalie Gulbis
72 Kim Welch, Shi Hyun Ahn (Kor), Jordan Hardy, In Kyung Kim (Kor), Na Ri Kim (Kor), Sarah-jane Smith (Aus), Jeehae Lee (Kor), Leta Lindley, Vicky Hurst, Rachel Hetherington (Aus), Sophie Giquel (Fra), Nicole Jeray, Moira Dunn, Hwa seon Lee (Kor)
73 Reilley Rankin, Russamee Gulyanamitta (Tha), Katie Futcher, Jackie Gallagher-Smith, Louise Friberg (Swe), Jessica Shepley (Can), Mhairi McKay (Sco), Sarah Kemp (Aus), Jennifer Johnson, Kris Tschetter, Hee Young Park (Kor), Karen Stupples (Eng), Lorie Kane (Can), Charlotte Mayorkas, Lee Ann Walker-Cooper, Meredith Duncan, Samantha Richdale, Eva Dahllof (Swe), Amy Hung (Tai), Stacy Lewis
74 Young Kim (Kor), Leah Wigger, Becky Iverson, Ashli Bunch, Laurie Brower, Silvia Cavalleri (Ita), Mollie Fankhauser, Jimin Jeong, Se Ri Pak (Kor), Becky Morgan (Wal), Meg Mallon, Song yi Choi (Kor)
75 Il Mi Chung (Kor), Louise Stahle (Swe), Michelle Ellis, Jee Young Lee (Kor), Mindy Kim, Marisa Baena, Stephanie Louden, Jimin Kang (Kor), Jin young Pak (Kor), Angela Buzminski
76 Carolina Llano, Vicki Goetze-Ackerman, Johanna Mundy (Eng), Angela Jerman, Wendy Ward, Danielle Downey
77 Nontaya Srisawang (Tha), Jeanne Cho-Hunicke, Kim Williams, Audra Burks, Marcy Hart, Kyeong Bae (Kor)
79 Jean Bartholomew
81 Nicole Hage
83 Dorothy Delasin
85 A.J Eathorne (Can)