Beware Lam, the injured golfer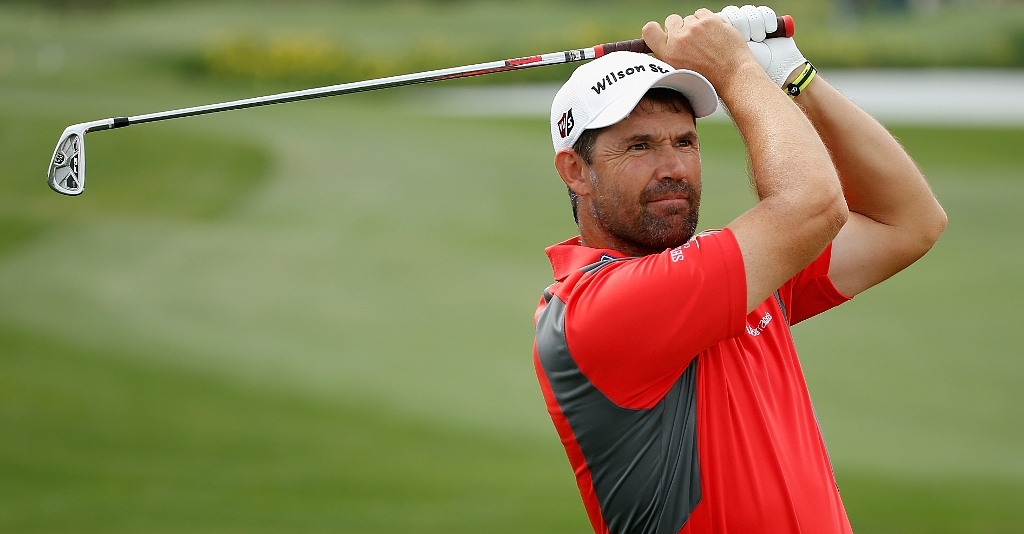 Just three days after nearly being blinded in one eye, Singapore's Lam Chih Bing leads the Asia-Pacific Panasonic Open.
Just three days after surviving a freak accident that could have blinded him in one eye, Singapore's Lam Chih Bing is tied for the lead at the Asia-Pacific Panasonic Open after Thursday's first round.
The Asian Tour standout fired a superb five-under-par 66 at the Joyo Country Club in Kyoto, thanks to five birdies on his inward nine, but admitted later he was very lucky even to be playing this week, let alone leading, after countryman Mardan Mamat accidently hit him in the face with a driver during Monday's practice round.
"I'm just very happy that I got to tee off today and it's an even bigger bonus that I played good," said a delighted Lam, whose score was matched by Japan's unheralded Tetsuya Haraguchi.
All eyes were on teen phenom Ryo Ishikawa of Japan, but he struggled home with a 73 and it took another 18-year-old to hog some of the limelight as Korea's Noh Seung-yul, last year's Asian Tour rookie of the year, fired a solid 67 for a tie for third with Tomohiro Kondo, Yuji Igarashi and Katsumasa Miyamoto in an event being jointly sanctioned by the Asian and Japan Golf Tours.
China's Liang Wen-chong was a further stroke back on 68 after a strong inward 31.
Lam was struck near his right eye as Mardan, who didn't realise the former was in his way, took a practice swing. Doctors did not stitch the gash as the cut was too near the eye but Lam was thankful his sunglasses had reduced the full impact of the club.
"I was standing on the first tee box waiting to tee off and the next thing I was lying on the ground thinking if it's the end of my golf career. Thank God when I removed my hands from my right eye, I was praying that I could still see.
"The thoughts that ran through my mind for 15 seconds were pretty scary. Mardan and the other guys were also afraid for me (as he was bleeding). I went to hospital and the doctor patched me up. I don't have any problem with the vision although the cut is a bit sore now."
The 32-year-old brushed aside the injury scare by producing a near flawless display. After dropping his only bogey on 10 which erased a birdie on three, Lam, who won his first Asian Tour title last year, hit a purple patch with five more birdies over a seven-hole stretch, with the longest putt being a 25-foot conversion on 11.
"I hit the ball close and made some putts. It's so difficult to hit the fairways here and you must know where to miss it," said Lam.
Haraguchi, 35, enjoyed a bogey-free day as he joined Lam atop the leaderboard. He has led twice after the opening day this season and not been able to win so he is hoping to sustain his push this time for a maiden title.
"I didn't have any trouble all day, with the exception of the 18th hole when I pushed the ball into the bunker but I managed to save par. There are a lot of birdie chances and I like the greens here. If you find the right line, the ball goes in automatically," he said.
Teen titan Noh was delighted with his strong start but was hoping that Ishikawa would make up ground after striking a friendship with Japan's newest star.
"It was pretty good but it's only the first day. Being the first match out, I was a bit tired in the morning as I had to wake up at 4am. I'm going back to sleep now!" said Noh, who hit 16 greens in regulation.
"I got to know Ryo at the Korean Open two weeks ago and it'll be nice if we can play together in the final match in the final round on Sunday."
Leading first round scores
66 – Lam Chih Bing (SIN), Tetsuya Haraguchi (JPN)
67 – Noh Seung-yul (KOR), Katsumasa Miyamoto (JPN), Tomohiro Kondo (JPN), Yuji Igarashi (JPN)
68 – Terry Pilkadaris (AUS), Toru Taniguchi (JPN), Taichiro Kiyota (JPN), Rick Kulacz (AUS),
Komei Oda (JPN), Yuta Ikeda (JPN), Azuma Yano (JPN), Kim Hyung-sung (KOR), Liang Wen-chong (CHN), Taigen Tsumagari (JPN)
69 – Kazuhiko Hosokawa (JPN), Kiyoshi Miyazato (JPN), Daisuke Maruyama (JPN), Kenichi Kuboya (JPN)