BELFRY NOTEBOOK – THURSDAY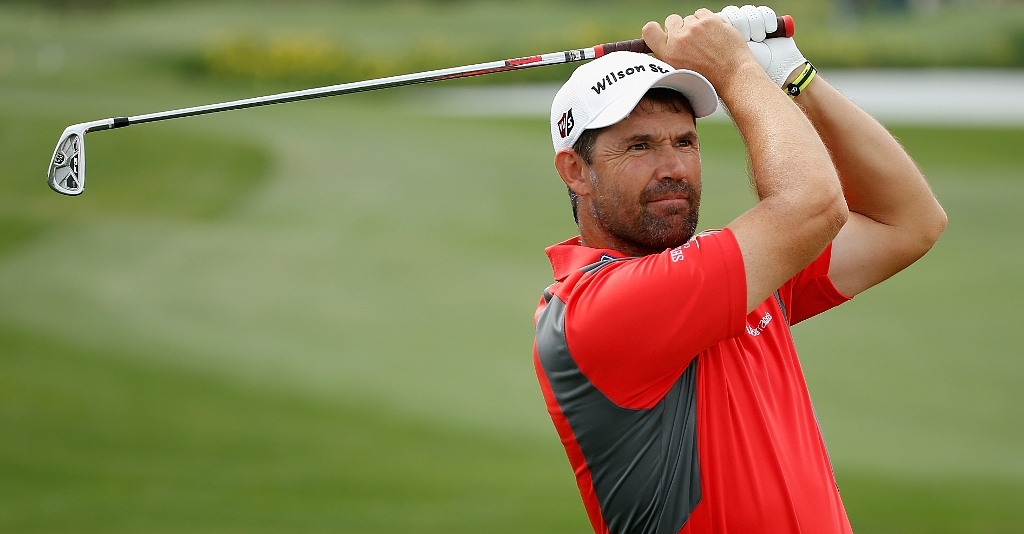 Our man at the course Matt Cooper reflects on Thursday's opening round of the Quinn Direct British Masters at the Belfry.
TEENAGE KICKS
Birmingham was looking particularly grim at dawn but the drive through the early morning drizzle was essential if I was to catch the professional debut of Northern Ireland's Rory McIlroy. Beginning his round on the short par four tenth meant that his first shot in the paid ranks was a rather sterile 6-iron short of the water hazard but, watched by his proud parents and a handful of spectators, he found the middle of the fairway. His agent Chubby Chandler was also on hand, but he spent so much time texting I had to remind myself that McIlroy, and not Chandler, was the teenager.
At the Open the American journalists thought McIlroy resembled one of the Brady Bunch but I think he looks like Paula Creamer's baby brother so I was tickled that he was wearing a pink jumper on his big day. No artwork on his cheeks, though.
A wayward drive off the eleventh tee put McIlroy in early trouble but he chipped in from off the green to save par and an almost identical shot on the next moved him into red figures for the first time.
I grabbed a few words with Mr & Mrs McIlroy who were as down to earth as their son seems to be. His mother admitted to some nerves as Rory began his working life, whilst his father looked on as if it was the "stroll" his son later described it as. If that appears arrogant on paper it shouldn't: McIlroy and his family appear to be anything but arrogant.
SWEDISH STYLE
Twenty minutes behind McIlroy was Roger Federer look-a-like Johan Edfors and I followed last year's shock winner for a few holes. Up close his appearance is as much of an enigma as his form. He has incredibly dainty hands and feet, a slender waist and yet also enormous shoulders that give the ball an almighty thump. Golf Punk elected him the most stylish golfer of 2006 and I wouldn't disagree – but I'd need his figure rather than my own to get away with wearing the tight top he wore on Thursday morning.
LOST BALLS
A spy on the driving range revealed to me that Marcus Fraser had to request extra ammunition on Wednesday after sheepishly admitting – much to the amusement of Kenneth Ferrie – that he had lost no fewer than twelve balls in his practice round. Fortunately for me the bookmakers resisted the temptation to price up his three-ball because Fraser turned his form around posting a two under par 70.
MEDIA MADNESS
If you've ever wondered why golf writers are a podgy bunch, consider this: the media car park is on one side of the tenth fairway and the media centre is on the other side. They are separated by roughly two hundred yards of beautifully tended grass. Alternatively we can take the shuttle bus.
I'm not always so reluctant to be pandered to however. If only every time I was feeling hungry I had the lovely Victoria from the European Tour on hand to wave a luncheon voucher in my direction. Either she's very good at her job or I'm extremely transparent. Or perhaps it's both …
For what it is worth I had Cajun Chicken and spent the meal eaves-dropping the BBC's Andrew Cotter who was explaining the finer points of rugby union to Ken Brown.
ON THE LOOP 1
A trip out on to the course to watch Ignacio Garrido (optimistically backed at 300-1 e/w) allowed me to bump into the father of 2004 PGA Champion Scott Drummond. Twenty years ago Mr Drummond taught some of my friends in the junior section at Shrewsbury GC and he revealed to me that Scott has recently employed a new caddy. The relationship is in its early stages but both parties are enthusiastic about a belated upturn in Drummond's fortunes.
ON THE LOOP 2
Most golfers do agree that it is essential to have a good man carrying your bag. Indeed the importance to Soren Hansen this year has been immense. John Graham is known amongst the caddy fraternity as one of the best readers of a green and since joining forces in June they have proved a formidable team, proving as much with last week's win in Germany. In his press conference Rory McIlroy revealed that his caddy Gordy has been influential in cutting out card-destroying bogies.
Prior to this year McIlroy believes he had played no more than five bogey-free rounds in his career. With Gordy he has not just doubled but quadrupled that figure.