Becky bursts clear in Tenerife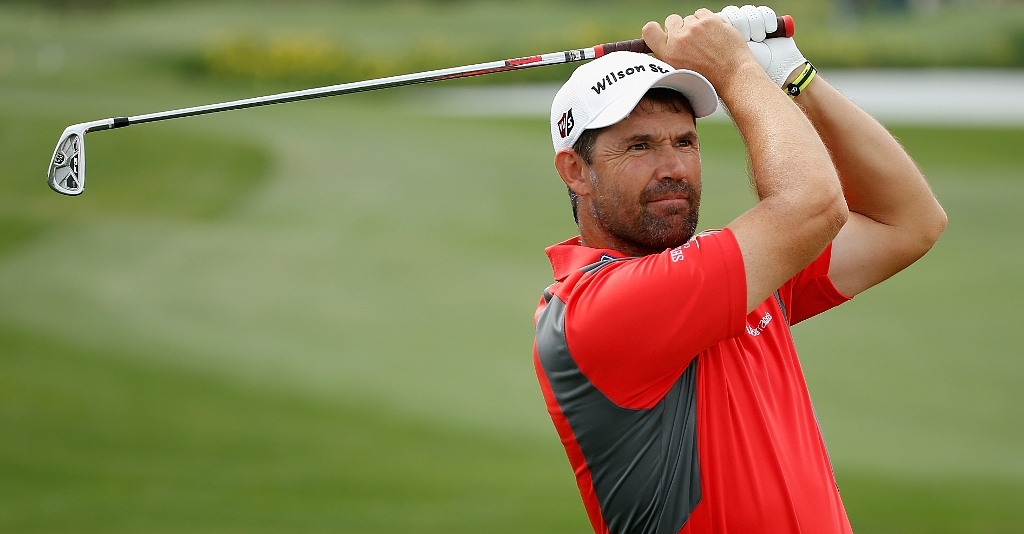 Becky Brewerton of Wales has moved into the lead at the halfway stage of the Tenerife Ladies Open.
Becky Brewerton of Wales has moved into the lead at the halfway stage of the Tenerife Ladies Open.
On a second straight day of glorious sunshine, the 26-year-old Solheim Cup player added a three-under 69 to her opening 66 for a two-round tally of nine-under-par 135 that has taken here three shots clear of closest pursuer Beatriz Recari, who, playing in her first tournament since winning in Finland a month ago, is at six-under after rounds of 68 and 70.
The overnight leader, Anja Monke of Germany, is a shot further back in third place after a second round of 74.
Brewerton, twice a runner-up in Tenerife, first as an amateur in 2003 and then as a professional in 2004, started the second round a stroke behind Monke, but quickly overhauled her with an impressive front nine of three-under 33.
On the par-five first hole, her 10th, she hit a nine-iron to a foot from 120 yards, resulting in her fourth birdie of the day. That was countered by a solitary bogey at the par-three seventh when her second putt lipped out of the hole.
Brewerton has been enjoying a rich vein of form since July, when she claimed her second Ladies European Tour victory at the Open de Espana Femenino by a six stroke margin.
"You have to enjoy it when you're playing well," Brewerton said. "I've been on a really good run. I think it started with winning the Spanish. Everything seems to have gone well since then and you've got to make the most of it."
The Welsh star was one of only 17 players to finish under par after 36 holes owing to the difficult conditions and added: "The wind really makes this course an awful lot different. Putting was really tough because you've got the grain and then the wind was so strong you have to allow for that too. When they were going against each other it was hard to tell which would be the stronger one. The putting was very difficult and it was tough out there all the way around."
The 22-year-old Recari from Pamplona was pleased to be in contention so soon after her maiden victory at the Finnair Masters four weeks previously.
"I'm very excited, especially since it's a four round tournament so I still have two more rounds to go. It's a lot of holes and a lot can happen so I'm looking forward to it," she said.
Collated second round scores & totals in the Ladies European Tour Tenerife Ladies Open Golf Costa Adeje, Adeje, Tenerife, Spain
(Par: 72)
135 Becky Brewerton (Wal) 66 69
138 Beatriz Recari (Spa) 68 70
139 Anja Monke (Ger) 65 74
141 Felicity Johnson (Eng) 69 72, Nina Reis (Swe) 72 69, Tania Elosegui (Spa) 71 70
142 Bettina Hauert (Ger) 69 73, Caroline Afonso (Fra) 72 70, Beth Allen (USA) 66 76
143 Caroline Rominger (Swi) 75 68, Emma Cabrera-Bello (Spa) 72 71, Veronica Zorzi (Ita) 71 72, Paula Marti (Spa) 72 71, Laura Terebey (USA) 71 72, Lynn Kenny (Sco) 74 69, Lee-Anne Pace (Rsa) 72 71, Km Juul (Den) 69 74
144 Elizabeth Bennett (Eng) 70 74, Maria Verchenova (Rus) 74 70, Stefania Croce (Ita) 68 76, Virginie Lagoutte-Clement (Fra) 71 73, Elisabeth Esterl (Ger) 70 74, Nicole Gergely (Aut) 72 72, Melissa Reid (Eng) 69 75, Ursula Wikstrom (Fin) 69 75, Emma Zackrisson (Swe) 71 73, Julie Greciet (Fra) 70 74, Lena Tornevall (Swe) 70 74
145 Christel Boeljon (Ned) 74 71, Joanne Mills (Aus) 72 73, Tara Delaney (Irl) 72 73, Frederique Seeholzer (Swi) 71 74, Trish Johnson (Eng) 72 73, Cassandra Kirkland (Fra) 74 71
146 Zuzana Masinova (Cze) 73 73, Holly Aitchison (Eng) 76 70, Morgana Robbertze (Rsa) 75 71, Rebecca Coakley (Irl) 72 74, Pamela Feggans (Sco) 77 69, Riikka Hakkarainen (Fin) 70 76, Malene Jorgensen (Den) 71 75, Karen Lunn (Aus) 72 74, Titiya Plucksataporn (Tha) 72 74
147 Stacy Lee Bregman (Rsa) 74 73, Clare Queen (Sco) 76 71, Sara Beautell (Spa) 74 73, Sophie Walker (Eng) 74 73, Stefanie Michl (Aut) 73 74, Kyra Van Leeuwen (Ned) 76 71, Lisa Holm Sorensen (Den) 75 72, Marion Ricordeau (Fra) 75 72, Mireia Prat (Spa) 73 74, Samantha Head (Eng) 73 74, Florentyna Parker (Eng) 75 72, Jessica Ji (Kor) 74 73
148 Margherita Rigon (Ita) 71 77, Hazel Kavanagh (Irl) 73 75, Marta Prieto (Spa) 72 76, Krystle Caithness (Sco) 71 77, Ana B Sanchez (Spa) 76 72, Marjet Van Der Graaff (Ned) 74 74
149 Laura Cabanillas (Spa) 73 76, Anna Tybring (Swe) 73 76, Ellen Smets (Bel) 76 73, Nathalie David-Mila (Fra) 78 71, Breanne Alicia Loucks (Wal) 74 75, Martina Gillen (Irl) 75 74, Christine Hallstrom (Swe) 73 76, Rebecca Hudson (Eng) 80 69, Claire Coughlan-Ryan (Irl) 74 75, Laura Davies (Eng) 72 77, Smriti Mehra (Ind) 75 74, Anne-Lise Caudal (Fra) 74 75, Lisa Hall (Eng) 73 76, Jenni Kuosa (Fin) 70 79, Johanna Lundberg (Swe) 75 74
—————–The following player failed to make the cut——————-
150 Amanda Moltke-Leth (Den) 77 73, Xonia Wunsch (Spa) 74 76, Sarah Heath (Eng) 74 76, Ana Fernandez De Mesa (Spa) 74 76, Celine Herbin (Fra) 74 76, Lynnette Brooky (Nzl) 76 74, Linda Wessberg (Swe) 73 77, Maria Boden (Swe) 77 73, Vikki Laing (Sco) 71 79
151 Katharina Schallenberg (Ger) 78 73, Frances Bondad (Aus) 74 77, Emma Weeks (Eng) 78 73, Jade Schaeffer (Fra) 72 79, Tandi Cuningham (Rsa) 75 76, Camille Fallay (Fra) 75 76, Anna Knutsson (Swe) 73 78
152 Danielle Masters (Eng) 75 77, Ana Larraneta (Spa) 71 81, Julie Tvede (Den) 73 79, Dana Lacey (Aus) 72 80
153 Matia Maffiuletti (Ita) 74 79
154 Emma Lyons (Eng) 79 75, Joanne Morley (Eng) 72 82, Claire Louise Aitken (Eng) 78 76, Bronwyn Mullins-Lane (Aus) 77 77, Ins Diaz-Negrete (Spa) 77 77
155 Elena Giraud (Fra) 74 81, Kiran Matharu (Eng) 79 76, Viva Schlasberg (Swe) 72 83, Denise-Charlotte Becker (Ger) 75 80
156 Itziar Elguezabal (Spa) 76 80, Georgina Simpson (Eng) 79 77, Jo Pritchard (Wal) 81 75, Laurette Maritz (Rsa) 78 78
158 Kirsty S Taylor (Eng) 79 79, Barbara Genuini (Fra) 80 78, Ludivine Kreutz (Fra) 81 77
159 Melodie Bourdy (Fra) 75 84, Marian Riordan (Irl) 78 81
160 Maria Ringdahl (Swe) 82 78
162 Federica Piovano (Ita) 82 80
163 Laure Sibille (Fra) 82 81
164 Sonia Cologan (Spa) 82 82
RTD: Elisa Serra